How Mario Mandzukic Is thriving as Gonzalo Higuain's natural successor at Juventus
Mario Mandzukic benefitted from Cristiano Ronaldo's arrival at Juventus. Gonzalo Higuain? Not so much.
Cristiano Ronaldo's signing represents a historic coup for Juventus. Acquiring the icon designated the Bianconeri as European heavyweights courtesy his Champions League bona fides. Such status previously eluded the Old Lady despite winning the Scudetto six times running. While media and supporters went gaga over Ronaldo's arrival, the existing squad weren't necessarily enthused. When a club infamous for making cut-rate deals spends €100 million on a player, suspicions arise. Someone needed to make way.
Massimiliano Allegri had to decide whether to sacrifice World Cup finalist Mario Mandzukic or Argentine finisher Gonzalo Higuain, his top striker for years. In the end, fan-favourite Higuain shipped off to rivals AC Milan.
Any doubts over the choice were put to rest following Mandzukic's excellent work as the new target man. Juve won all ten matches to begin the campaign, more history for the club. The Croatian's been key to their boom. Revelling in his new role, he's the squad's joint-top scorer in Serie A. With four goals in seven league games, the lanky striker's one away from last season's total. That's the difference between playing the foil and being the man.
Mandzukic is not just a tailor-made replacement for Higuain, he's the Karim Benzema to Ronaldo in Turin. The Frenchman's off-the-ball work created so many bangers for the Portuguese at the Bernabeu. At the Juventus Stadium, the Croatian's showing similar traits. His work eases CR7's transition.
His strength when holding up play as well as his movement in the box distract defenders, drawing them away from the true danger. The first combination between the duo came against Udinese. Mandzukic collected the ball while holding off a defender, then teed up an excellent finish from the magical Portuguese.
When defenders stay with Ronaldo, Mandzukic's poacher's instinct can be exploited. He's not a pure "fox in the box", often drifting wide to create chances for Juve. However, his game reading shows vast improvement from last season. It's back to the standard he set at Bayern Munich. Against Napoli and Parma, his instinct to pounce proved flawless, winning six crucial points for the Old Lady.
Mandzukic scores from headers, tap-ins, powerful shots, from well-timed runs and perfect positioning. The spotlight remains on Cristiano Ronaldo, but after emerging from Higuain's shadow, the Croatian's a terror in his own right.
His versatility and physical prowess not only provide opportunities for himself and Ronaldo, they also bring Paulo Dybala and Federico Bernardeschi into the attack. The young Argentine matches Ronaldo and Mandzukic on four goals while the Italian claims two.
Mandzukic doesn't always play in the middle. He operated as a left-winger in Juventus' early win over Lazio. His flexibility proved beneficial when he capitalized on Ronaldo's mistake, drifting in from the left to score his season's first. In fact, the goal's predatory nature may have inspired manager Allegri to move him inside.
Whereas Higuain's something of a one-trick pony, Mandzukic changes his patterns, approaches and positioning. The Argentine finds himself dropping deep to create attacks for Milan, who don't have a player like Mandzukic to support him.
Last term, the Croatian was expected to track back. Defensive responsibilities limited his input in the final third. Thirty-one-year-old legs didn't carry him back and forth at a great rate. A year older, he's relishing the freedom his new role provides. With Juventus' packed midfield and the excellent Leonardo Bonucci returned to the defence, the Bianconeri don't rely on their wingers to fall back so often. Their centre-forward can remain a target for the out ball.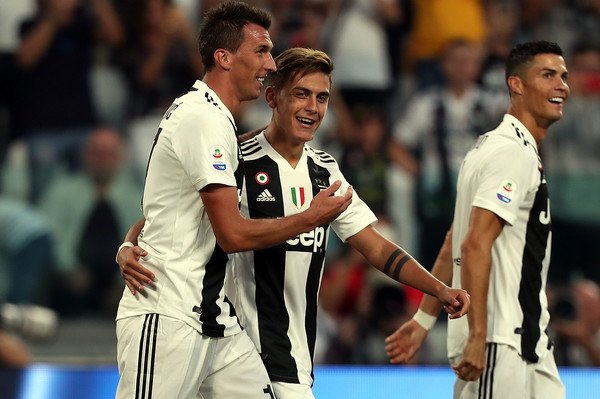 Juventus' top goal-scorers this season:
Cristiano Ronaldo: 4 Goals
Mario Mandzukic: 4 Goals
Paulo Dybala: 4 Goals
Miralem Pjanic: 3 Goals
Blaise Matuidi: 2 Goals
Federico Bernardeschi: 2 Goals
Leo Bonucci: 1 Goal
Sami Khedira: 1 Goal
Rodrigo Bentancur: 1 Goal
https://t.co/jLrQcqfWEx
Mandzukic can focus fully on the attack, conserving his physical resources for crucial moments. He's been efficient as a result. In seven league matches, he took 15 shots. Five found the target. Four bulged twine. He set up two finishes for teammates. His work's already been recognized with Man of the Match honours twice this term, surpassing his lone such accolade in 2017/18. While admittedly operating from the flank, Ronaldo still needed four times the shots to yield the same goal total as Mandzukic.
Perhaps his World Cup campaign inspired the latter's sensational form. He scored three goals in Croatia's wonderful campaign, stepping up in the crucial moments with one each in the semifinal and final.
Was the tournament in Russia the deciding factor for Allegri in choosing who to keep? Higuain wasn't so impactful for Argentina. Both men stand at a crossroads in their careers, on the wrong side of 30. For Juve, the window on a Champions League's closing. It's why the club signed Ronaldo. The Old Lady can't wait for a player to find his feet. Higuain needed time; Mandzukic stood ready to press on. The question is whether he can press on all the way to the Wanda Metropolitano in June?