How Ralph Hasenhuttl can get Southampton marching again
It's bizarre. Southampton's Premier League dreams are tied to a foreigner with a nightmarish-like name. Ralph Hasenhuttl. According to Jurgen Klopp, Hase means rabbit. Huttl translates to a small hut or cabin. A small hut for rabbits, if you will. As Saints, they won't bother though.
There's finally a sweet relief on the South Coast. The dark clouds which hovered throughout Mark Hughes' torturous nine months have disappeared. The decision had been expected. The club's patience with the Welshman had not. The Saints picked up one victory in 14 games – the worst by any team. Even Burnley and Fulham, the only two clubs propping up them at the foot of the table, racked up more.
Hasenhuttl brings a lot of good fortune. Stylish, charismatic, the 51-year-old has an intimidating aura. He is the sort of manager that rarely takes off that big grin irrespective of the result. He spoke in perfect English at his unveiling on Thursday, showing quotable turns of phrase and easy, engaging humour. Dubbed 'the Alpine Klopp' in his homeland, he is alike in style and approach.
Hasenhuttl is famous for guiding RB Leipzig to second and sixth in Bundesliga. However, Saints should be even more interested in his preceding jobs. He revived two lower-end clubs that scrapped for survival. Not only did Aalen and Ingolstadt survive relegation but were promoted the following season.
Amidst the charm and charisma, there are reservations. Hasenhuttl is unfamiliar with the English game. After all, Mauricio Pellegrino showed such prospect only to suffer miscarriage less than nine months to his reign. To avoid a similar fate, here's what the Austrian must do...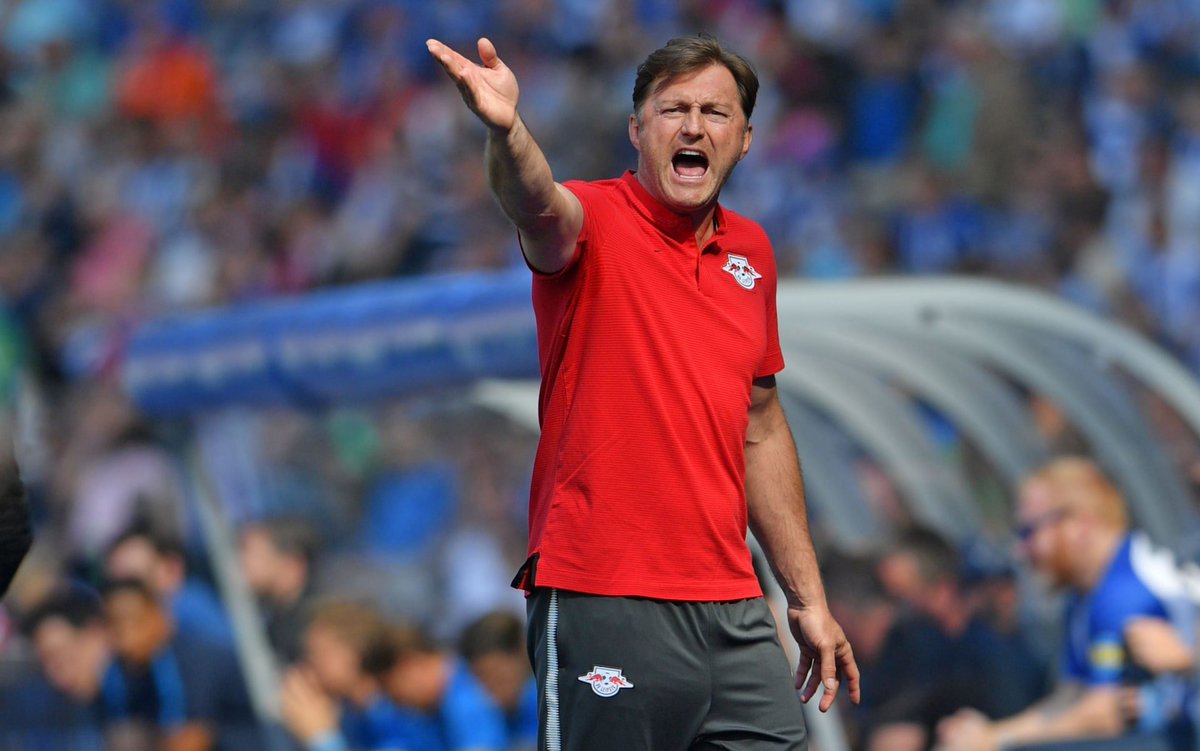 Ralph Hasenhüttl is regarded as one of the best emerging coaches in Europe, after working his way up through German football. During his time as a manager he's been promoted with both Aalen & Ingolstadt and guided Leipzig to a 2nd place Bundesliga finish. #
Saintsfc
https://t.co/kSZZmDpogO
Attractive, the only way
Like Klopp, Hasenhuttl is known for a pressing style that starts from the front, going right through the team. His formation can be fluid with constant thread in pressing the opposition in the final third, winning the ball and then using it in devastating effect. The highly-revered Mauricio Pochettino and to a lesser degree Ronald Koeman adopted this system. The Saints have so desperately missed this brand. They won't mind life under the Austrian in a stylistic regard.
Sharpen the attack
Southampton has lacked a cutting edge in the final third. Under Hughes, they had the third-most shots in the league with 208, but only 68 of those hit the target. Out of that, a dozen managed to hit the net. Only Huddersfield, Newcastle and Crystal Palace converted less. Fulham and Burnley, who are in the fight for Premier League survival, have managed to net 15 and 16 respectively. That's more than Southampton's 13.
Hasenhuttl doesn't have to bother about his playmakers. The Saints are not short of creativity. Far from it, they're well loaded in that department. They produced the fifth-most chances in the league (141) – though only 15 of these have been big chances.
Settle for a system
Hughes experimented with different systems which busted. Although flexible, Hasenhuttl must find the perfect formation. He is famous among German football aficionados for the 4-2-2-2, not only for it's favourability to staggered pressing but also because of its attacking prospects.
In Mario Lemina and Pierre Emile-Højbjerg, he has the dynamic dribblers from deep. Nathan Redmond, either as narrow winger role or run the channels will provide in Danny Ings and Stuart Armstrong with those killer balls.
Defensive stability
For all his perceived attacking onus, Hasenhuttl's Saints will still grapple without the solid backline. They've always looked vulnerable on the counter-attack. The faithful won't forget in a hurry how Hughes' men bottled in against Manchester United, squandering a two-goal lead. The Austrian must stabilise defensively and lift the collective confidence.