How can Premier League referees improve next term?
While some prefer La Liga, no one will argue that Premier League play isn't top quality. The same can't be said for the officiating. Condemnation is so widespread that FIFA did not select an English match official for the recently completed World Cup in Russia. Despite the poor standard, the league has delayed video-assisted review for as long as possible. The good news is VAR finally will be in place in the 2019/20 season. The bad news is there is much more the FA can do to improve officiating in the English game.
Acceptance
The Premier League treats VAR's arrival like a death in the family, putting fans through five stages of grief.
The league denied the need for technology and isolated itself from other top leagues that were fast-tracking the process.
The league managed to control its anger over pressure to implement VAR but it occasionally reared its ugly head.
The league then bargained with officials and players to delay the system's installation.
When that didn't work, the league sulked through a stage of depression.
At long last, the league accepted all the other leagues were jumping off the VAR bridge and they must follow.
Stakes
Broadcast revenue for the Premier League is through the roof but there is no guarantee it will continue to escalate or even just level off. Poor refereeing hangs around the division's neck like a lodestone. While other competitions get calls right and benefit from the drama and controversy surrounding both reversed and upheld calls, English football becomes a laughing stock for quality control.
VAR is needed but more must be invested in officials as well, providing better training and more transparency in the media in order to earn the public's respect.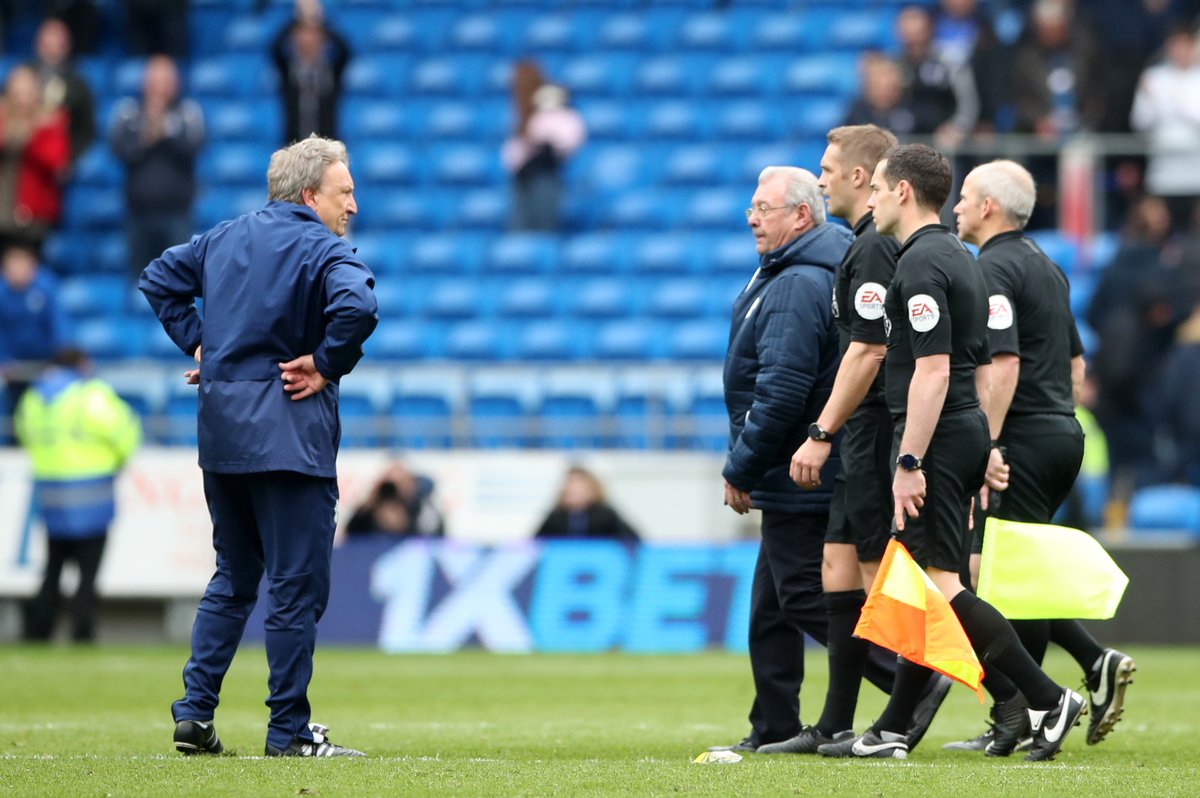 Neil Warnock has been fined after calling the referees the "worst in the world" after their defeat to Chelsea in March.
https://t.co/muKyfb1Ovd
Human error
Neil Warnock wanted to write this section after his club's defeat to Chelsea that all but guaranteed Cardiff's relegation. The linesman then missed a clear offside and a red card offence was overlooked.
These are decisions VAR is meant to correct but it must be remembered that the acronym doesn't refer to a machine. It is the term for a human watching instant replay, interpreting the rulebook as they understand it. Need I mention that no one seems to clearly understand the rulebook? Mike Dean's clear red card might be Graham Scott's 'nothing in it'.
The standard must be made tighter. Officiating must become as consistent and predictable as Warnock's tactics.
Transparency
Fans complain that consequences for refereeing errors aren't harsher. An official who has a bad game might go down to the Championship for a week or two like an injured star playing with the U23s to regain match fitness.
Greater punishment for a single error isn't needed. Transparency is. The Premier League does not publicly discuss refereeing decisions. It does not allow players, managers or other club officials to publicly discuss them. Other leagues do not hide their referees from criticism like an overprotective parent. When controversy arises in the NBA, NFL and Major League Baseball, the league explains rulings, often while a match is ongoing. Fans aren't left to wonder what the referee was thinking. They know. Of course, they may disagree with the process, even think the rule needs changing, but that is an improvement on being left in the dark.
On certain occasions, these competitions admit the official made an error. Clubs and fans may be aggrieved because they are the victim of such a mistake, but they have more faith in a system that doesn't try to pretend it's perfect.
If the Premier League wishes to maintain its global standing, it must stay with the times, embrace technology, spend time and money to develop its officials and be open and honest about officiating performances. Nothing less than the best should do.