How should AC Milan solve the Gonzalo Higuain conundrum?
Gonzalo Higuain is reportedly close to joining Chelsea
AC Milan is in a dilemma. Gonzalo Higuain's expected departure to Chelsea will slice a huge offensive hole. Such that only megabucks can fill. Should the Rosonerri shop for a replacement or just hope on Patrick Cutrone and his likes to step in?
Chelsea's desperation for a striker is directly proportional to Milan's desire to hold on to theirs. There are not many out-and-out goal poachers with experience, track record and pedigree all in one package available in the market space. The few are either overrated or overpriced. Although in his career twilight, Higuain typifies a full-bloodied centre forward.
He is capable of manoeuvring, striking from any distance, inflicting damage in any possible way, but also creating favourable spaces for his teammates to move into. He senses the goal, reads the space, knows his teammates and grasp which moves to make in order to gain the advantage over his adversary.
These virtues accompanied him from Argentina. Real Madrid was first to tap in 2007. They were rewarded with 107 goals in 190 La Liga matches. At Napoli and Juventus, he struck over 100 times in about two-century games. Although not at his usually high predatory standards, the Argentinean has continued that rich vein of form in Milan with six goals in 15 matches.
Not many poachers can rival such level of consistency in the last decade. It perhaps explains why Maurizio Sarri is hell-bent on the 31-year-old. Higuain, though, enjoyed his most productive campaign, where he hit 36 goals in 35 Serie A matches under the Italian. The Blues boss may not even care whether or not he collapses after this season.
For Milan, the anticipated loss would further expose Gennaro Gattuso's toothless attack. The maverick manager's negative approach has seemingly cut-off the midfield and attack. Milan went four games without hitting the target in December. They struck just five times, one from the penalty spot.
That being said, here are three things he could do.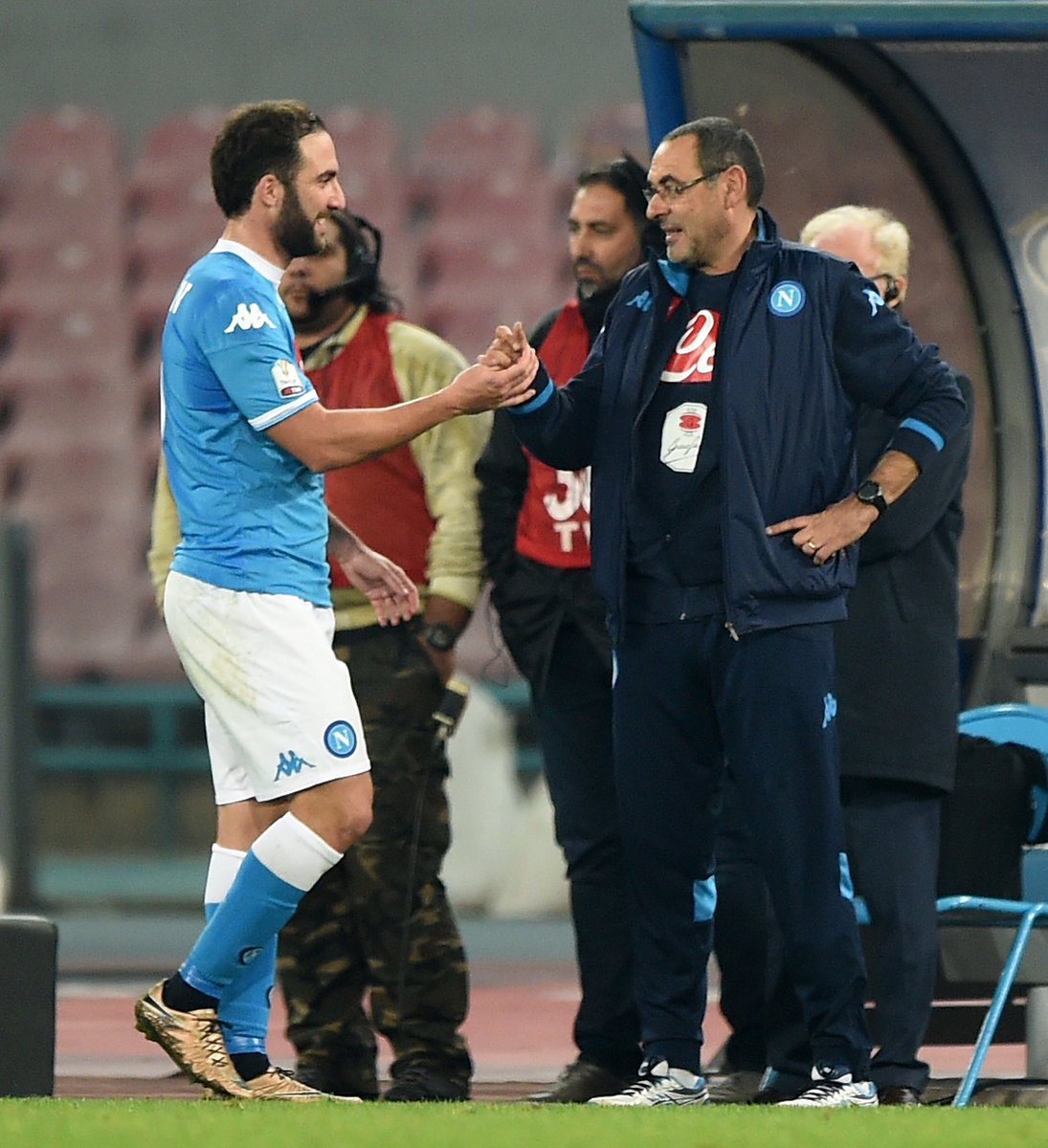 No player in Serie A history has scored more goals in a single season than Gonzalo Higuaín in 2015/16 for Napoli.
🔵 35 games
⚽️ 36 goals
All under Maurizio Sarri.
https://t.co/GK9eLPREba
Keep faith with Cutrone
Cutrone is Higuain's natural heir. Like the 31-year-old, his greatest strengths are finishing and positional sense. He isn't silky with touches or posses ability to take on defenders with skill. Neither will he deliver anything extra outside the box. But he's almost certain to score every time the ball is sent into the danger zone.
Cutrone enjoyed a breakout campaign with 12 goals in all competitions last term. And despite just eight starts this term, the 21-year-old has followed that up with seven. He has already shown his willingness to shoulder his team.
Recall Andre Silva
Far away in Andalusia lies a Milan outcast - Andre Silva. The Rosonerri bundled out the Portuguese to the south of Spain barely one year after he arrived with an overblown reputation from FC Porto, finding the net on only two occasions. Perhaps with the aid of Seville's exquisite cousins, however, the 23-year-old is showing good signs.
Silva has shown glimpses of his brilliance. Standing at 6ft, with his physique, power, resilience and the instincts of a good old-fashioned forward, the 23-year-old is bullying defenders in Spain. He has notched nine goals for Pablo Manchin's team - two more than Higuain's tally.
Sign another striker
The final option for Milan is to shop for another striker. Genoa's Polish revelation has been heavily linked. The clinical 23-year-old has buried 19 strikes from 21 appearances - only Cristiano Ronaldo had a more prolific Serie A first stanza.
Milan would have to work around the Fifa financial fair play rules, though, as Piatek would cost around 50 million euros. Aside from the Pole, Chelsea's Alvaro Morata has been mentioned.