Should Barcelona hand Arturo Vidal a contract extension?
Does the Blaugrana rent-a-cop have another year in him at an elite level?
It seems Barcelona are now thinking outside the box with regards to the type of signings they are making these days. The club gave us Paulinho Bezerra, who stepped up and proved to us that a little bit of argy-bargy could thrive in the Blaugrana set up. Right now, another experiment is going on with Arturo Vidal - and it appears to be heading in a similar direction.
Several eyebrows were raised when the news of the Chilean's Barca move broke out in August 2018. Many felt the two parties wouldn't make a good marriage, largely owing to the club's free-flowing style of play against Vidal's physical approach.
However, the midfielder would become the second player in two years to prove doubters wrong in such circumstances, after Paulinho did the same thing one year earlier. Vidal went on to establish himself as a vital member of the squad upon arriving at Camp Nou. He bagged three goals and seven assists for the Blaugrana from 53 appearances last season.
The Chilean's importance was more than just statistics. He added a new dimension to Barca's midfield. Nullifying opposition attacks, making vital tackles and throwing his body against all sorts of shots, he was able to win over the Camp Nou faithful within a short period.
Following a decent debut campaign in Catalonia, Vidal would've hoped to get more involvement this season. However, with the trio of Frenkie de Jong, Arthur Melo, and Sergio Busquets forming a formidable partnership in the centre of the pitch, Vidal isn't getting much attention from Ernesto Valverde.
The 32-year-old has made 19 appearances in all competitions this term. However, he was included in the starting lineup on just six occasions thus far, recording just 761 minutes out of a possible 2070. That could be fair to some players, but to the midfielder, it is far from encouraging.
Vidal has grown frustrated with the situation. He simply wants to play more and feel important. The Chilean recently revealed that he could consider leaving Camp Nou if his case doesn't get better. Inter Milan are closely monitoring his situation.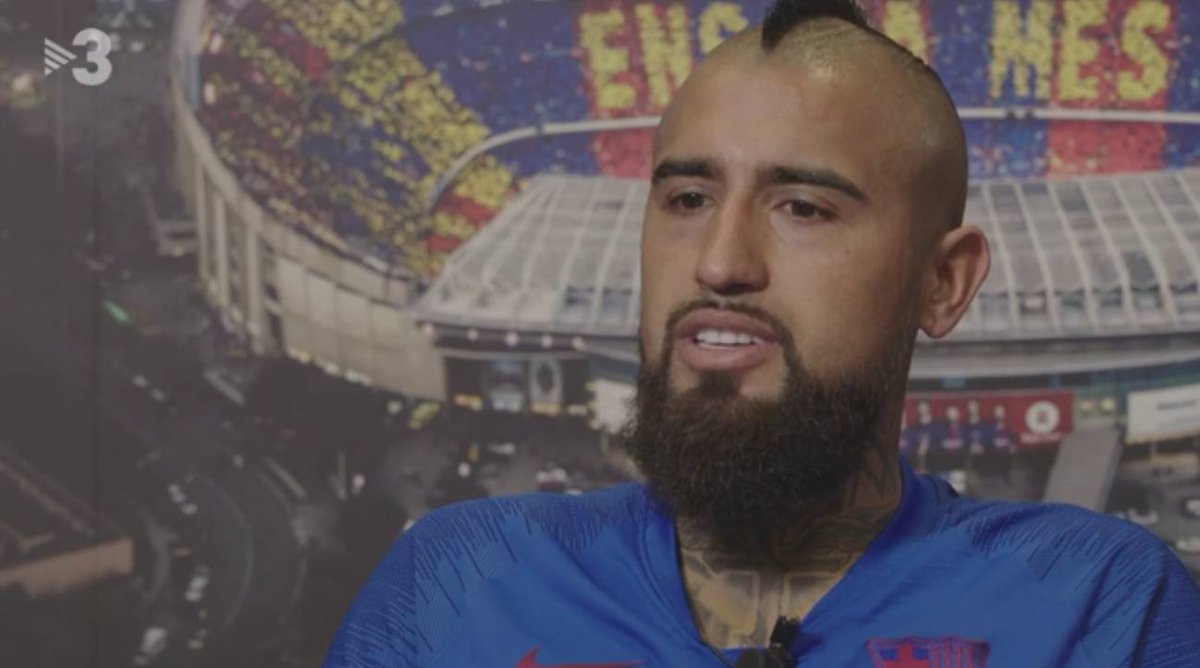 🎙 [TV3] | Arturo Vidal plans to leave Barça if he does have a more important role
🔶 The Chilean midfielder explained that he is not entirely happy at the football level because he does not have the minutes he would like
https://t.co/ZALlYKHics
The Nerazzurri need him in their quest to knock Juventus off the Serie A throne. The club promises to grant him sufficient game time. Antonio Conte has been a long-term admirer of the midfielder. It seems like a great fit, right?
Meanwhile, despite limited involvement, Vidal remains a vital asset to Barca. The ex-Juventus star is a player unlike anyone else in Los Blaugrana's squad. He is powerful, has a real desire to win the ball back while also remaining a threat going forward.
Vidal can impact games after coming off the bench, is very efficient in aerial duels and always gives his all on the pitch. The icing on the cake is that, besides Lionel Messi, Luis Suarez, and Antoine Griezmann, the Chilean is Barca's top scorer this season with 5 goals. That clearly highlights how relevant he is to the club. With more involvement, he would surely be more important?
We are approaching the second phase of the term where depth matters. Barca cannot afford to lose players at this stage of the campaign. Yet, the club can't guarantee Vidal a spot over the likes of Arthur, Busquets or de Jong. That put the Catalans in a serious conundrum. How should they address it?
It doesn't look like much can be done. Valverde has a midfield setup that is firing on all cylinders at the moment. Arthur and de Jong are talented players with a lot of promise for the future. The experience of Busquets will help them grow faster. As such, there's no reason to change the setup.
Meanwhile, a natural solution exists. Very soon the Copa del Rey will kick off and the Champions League will intensify, meaning more minutes for the veteran.
With that, Barca can afford to pacify him, at least till the end of the campaign...