How should Chelsea approach the Europa League?
Antonio Conte took Chelsea to great heights as Premier League champions and depressing depths by following up with a fifth-place finish, outside the Champions League berths. Unlike Jose Mourinho's failed title defence, he stuck around to at least secure Thursday night football.
The Europa League is not where club faithful wish to be but it's better than nothing. Particularly now that winning it offers a back door into the big time.
One may not see value in that added wrinkle while the Blues are flying in the league. Should they falter in the Premier League, however, the competition will assume heightened importance, as Mourinho discovered two seasons ago with Manchester United.
That complicates Maurizio Sarri's job. The competition for top four places is as tough as could be. While Arsenal and United may not have started the season strong, writing them off is a huge mistake. Unai Emery can return the Gunners to their customary position in the top four. We all know what Mourinho can do. His job will be on the line if he fails to keep the Red Devils in the top four.
Under Mauricio Pochettino, Tottenham nailed down a top-four spot in the last three campaigns. Betting against them so early in the day would be costly, too, despite their loss at San Siro. Manchester City are on a mission to retain their league title. Liverpool are bent on dethroning them.
Sarri cannot take anything for granted. He will have to fight on all fronts for as long as possible. Fortunately, he has the players to do so. Pedro, Willian and Eden Hazard have been in top form. Fullfledged internationals such as Ruben Loftus-Cheek can't find their way into the squad. Whether he fields his top XI against BATE Borisov, PAOK Salonika and Videoton or considers the 16-hour round trip to Kazakhstan in selecting his squad, his side will be favoured.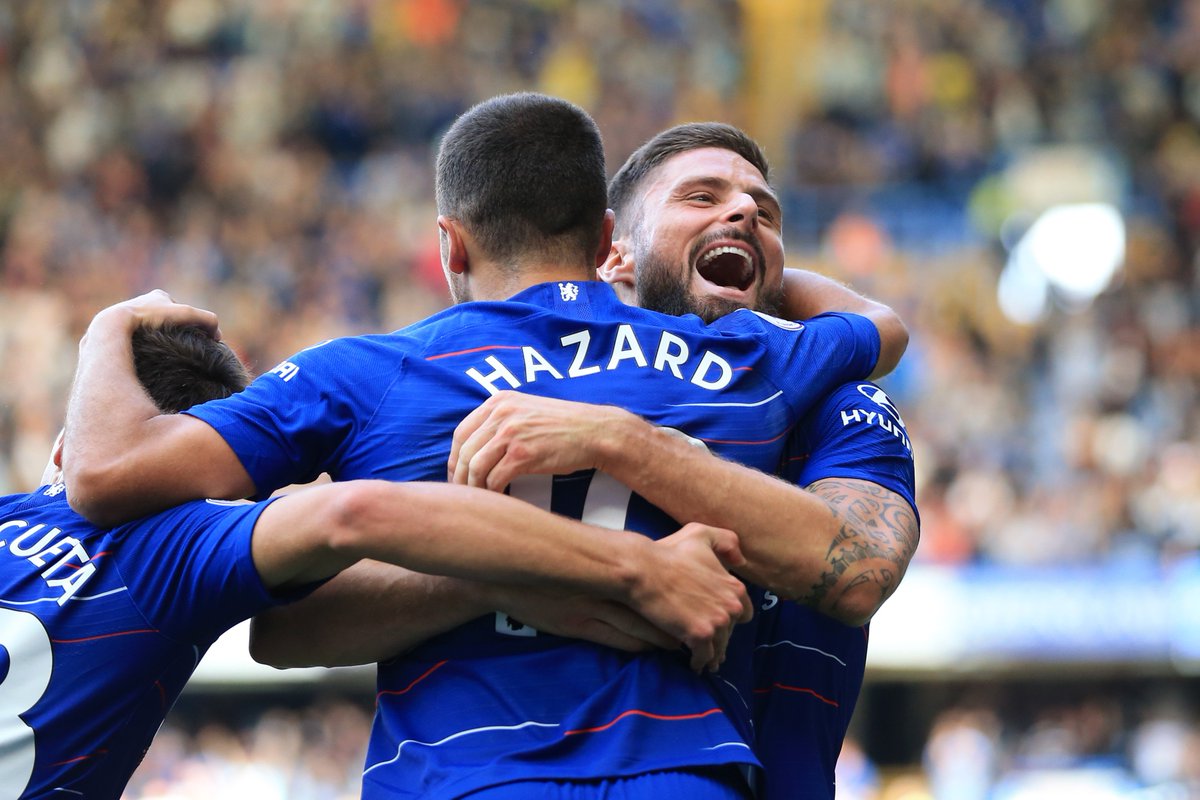 Eden Hazard stole the show with a hat-trick in Chelsea's 4-1 win at home to Cardiff City today.
Best player in the #
UEL
this season?
https://t.co/liVxP3nLx6
In the goalkeeping department, Chelsea have two pairs of capable hands who can hold down the position in Cup games and on the continent. Willy Caballero and Robert Green, though both advanced in age, are experienced and capable backups for Kepa.
Sarri insisted Victor Moses remained in his plans for the season. He must have been thinking beyond league football. The Nigerian was a regular under Conte but finds it difficult breaking into the lineup this term. Fellow midfielders Cesc Fabregas and Danny Drinkwater are still awaiting their turn to shine. Even Ross Barkley and Ruben Loftus-Cheek could do with more time on the pitch.
Upfront, talented youngster Callum Hudson-Odoi is yet to be afforded the opportunity to state his case on the pitch. Alvaro Morata could also use the Europa League to restore the club's faith. His goal rate last season was below expectations. He would love 90 minutes on a regular basis to rediscover his scoring touch.
Defenders like Gary Cahill, Emerson and Andreas Christensen stand to benefit most. Christensen made several strides forward under Conte. He's relegated to the background in Sarri's setup. The Europa League offers an opportunity to prove his point, as well.
Chelsea's players who are sidelined in the Premier League possess the quality to succeed in Europe with a little support here and there from the regulars. Their success will only buoy everyone's confidence to fight on all fronts.
All things being equal, Chelsea should run over BATE, PAOK and Hungarian champions, Videoton in the group stage. They should be well into the knockout stages before concerning themselves with an Arsenal, Milan or failed Champions League club. In the best scenario, they'd fight a London Derby in Azerbaijan to cap the competition. One can only hope.