How will Glenn Tamplin's hands-on ownership affect Romford?
Self-made millionaire Glenn Tamplin is a punter's dream as chairman/manager of the clubs he purchases but often a supporter's nightmare.
Money, it's a gas
Grab that cash with both hands and make a stash
New car, caviar, four star daydream
Think I'll buy me a football team
I don't know if Glenn Tamplin is a Pink Floyd fan but he took the first verse of Money to heart, first at Billericay Town and now at Romford. The eccentric businessman brought his considerable wealth and ego to east London where, within 24 hours of taking charge, he sacked the club's long-serving manager, appointed himself to the vacant coaching role and made 15 new signings.
The Boro are not in a good place. Bottom of the 8th tier Isthmian League North Division, renting a ground from Brentwood, Romford play most games in front of two-figure crowds.
In comes Tamplin, the man who led Billericay to unprecedented success. He took the club to a place in the National League South, the FA Cup proper and brought in a trio of former Premier League stars; Jamie O'Hara, Paul Konchesky and Jermaine Pennant. But his reign wasn't all sunshine and lollipops; the steel magnate courted controversy for, amongst other things, appointing himself manager, bringing his teenage son into the squad, making "gangster threats" against one of his own players and generally behaving with all the grace and style of a LinkedIn guru on steroids.
Tamplin has already shown he intends on bringing his patented brand of generous madness to Romford. In their first game under Tamplin's reign, Romford offered free admission, as well as a free pint. More than 500 turned up to witness a 3-2 defeat in which the new boss had used all three substitutions after half an hour.
Tamplin is the perfect fit for Romford manager. That's not my opinion, but the informed view of Romford's owner, a Mr G Tamplin. He claims appointing himself to the top job makes sense because professional clubs wouldn't trust anyone but him with their youth players. Yet Romford have signed their loanees from Crawley and Colchester in League 2 as well as Bromley in the National League; hardly unprecedented stuff at this level. The likes of Crewe Alexandra, Exeter and Salford City all have players out on loan at clubs playing in equivalent eight-tier leagues. Heck, Liverpool even loaned out one of their academy players to Marine, entrusting him to the embodiment of footballing chaos, Neil Young, a man I personally wouldn't trust to look after a Subbuteo set. Picture the bigwigs at a Football League club preparing to send a promising youngster on loan; "Don't send him to that club. They've got some no-account coach in charge. Get him to Romford, big Glenny Tamplin will have him singing R Kelly tunes like a champ".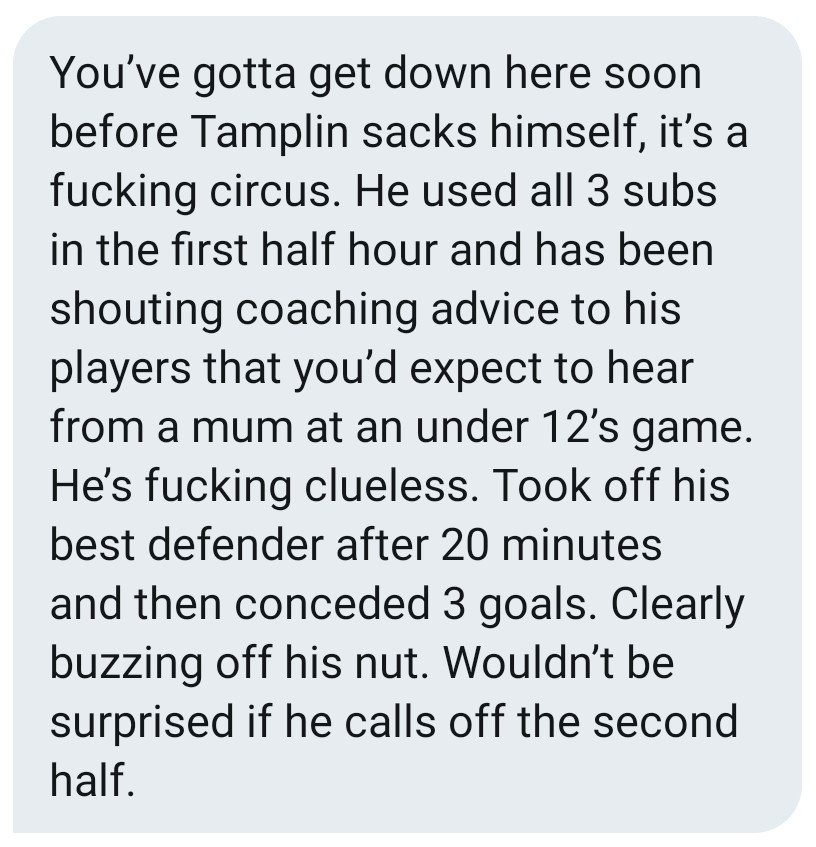 ...........and we hand over to our reporter at the Brentwood Centre Arena for his account of an eventful match which saw millionaire Glenn Tamplin take charge for the first time of his new look Romford FC side..........#ThisIsTheNews
https://t.co/KMjlJnn3RT
Tamplin conveniently ignores the fact there were more than two options. Romford didn't have to choose between Tamplin and the incumbent manager. They could have invested in a pro licensed coach with experience and contacts. At such a low level, with enormous quantities of cash flying about, perhaps these antics don't really matter. Romford will no doubt be steamrollering their opposition soon enough with their bulked up squad, no matter who bellows at them from the dugout. It shows what Tamplin is about though. He left none of that indestructible self-confidence behind when departing Billericay.
Romford doesn't have a lot to lose. Despite the media circus, Billericay survived Tamplin's reigns seemingly without ill-effect. If the new owner can deliver on his promise of a new stadium, Romford would likely put up with any amount of shenanigans. For clubs in the lower echelons of English football, existing for any period without a ground of their own can be fatal. All it takes is a loss of sponsorship or a dodgy landlord and matters can spiral out of control. It's happened up and down the country to the likes of Norton United, and Rochdale Town. Romford have been homeless since 2001, when their ground was inexplicably buried under a heap of debris like a non-league Pompeii.
Whether Romford benefits from this injection of cash and publicity long-term remains to be seen, but Tamplin is an avatar of monied football owners everywhere. By breezing into the club, tearing everything to pieces and stamping his own image onto the club, Tamplin is holding up a warped mirror to billionaire owners like the Glazers. Both have no real stake in the clubs they are taking over. And while they may have different motivations, in the case of the Glazers, pure profit, while Tamplin appears to be searching for some kind of validation or reputational boost, they are two sides of the same coin. Both arrive at these clubs with an ultimate desire to take something away, even if that involves giving something back in the process.