Hwang Hee-Chan: RB Salzburg's underrated gem
Hwang Hee-Chan's efforts always go unmarked.
Every season, a new challenger emerges from the lesser leagues to challenge UEFA's elite. They reveal fresh young faces bursting with talent and play a brand of football that charms neutrals. Last year, it was Ajax, with Frenkie de Jong and Matthijs de Ligt introducing themselves during a Champions League semifinal run. Three years ago, Monaco gave us Kylian Mbappe and Bernardo Silva, among others as they too made Europe's final four while stealing Paris Saint-Germain's Ligue 1 glory.
This year, Red Bull Salzburg are the in-team. They failed to advance to the Champions League knockout rounds but still shocked the world while giving Liverpool and Napoli all they could handle. With the somewhat less posh Europa League beckoning, the club was happy to move its talent sooner rather than later. Consequently, Erling Braut Haaland and Takumi Minamino are already shifted to Borussia Dortmund and Liverpool's books. But their business isn't finished. Hwang Hee-Chan is next in line.
The Korean arrived in Austria in the summer of 2015. After an underwhelming campaign, he scored 12 goals and three assists in his second year with the perennial Bundesliga champions. Racking up six goals and seven assists this season, his scorching form carries over.
In the Champions League, the South Korean contributed three goals and three assists. As well, he set a record by creating 14 chances from open play in the group stage. Quick, nimble and incisive, Hee-Chan can receive the ball in tight quarters and make something of the possession. The ball stays glued to his feet.
While everyone noticed Haaland and Minamino, Hee-chan earned Kalidou Koulibaly and Virgil van Dijk's respect along with his cohorts. Despite his slight stature, he isn't afraid to run between defenders to create space for teammates. His quick feet then allow him to release short passes in the final third. His teammates benefit.
His awareness and anticipation are superb. He seemed to know where Haaland and Minamino were going before the players themselves. Salzburg's ridiculous goal tally on the season results from his instinctive passing as much as anything.
On the other hand, his shooting is strictly average. His 26% conversion rate is strong but he has missed seven big chances in the Austrian Bundesliga this season. While prepared to shoot with either foot, all his shots are taken inside the box.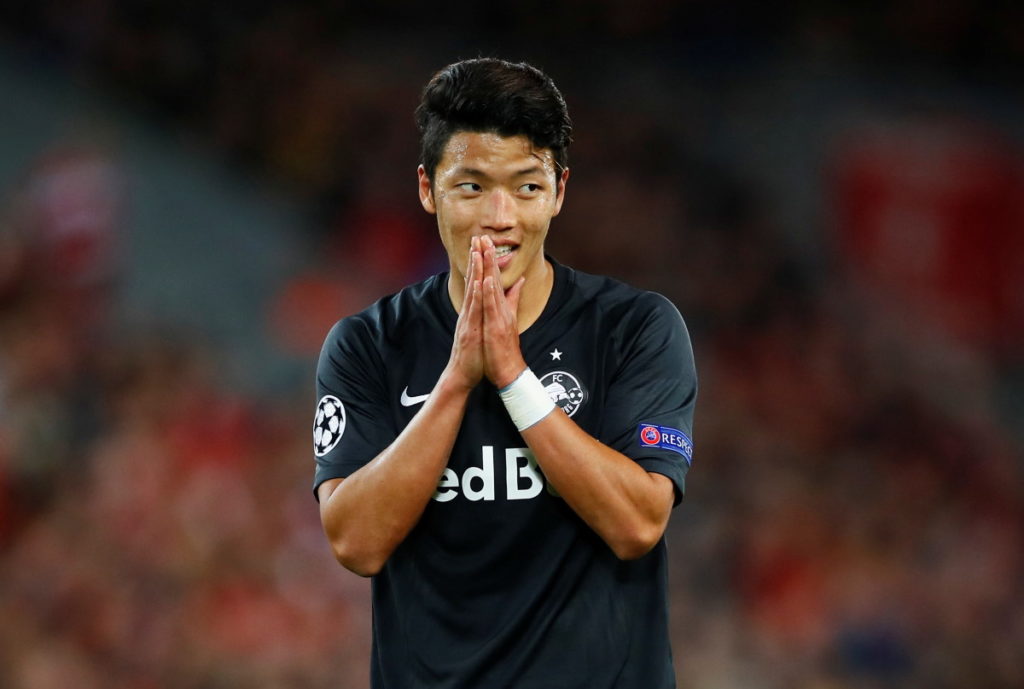 Hwang Hee-chan in the Champions League this season:
most chances created from open play (14)
most possession won in the final 1/3 (12)
Perfect modern forward. 🇰🇷
https://t.co/uReMqDOBhX
His ability to play across the front line enables tactical options for manager Jesse Marsch. He might be better advised to focus on a single position in order to develop his full potential. Certainly, he needs to work on his ball retention.
With his running mates already gone, Hee-chan is ready to follow. Valued around £20 million, there'll be no shortage of suitors. Wolves are prominent in the discussion after Patrick Cutrone and Neto failed to come good in the season's first half. Nuno Espirito Santo's two-striker system shouldn't be too onerous a challenge after working with Haaland and Minamino.
Like countryman Heung-Min Son, his pace and creativity suit the new, more adventurous Premier League. The Bundesliga, Ligue 1 and La Liga are also suitable destinations, however. Without a doubt, the world is Hwang Hee-Chan's oyster.