In defence of the traditional defending defender
Gone are the days when all we wanted from a centre-back was a big brute who could head the ball further than most could kick it, a player who would be willing to turn his own Gran into a sobbing, crumpled heap on the floor to get the ball.
These days, when managers prefer to keep the ball on the deck and play out from the back for fear of being called a caveman, we are seeing more and more defenders for whom the classic art of defending is nothing more than an ancient and primitive endeavour reserved for players lacking in technical ability.
Balls are being headed less and Grans are being left to their knitting, content in their armchairs. It is sad to see.
These days more and more defenders look comfortable on the ball, are able to pick out passes and contribute in an attacking sense – in years gone by there were very few defenders who could do these things as well as head and tackle.
Things have progressed; the first duty of a full-back, for example, is not to nullify the threat of the opposing winger but rather to make a nuisance of himself in the attacking third and whip in crosses.
In the centre of defence, things have changed too, especially for teams which like to dominate possession. For sides such as Manchester City, Barcelona and Real Madrid, which almost always have the lion's share of possession, it is important that their central defenders offer a passing outlet; they are the ones who collect the ball from the goalkeeper and shove it five or ten yards into the feet of a midfielder.
This has been Nicholas Otamendi's job all season, to get the ball from Ederson and give it to David Silva, Kevin De Bruyne or Fernandinho.
The Argentinian has done it well, his side has won the league and he has been voted by his fellow professionals into the PFA team of the year.
Otamendi is by no means the best defender in the league, he isn't even the best defender at his club, but he has done exactly what has been asked of him this season and has reaped the rewards.
The decision to vote Otamendi, a player who has displayed his defensive vulnerabilities on more than one occasion this season, into the team of the year suggests that the ability to function as a cog within a machine is valued more highly than the actual duty of defending.
This is a shame for the real defenders, the crusaders of the crunching tackle, the staunch advocates of the hoofed clearance, the incessant, vigorous headerers of the ball. These players don't play in a system like that at Manchester City, nor do they have managers with such clearly defined ideologies as Guardiola.
Shane Duffy fits this mould. He has been the best defender in the Premier League this season and with the Republic of Ireland not involved in this summer's World Cup he will be able to enjoy a well-earned break and reflect upon Brighton's successful maiden top-flight season.
He and his central defensive partner Lewis Dunk have been integral to the club's survival but it is Duffy especially who has epitomised the South coast club's resilience.
It is a shame then, that after such a successful season, he wasn't able to earn a place in the PFA team of the year despite bettering Nicholas Otamendi and Jan Vertonghen (the second central defensive selection) in many of the areas you would expect an award-winning defender to excel.
Take blocks, for example – Shane Duffy has made 53 this season, second most overall behind teammate Lewis Dunk with 52 whereas neither Otamendi nor Vertonghen make the top 20.
Duffy has made significantly more clearances than any other player in the League this season with 299, the player in second (Ahmed Hegazi) has 44 fewer – Otamendi and Vertonghen have less than Duffy between them.
The Irishman also tops the charts in terms of headed clearances (219) but once again Otamendi and Vertonghen don't appear in the top 20.
There's more.
Duffy is also the defender who has won most aerial duels this season, he ranks third overall behind Christian Benteke and Peter Crouch.
According to Premierleague.com, Nicholas Otamendi has made three mistakes which have led directly to goals this season compared to Duffy's zero and the fact that Otamendi has amassed nine yellow cards in a side which has romped to the title and dominated possession in every single one of their games suggests there is truth to the opinion that he is a rash tackler.
Duffy has seven yellow cards to his name, two fewer than the Argentinian in a side which has found itself under considerably more pressure throughout the season.
This appears to be a veritable landslide of empirical data which suggests that Shane Duffy is a better defender than Nicholas Otamendi.
People are sceptical of statistics though, indeed there will be people reading this article and scoffing at the aforementioned notion.
It does sound a trifle odd, I must admit, and perhaps if Duffy was above Otamendi in only one - or maybe even two - areas I would have thought twice about writing this article but the fact that he comes out on top in almost every area cannot be ignored, even if it is demonstrated by something as loathsome and coldly scientific as statistics.
However, there is one telling statistic on the Argentinian's side; he is the most prolific passer in the Premier League this season. With three games to go Otamendi already has the record for the most passes in a Premier League season and if he manages to pass the ball just once in each of his side's final three matches he will become the first player ever to make 3000 passes in a season.
Brighton's defensive duo of Dunk and Duffy has managed less between them.
Otamendi's ability to pass the ball has been vital to City's success this season.
It is reasonable to suggest that they may not have won the title this season if they had had Shane Duffy instead of Otamendi at the back, despite the fact that the former is better defensively than the latter.
This season Duffy has averaged 34 passes a game but this respectable total is dwarfed by Otamendi's monstrous 90 passes per game.
It is safe to conclude that what the Argentinian lacks by way of defensive nous he makes up for in sheer volume of passes.
In an ideal world, a defender would have it all; passing ability and robust tackling would both come naturally to him, but the truth is that there are very few defenders who possess such a complete set of attributes – much like many fantastic playmakers cannot, or flatly refuse to, head the ball.
Years ago we took great joy in the sight of Terry Butcher covered in blood after a gladiatorial display for England. Who could ask for more than putting your wellbeing on the line for the sake of a game of football?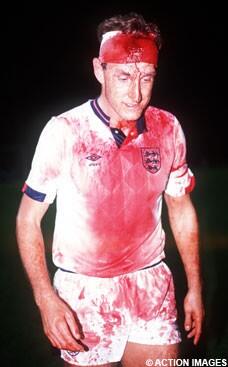 David Luiz eat your heart out. Here is Terry Butcher, slightly more covered in blood, but no stretcher required.
http://t.co/4A7N7okUVt
You could skew the ball into touch as many times as you liked as long as you came into the changing room after the game carrying a couple of your own teeth clenched in a bloodied fist but for some modern managers this type of behaviour would be considered uncouth and unbecoming of a footballer in pursuit of the beautiful game.
In the good old days, a manager would run up to his wounded gladiator and embrace him, smearing some of the spilt blood on his own face as a sign of gratitude for the effort he had displayed.
Giving blood to the cause used to be enough but the game has changed and the beautiful, brutal art of defending is being consigned to history.