Film Review - Iron Men - The story of West Ham United leaving Upton Park
"This ain't a football club; this is a family" are the opening words of Iron Men: a line taken from Mark Noble's moving speech delivered after the last match at Upton Park. The line is indicative of the Iron Men's overall tone, seeking to pull at heart strings with their behind-the-scenes analysis of the London Stadium move. Undoubtedly, Iron Men will give West Ham fans goose bumps. Title: Iron Men
Producer: Signature Entertainment and Iron Men Films
Publication date: 3rd March 2017
Available: Official West Ham stores, as well as iTunes and
Amazon
Price: £15
It's long been understood that football is more than just a sport; it raises questions concerning culture, identity and belonging. There is also a clear intersectionality between football and money, business and politics (everyone has their unique view on whether that be a good thing or not). All of these complex themes have been brought under the spotlight by West Ham's controversial move to the London (Olympic) Stadium. How will it affect the local economy surrounding the Boleyn Ground? Did the taxpayer get good value for money? How will the club's identity be affected? Who benefits from the stadium move?
Essentially, Iron Men is a "behind the scenes" documentary following West Ham's transition from the Boleyn Ground to the London Stadium. A lot of existing literature makes quite broad-brush generalisations about the views of West Ham fans, categorising them as being either "for" or "against" the move. But the film seeks to disrupt this binary and illustrate the complexity of the views of the fans.
Specifically, Iron Men features a handful of West Ham fans and explores how the move will impact upon their life at a personal level; this makes Iron Men uniquely insightful, demonstrating the spatially uneven impact of the stadium move. For example, one fan followed in the documentary is blind and thus the film illustrates how the move will personally affect his life; this story is particularly heart-warming and reinforces the over-arching message of Iron Men: football is more than just a sport.
To a large extent, the film is chronological in nature and begins with West Ham's last ever FA Cup game played against Manchester United on the 13th April 2016. Despite the pre-match optimism visible during Ray Winstone's behind-the-scenes pre-match Upton Park tour, West Ham lose the match 2-1. Arguably, this result was a sign of the things, as the difficult transition to life at the London Stadium was underway. The rest of the documentary then follows the journey to the new stadium. Iron Men looks at the journey from the initial stadium bid of five years ago right up until the last match at Upton Park; the film concludes by after the first home game at the new London stadium against Bournemouth.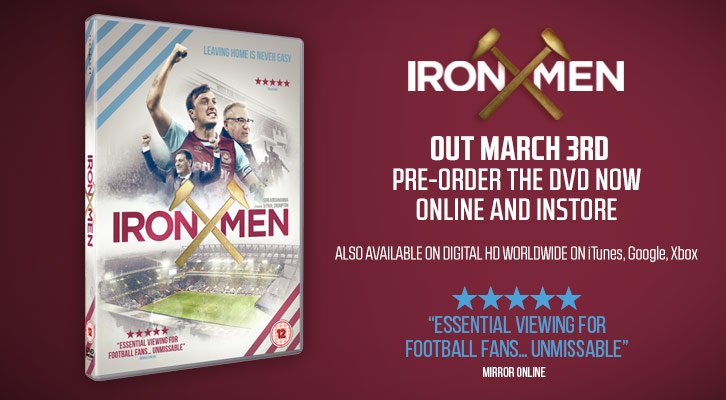 Iron Men features exclusive interviews with Slaven Bilic, David Sullivan, David Gold and Karren Brady, including a brief tour of David Sullivan's property. Mark Noble is also a key feature in the film; Iron Men explores his early childhood memories and looks at how he became the much loved West Ham captain he is today. The film has a great mix of diverse content including match clips and exclusive interviews with the various stakeholders affected by the stadium move.

What is most interesting about the interviews in the film is that they reveal how the obstacles that West Ham has had to overcome in relation to the move were not unforeseen. For example, Slaven Bilic is very honest and states that he has two opinions in relation to the move. His first opinion is that the move is exciting for the club and that the new stadium will be amazing. However, his second opinion (which he says is him speaking as a manager) is that he has concerns regarding the vast nature of the pitch, as well as the loss of the hostile atmosphere that famously characterised the Boleyn Ground. Karren Brady suggests that humans instinctively resist change and therefore fully expects the move to be culturally divisive as West Ham's new identity is forged. These interviews are really interesting as they reveal that the owners didn't just support the move blindly but were aware of the obstacles they would face.

A particularly interesting character in the documentary is Gary Firmager, previously editor of popular West Ham fanzine OLAS (a reference to the song "we all follow the West Ham, over land and sea"). Firmager is firmly against the move, citing a loss of history and identity. His refusal to digitalise OLAS' content is illustrative of his conservative attitude to change, and he decides that the magazine will cease to be published after the final season at the Boleyn. Most interestingly, he suggests that he will never attend a West Ham home match again, though it will be interesting to see if he holds the same viewpoint in a decade or so. Thus, Gary Firmager is representative of West Ham fans who are desperate to hold on to what they see as the club's "identity".

 

Stereotypically, one would expect younger people to be more open to change and older people to have more socially conservative attitudes; this is indicated by politics with young people in the UK more likely to vote for parties such as the Liberal Democrats, Labour and the Green Party, while elderly people are more likely to vote Conservative. However, lifelong West Ham fan Mabel Arnold bucks this trend. Having celebrated her 100th birthday at West Ham, Mabel is somewhat of a club legend. There is a great scene in the film shot after the last match at Upton Park; Ben Shepherd reads out her name and she receives a standing ovation from the West Ham faithful. During the documentary, it is clear that Mabel is upset to be leaving Upton Park given the memories she has from the place. However, she firmly believes that the move is in the club's best interest. In a sense, therefore, she represents the feeling of most West Ham fans: sad to be leaving Upton Park but excited by what the future holds at the Olympic Stadium.

Overall, Iron Men is a great watch for both West Ham fans and football fans generally, featuring match clips, exclusive interviews and behind-the-scenes analysis of the transition to the London Stadium. Iron Men's unique selling point is that the move is portrayed through the eyes of different stakeholders; thus, Iron Men illustrates the complexity of the stadium move and demonstrates its spatially uneven impact.

___________________________________________

We have three copies of the film to giveaway, for your chance to win one, just make sure you are following us on Twitter and retweet the Tweet below