Is age finally taking its toll on Jamie Vardy?
Leicester's talisman finds his body breaking down late in the campaign.
In 2015/16, Jamie Vardy announced himself to the football world as one of the most naturally gifted scorers in the modern game. Doing so in the game's 'most competitive' league renders Vardy's beyond question. Even when Leicester City don't finish in the top four, you can always bet on Vardy netting double-figures in goals for the campaign. In his debut campaign, the year before the Foxes won it all, he scored five. Since, his worst output is 13. The Foxes are lucky to have him.
His partnership with Riyad Mahrez was title-worthy. Dubbed the Unbelievables, Vardy's stunning 24 goals and six assists played a vital part in the team's success. While Mahrez fought desperately for more than a year to join Manchester City, Vardy rebuffed Arsenal's interest.
A blazing, counterattacking threat, the Sheffield-born winger's intelligence helps him time his runs to perfection, utilise space and position himself well to receive assists. You wouldn't dare question his work ethic. Add to his pace and anticipation the ability to shoot with either foot and head the ball and you have a deadly finisher.
Despite the accolades, Vardy isn't Lionel Messi or Cristiano Ronaldo. He can't roll back the years and make age an ordinary number. At 33, the Englishman is past his prime despite 17 league goals this term. He hasn't found goal in his last six matches and only scored once in eight. Sergio Aguero is a goal behind him in the race for the Golden Boot, Pierre-Emerick Aubameyang and Southampton's Danny Ings, two back, Mo Salah three. Unless he can find a second wind, they all stand to surpass him.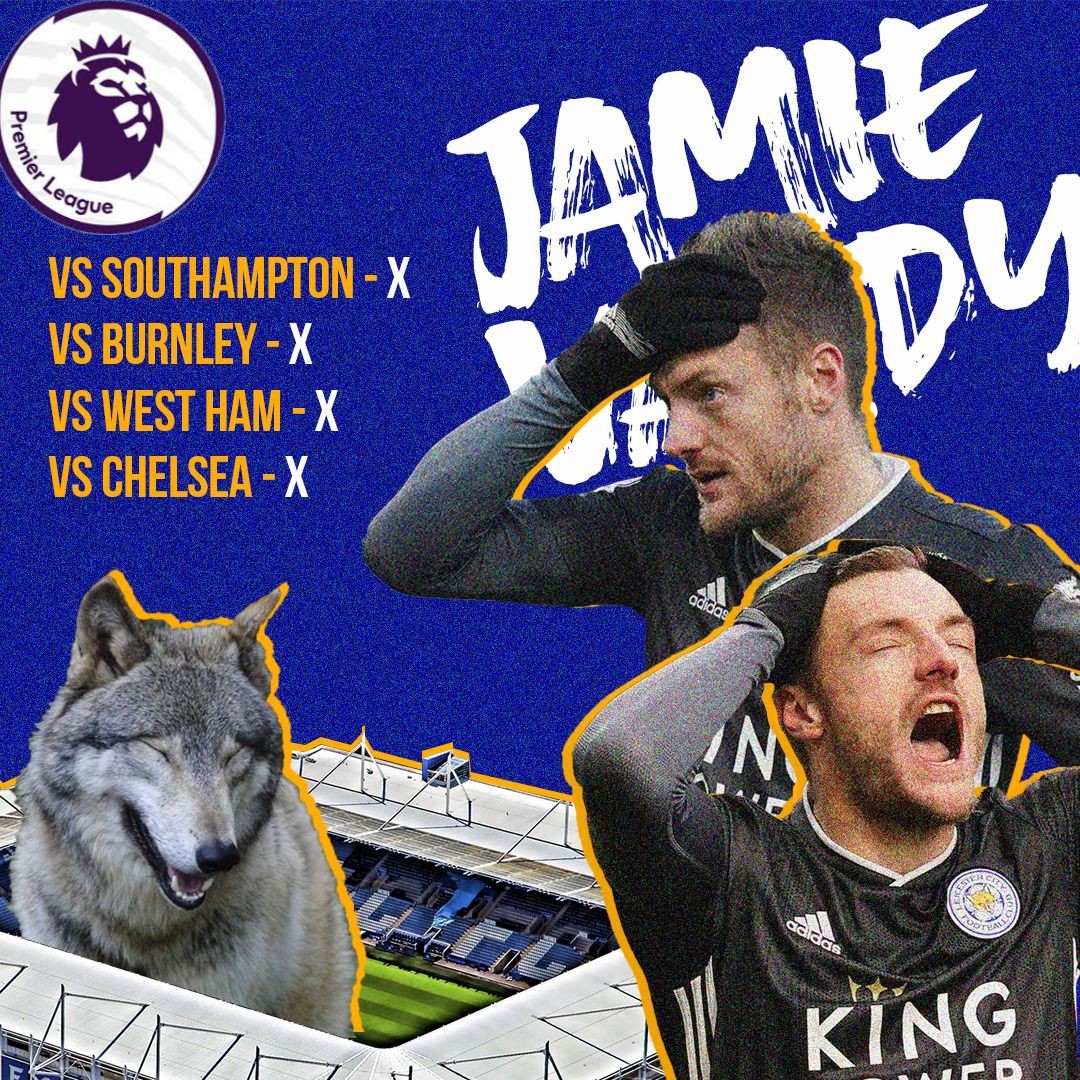 Jamie Vardy currently leads the top scorer chart in the PL with 1️⃣7️⃣ goals with others trying to catch up
Vardy is yet to score this year despite playing 4️⃣ games. Can he win the Golden Boot come the end of the season?
#GetSporty #
BetSporty
https://t.co/uhRopu1g29
While it would be wonderful to go out on top with an individual award, football is a team game. Vardy's slump affects Leicester City's chances to qualify for the Champions League although Manchester City's two-year ban may be an unexpected boost. Brendan Rodgers' trust in Vardy won't waver but he has options. Kelechi Iheanacho stepped up his game in December. After spending most of the campaign's first four months on the bench or not named to the squad, the Nigerian forced himself into the Irish gaffer's plans by scoring seven goals and assisting four in all competitions. Since arriving from Newcastle, Ayoze Perez made himself useful, collecting seven goals and five assists himself, with all but one EFL Cup assist coming in 20 Premier League starts and three cameos. Rodgers isn't risking too much in resting Vardy for a game or two.
Of course, the Premier League helped with that somewhat with its recently concluded 'winter break' during which clubs other than Manchester City only played a single match over a fortnight. Vardy also declined to make himself available for England again despite Harry Kane's injury. That should tell anyone he believes his time is running out and wishes to milk it for all its worth. The two-week break in March represents another chance to recharge his batteries and shake some of the lead from his legs.
Even so, Leicester is best advised to plan for all eventualities. Don't anticipate City's woes will provide a Champions League safety net nor that a break or two late in the campaign will be enough for Vardy to rediscover his top form. If the 33-year-old is prepared to make way for cubs to join the Three Lions, he may also be better off giving younger Foxes Iheanacho and Perez a greater run in the King Power hen house.