Is Aleksandar Mitrovic Ready For The Big-Time Move?
Life under Claudio Ranieri began in the most ding-della-dong manner for Fulham. The Lily Whites piped Southampton in a thriller to pick up a much-needed win. Their second of the campaign, it moved the recently-promoted Londoners a point behind the safe zone. The Italian still sees a tough task ahead, but his ace in the hole is his No.9.
Aleksandar Mitrovic is the man to help Ranieri guide Fulham safely out of their dark tunnel. He's already borne gifts for his new manager. Mitrovic tormented Southampton's defence, bullying his way to a brace against the Saints.
The double took his tally to seven for the season, one behind top-scorers Pierre Emerick-Aubameyang and Sergio Aguero. More importantly, it restored the Cottagers' battered confidence. New manager Ranieri, infamous for finding star strikers, has stumbled across another gem.
The Italian praised Mitrovic as one of Europe's top strikers at the moment. He isn't far wrong. The Serb carries the weight of Fulham's attack with the utmost confidence, thriving under pressure.
Mitrovic is more of an old-school striker. He doesn't burn you with electric pace but makes up for it with his aggression. The classic tough guy, he'll fight tooth and nail to win every ball and intimidate defenders with his physical prowess. The goal he scored against Watford epitomises his style. He used his position and weight to hold back defender Kiko Feminia, then tapped in from close range. He's brilliant at neutralising threatening defenders.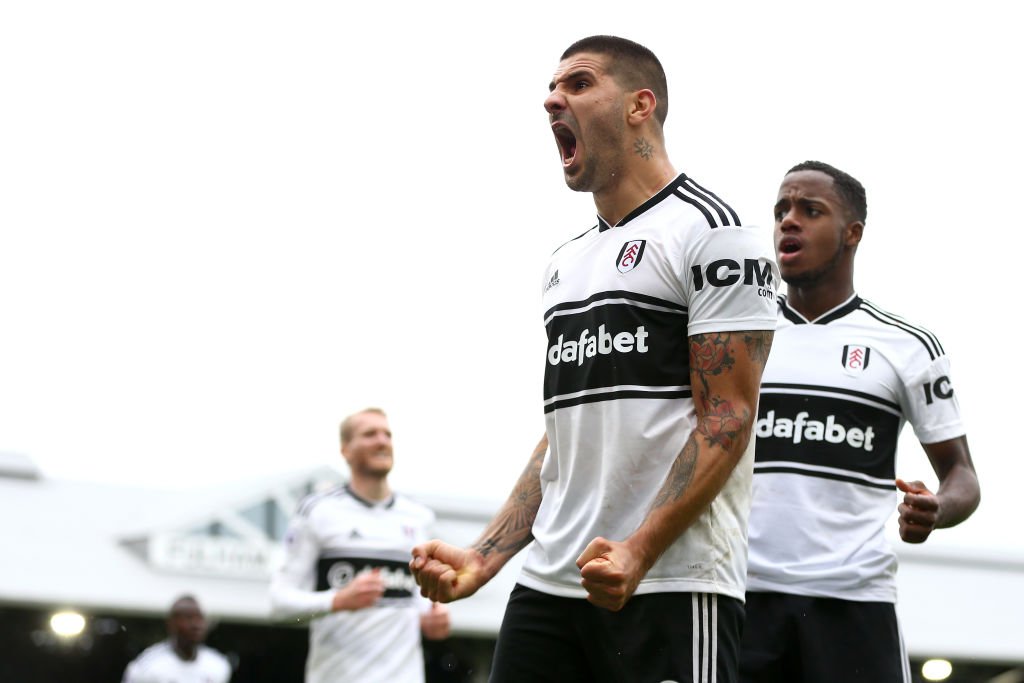 Only Sergio Aguero (8) has scored more Premier League goals than Aleksandar Mitrovic (7) so far this season.
Up there with the best.
https://t.co/4j9ndhilsE
The Serbian regards his body like a weapon. He'll use it by any means necessary to achieve his goals. That alpha mentality works in his favour. Several Mitrovic goals come via headers. He often beats his man in the air with his towering frame and perfect timing. His positional sense and anticipation provide further advantage.
He isn't Aubameyang or Marcus Rashford, yet his acceleration and close-control are commendable. He's got the perfect striker's touch and opportunism, enabling him to score many fine goals. Most encouraging, for all his experience, he's still only 24.
Mitrovic didn't enjoy an auspicious start to his English career at Newcastle. Spoiled by young wunderkinder hitting the ground running, supporters had no patience for his slow development. Toon shipped him off to Fulham for a bargain £22 million potentially rising to £27 million. At a time when bench players get sold for much more, that's an absolute steal.
After helping Fulham attain promotion to the Premier League, Mitrovic is now proving the Magpies wrong for losing faith. He scored only 14 goals in 62 appearances during his disappointing Premier League campaign with the Geordies but has already claimed half that number in 13 top-flight appearances for the Lily Whites.
While he's only managed a single assist so far, Mitrovic plays a bigger supporting role than he's credited. He often delves deep to help orchestrate moves. Fulham has little possession in games, living off the counterattack. Mitrovic's impressive hold-up play and distribution to his attackers allow the Lily Whites' to create opportunities. He averages around 25+ accurate passes per game, showing his stable distribution. With talented individuals like Andre Schurrle, Luciano Vietto, Jean Michael Seri and Ryan Sessegnon surrounding him, Mitrovic is happy to serve.
Ultimately, Mitrovic's hunger for goals and predatorial instincts make him an ideal fit for many European giants. Teams focusing on a direct approach to games would benefit from his presence. Either of the Milan sides, Atletico Madrid or even Manchester United would profit from his services. He would fit right into Serie A, work well as Diego Simeone's bullish striker, or provide an able alternative to United's underperforming Belgian, Romelu Lukaku.
Mitrovic mimics Italian World-cup winner Luca Toni with his ear cup celebration. Like the former Juventus, Bayern and Fiorentina striker, he must also have ambitions to play at the highest level. The Serbian's ambitious personality could force Fulham to sell for a huge profit next summer. If Mitrovic continues his relentless scoring prowess, finishing the season with 20+ goals, how can the big clubs not come calling?