Is Barcelona's problem in the dugout?
The Barca squad who twice lost huge leads in the Champions League late rounds suddenly have no appetite for travel whatever the competition.
Barcelona ranks among European and world leaders in tourism, commerce, education, entertainment, fashion, science and sport. While it jealously preserves its unique cultural heritage, the Catalunyan capital is now a cosmopolitan city. The one place visiting footballers don't want to go is the Nou Camp, however. A 99,000-seat cauldron of intimidating noise and colour, it is a place where La Liga and Champions League hopes die.
Perhaps more intimidating than the throng of supporters is that the squad not only features a diverse array of world-class talent from Catalan, the rest of Spain, Croatia, Germany, France and Brazil, but also an Argentine considered the world's best player. Until this season, it looked like Lionel Messi would never grow old, his talent never fade. Then a calf injury expected to heal before the season began kept him out through the campaign's first four rounds. In his three games since returning [including the Champions League outing v Borussia Dortmund], he's struggled to catch up, logging just an assist in 120 minutes of action. Worse, he was substituted at half-time of his first-start, this time with an aggravated thigh.
While the Blaugrana are perfect at home, winning their three matches 12-5 on aggregate, they've taken just two points from their four away games, only scoring in the two-goal draw against Osasuna. When you factor in the five conceded in front of the home crowd, Barca's overall performance worries. The five-time Ballon d'Or winner's absence affects their performance, but a manager in his third season and blessed with the talent on which Ernesto Valverde can call shouldn't be watching opponents regularly outplay his side.
Even with Messi in the squad, Barcelona weren't resilient. We watched them surrender a three-goal advantage to Liverpool in the Champions League semifinal last year and the same in the previous campaign's quarterfinal in Rome. Talent carried Valverde's squad a fair distance domestically in the past two sessions but it's floundering in the early doors in 2019/20.
The manager came to Barcelona from Bilbao where he managed Athletic. The Basque side pride themselves on their determination and work ethic. It was no different under Valverde. Yet, he can't seem to instil that attitude in the Fancy Dans on the other side of the country.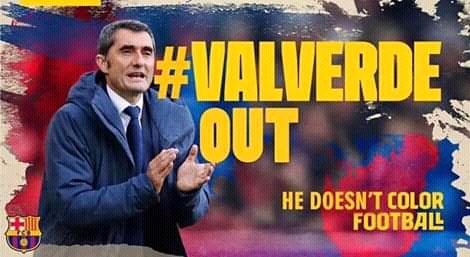 @
FCBarcelona
If barca fans will start boycotting games and writing on banners #
ValverdeOut
they will know how to sack #
Valverde
If we don't do that, we should expect a shocker season or a hilarious season.
#ValverdeOut
#ValverdeDimision
#ValverdeFUERA
#valverde_out
https://t.co/XhojpVWsLT
He can't plead poverty. After two major disappointments, the board stuck with him and threw €120 million at Atletico Madrid for Antoine Griezmann another €75 million in Ajax's direction for Frankie De Jong. Neto, Junior Firpo, Emerson and Cucurella were also signed.
Nevertheless, the gaffer is overseeing the club's worst start in 25 years. The goalless draw against Dortmund in the Champions League opener revealed their struggles. Marc-Andre Ter Stegen's reflexes in goal saved the Catalans on many occasions.
When you stretch it back to last season, Barca haven't won on the road in seven attempts. The intimidation factor no longer travels with the team. Opponents grow bolder knowing Valverde's side is toothless away from their massive fortress. Maybe bluster carried them through in the past. Not anymore.
Fans often weigh down their clubs with unrealistic expectations. There is no such thing at the Nou Camp. Each campaign is a realistic opportunity for the Catalans to win every trophy on offer, especially the Champions League. Messi won't stop promising and the team will always chase until they get their hands on the big-eared cup again. They just need a manager who will point them in the right direction. With every passing matchday, that looks less and less like Ernesto Valverde.