Is Alphonso Davies the world's best left-back?
Bayern's Alphonso Davies is so fast, he ran away from mediocrity while still a teenager.
Players like Alphonso Davies make you wonder just how many unearthed gems we're yet to see in football. The Bayern Munich full-back is only a teenager, but he's attracting all the right attention this season. Davies' stellar form has improved as the season progressed. After putting himself in everyone's face with a superb performance in the Champions League last 16, it's not out of place to ask if he's the best left-fullback around today.
Davies is one of those rags to riches stories. From being born to Liberian parents in a refugee camp in Ghana, determination, sheer willpower and an abundance of talent have seen him rise to play for one of the greatest teams in the world.
Before joining Bayern Munich, Davies had earned a reputation in Major League Soccer. He became the second-youngest player to feature in the MLS in 2016 and shone brilliantly before leaving the Vancouver Whitecaps.
A move to one of Europe's best was always in the cards for Davies; the question was whether he could live up to the hype. Following his €10million moves to Bavaria, he certainly is.
It must be said that Davies joined Bayern as a left-winger who could also play at left-back. His raw pace must've been what caught the eye of decision-makers at the Allianz Arena. Bayern interim gaffer Hansi Flick once referred to him as their get-out-of-jail-free card, largely due to his electric pace. It's why we've seen so many goal-involvements from the Canadian youngster.
Beng played out of position is something that so often happens to young players when they move to big clubs. Niko Kovac tried out Davies for the first time at left-back in 2018/19 in a Bundesliga game against Mainz. The lad absolutely bossed the game and scored in the 6-0 thrashing.
After being alternated at right and left-wing, Davies has seized that left-back position and made it his own this season. He's consistently played there for the last 22 games in all competitions, Including that breathtaking performance against Chelsea in the Champions League. In that time he's produced eight assists.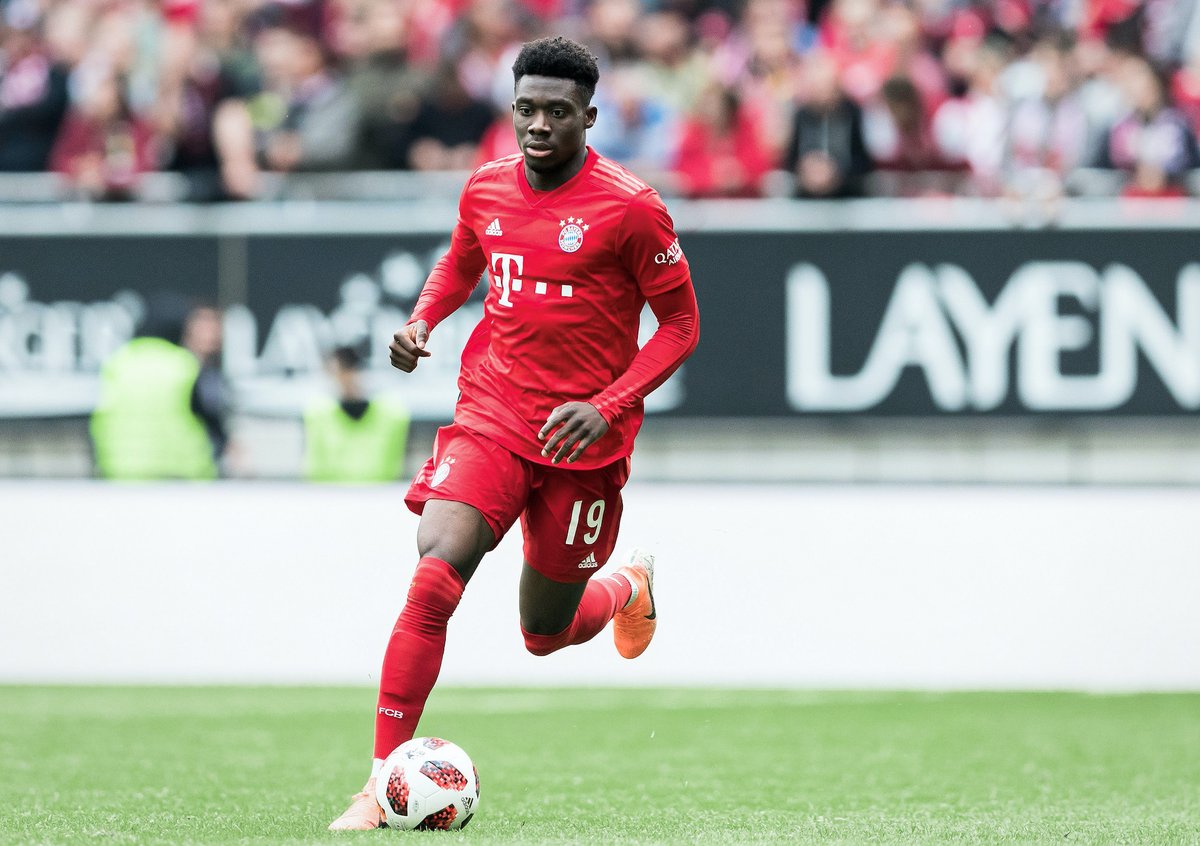 Alphonso Davies' performance against Chelsea using numbers.
100% Tackle Success
80% Duels Won
86% Dribble Success
91% Pass Success
2 Key Passes
1 Assist
What a performance!
What a bright future!
#CHEBAY
https://t.co/hkh7mFblYm
The consequence of Davies' fine form for someone like David Alaba is being forced to play at centre-back. Although Bayern can also point to injury problems as a to why their mainstay left-back has only played four Bundesliga games in that position this season.
Compared to other left-backs
Before one can infer Davies is the best or even among the best left-backs in the world, it's only fair to compare him with other players in that department.
Nowadays, the role of full-backs has been redefined from being traditional defenders to being more of attackers. It explains why the best left-backs nowadays are the ones who contribute the most going forward. In that regard, Liverpool's Andrew Robertson comes to mind.
Compared to Davies, Robertson has contributed more to his team's attack in the league; although he's played more. The Scotland captain has contributed seven assists to Davies four. Robertson also betters Davies in terms of expected assists per game [0.23:0.16]. And the Liverpool man comes out on top with regards key passes per 90' [1.60:1.38]. Defensively, Robertson has helped Liverpool keep 12 Premier League clean sheets this term. Davies has helped his team do that six times in Bundesliga. Again, Davies has played 1431 league minutes to Robertson's 2358 minutes.
Bar Robertson, not many Premier League left-backs have performed at Davies level. Arsenal's Bukayo Saka deserves a mention, but he's not featured consistently at left-back. Injury has hampered the campaigns of both Benjamin Mendy and Barcelona's Jordi Alba. The pair have played just a miserly 28 league games between them and have been involved in just four league goals for their respective clubs.
The bottom line
Davies is a joy to watch and could go on to become a Bavaria legend. He looks like the best left-back in Europe this season. He's already a Bundesliga Champion and is likely to win it again this campaign. But the real deal would be Bayern winning the Champions League with their speedster. Perhaps Alphonso Davies would win the individual awards for his heroics if they can scoop the biggest prize in football...