Is Carlo Ancelotti looking for a deep-lying midfield playmaker?
Another defeat to Liverpool reveals where Everton's new manager most needs help.
James Milner, who went off in the tenth minute, was the closest thing to a member of Jurgen Klopp's preferred XI to start the FA Cup Third Round Merseyside Derby at Anfield on Sunday. Everton still lost to Liverpool's youngsters.
To be fair, it took an inch-perfect bender into the top corner from Curtis Jones to break the deadlock between the two sides. The Toffees ceded possession throughout but crafted the better chances in the first half. If Jones' goal was inch-perfect, Theo Walcott's cross into an air-bound Dominic Calvert-Lewin was millimetres off. Earlier, Calvert-Lewin, Richarlison and Mason Holgate shot or headed other point-blank efforts directly at the Reds' second-choice keeper, Adrian.
In that context, Everton were unlucky. On the other hand, Gylfi Sigurdsson's removal on 63 minutes spoke volumes regarding the Toffees' woes. For one, it exposed the gulf in depth on either side of Stanley Park. Secondly, it demonstrated the absence of a clear style and identity at Goodison Park. Third, Everton lost all initiative when he withdrew, leaving onlookers with a sense of inevitability before Jones' worldie confirmed it. Finally, it revealed that Carlo Ancelotti is still getting to grips with the challenges before him.
It should be remembered a similar Liverpool XI were ousted from the EFL Cup by Aston Villa while the senior team contested the Club World Cup in Qatar before the holidays. Given Villa toil six places and four points below Everton in the table, you might expect the Toffees to have less trouble with the Anfield rugrats. Yet, while Dean Smith's squad lacks the familiarity to be as consistent as he would like, they are nonetheless drilled in an established system. On their third manager in less than a month, the Everton squad can't fall back on their training when pressured.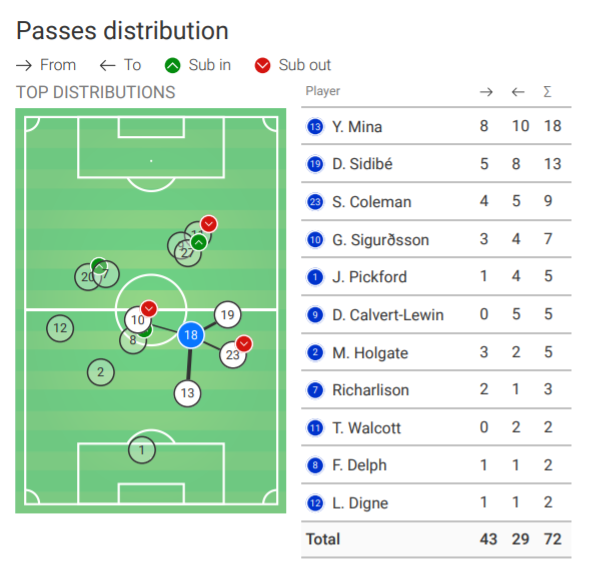 Everton's dynamic midfield duo vs Liverpool
Morgan Schneiderlin - more passes backwards to Mina in defence than to both Calvert-Lewin and Richarlison combined.
Gylfi Sigurdsson- as many passes to Pickford than Calvert-Lewin and Richarlison combined.
https://t.co/9VYri5T3pe
In addition and with all respect to Dwayne Johnson, the Villans know their roles. While Sigurdsson's goal and assist on the season are well below the 30-year-old's standard, his influence decreases when he is not in a more advanced role. It doesn't vanish altogether. While he was tentative, passing the ball back under pressure more than laterally or forward, Everton were counterattacking well in the first half. With more experience as a deep-lying playmaker, the Icelander can at least transition the Toffees into attack if not provide the assist or key pass in a finishing move.
His replacement, Fabian Delph, appears incapable. That might surprise given the England international's tutelage under Pep Guardiola. The former City and Villa man served mostly as a left-back under the Catalan, though, a defensive-minded alternative to, at various stages, Benjamin Mendy, Aymeric Laporte and Oleksandr Zinchenko. Distribution is not his calling card. Delph offers nothing or next to it in terms of shots [0.22], goals [0], assists [0] and key passes [0.54] per 90 [Understat] whereas Sigurdsson's parallel line in this his worst campaign reads 1.87/0.06/0.06/2.29.
Once Delph came on, with the game still scoreless, Everton were essentially holding on for a replay even though Ancelotti threw on Moise Kean for Seamus Coleman at the same time. Unfortunately, the moves backfired. Delph and Morgan Schneiderlin's conservative nature kept them from moving up to support the front three when they pressed Liverpool's makeshift defence. Consequently, the young Reds escaped repeatedly by exploiting the space behind the marauding wave. With Everton pinned in their own half, luck was bound to shine on the home side and Jones was the recipient.
Tom Davies was a slightly more enterprising option than Delph for Ancelotti but the youngster is more destroyer than distributor himself. Andre Gomes season-ending ankle injury leaves Ancelotti with no other option than the market to address the problem in the short term. His choices are to look for central midfielder with distribution skills or to replace Sigurdsson as the No.10 and give him time to acclimate to a new role.
If the Italian is looking for experience, he might want to call Fabio Paratici. Beppe Marotta's former assistant, he assumed the Sporting Director's role at Juventus when his mentor moved to Inter. Juve's midfield isn't adapting well to Maurizio Sarri's tactics but it is deep.
Former Arsenal man, Aaron Ramsey is used sparingly but provided two goals in his 589 minutes. A new arrival, Paratici likely wouldn't deal the Welshman.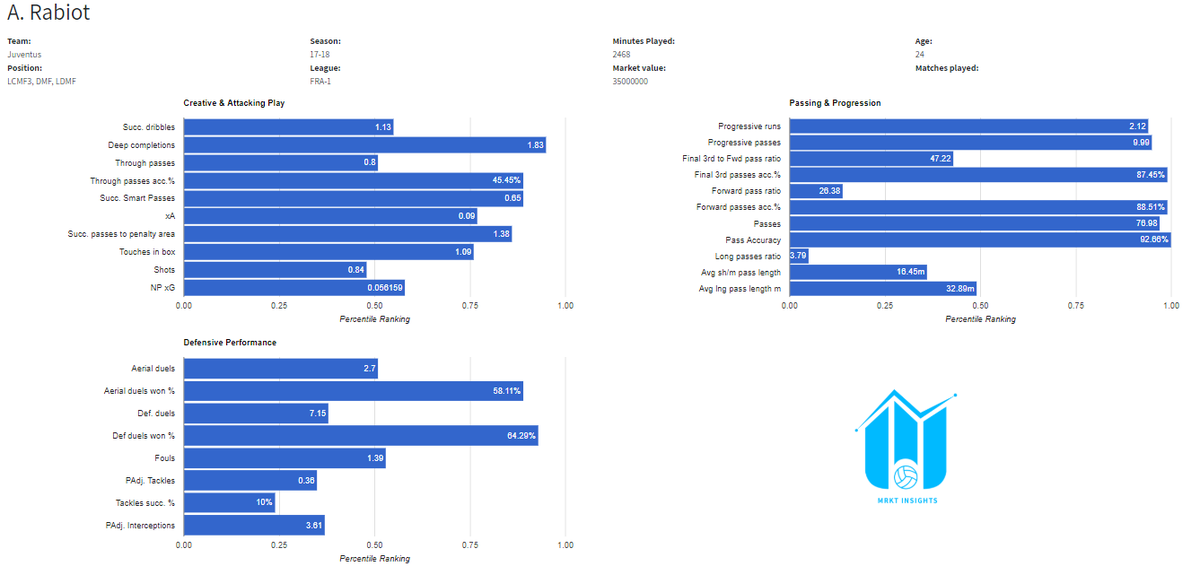 Everton are rumoured to be interested in Juventus's Adrien Rabiot to help solve their midfield woes. Here is his data from his last full season for PSG in 2017/2018 courtesy of @
insightMrkt
wonderful player search function.
https://t.co/7QZDzRcipy
On the other hand, Adrien Rabiot and Emre Can are on the fringes as well. While their contracts aren't up until 2022 and 2023 respectively, both may be sufficiently disillusioned with their choices to sign for the Bianconeri that they would consider joining former teammate Moise Kean on Merseyside. Rabiot's disciplinary issues may discourage Ancelotti and Can's status as a former Liverpool player would strain any welcome from the Gwladys Street irregulars, but at 24 and 25 both could be more than short term solutions if they settle into the squad. Of course, the lack of Champions League football would colour their decisions.
That leaves 32-year-old Frenchman Blaise Matuidi. While he is a regular in Sarri's lineup, his contract is up in the summer and his age suggests that status won't endure beyond this season. Offering the Frenchman a contract extension would be counterproductive for Everton, especially while Mino Raiola represents him. Nor is he the passing midfielder the Toffees need. Rather, he loves to run with the ball at his feet or to join the attack.
If no deal is to be had from the Turin club, the Toffees might turn to Barcelona for help. Everton signed Gomes and left-back Lucas Digne from the Blaugrana, the former a loan later made permanent. At the moment, Ernesto Valverde boasts a well-defined midfield with Frenkie de Jong transitioning into Sergio Busquets' role, Arthur Melo into Ivan Rakitic's role while Sergei Roberto and Arturo Vidal play supporting roles. Carles Alena and Rafinha are on loan to Real Betis and Celta Vigo.
While the 22 and 26-year-olds play at the highest level, 20-year-old Riqui Puig's development stalls with the Barcelona B team. The club might be willing to send him to Goodison Park until the summer to gain some valuable experience. Unlike the other choices, Puig would play in a more advanced role while the more composed Sigurdsson works in front of the defence.
This much is clear. If Carlo Ancelotti wishes to get Everton headed in the right direction, he needs a deep-lying playmaker capable of putting the Toffees on the front foot.