Is Gabriel Barbosa ready for European football?
Inter Milan outcast Gabriel Barbosa found top form in Brazil.
Background Image: Oscar Federico Bodini, CC-BY-2.0
Gabriel Barbosa's first crack at European football ended in disaster. Much was expected from the promising forward when Inter splashed around £25 million on him in 2016. He drowned in expectations and was offloaded after two difficult years. Back home, Gabigol is flourishing. Now, the question is whether he's finally ready for the big stage?
In February 2017, Inter appeared headed for another miserable Serie A outing. Struggling Bologna were holding the Nerazzurri at the Giuseppe Meazza. Stefano Pioli's side lacked the ideas and verve that usually characterised performances. Frustrated, bereft of any creative spark, Pioli faced a decision. In a surprise move, the manager summoned Barbosa. The young Brazilian poacher was already christened as a big money flop. Even more stunning to those watching, Antonio Candreva, the best player on display, was withdrawn in the 74th minute. Jackpot.
Gabigol's impact was almost immediate. In seven minutes, he ended his goal drought, picking out Danilo D'Ambrosio's cross. He knelt to the ground, pointing to the heavens. The Brazilian had endured a difficult spell in front of goal since joining the previous summer.
I came to make history and never let my head drop. Let it be the beginning of a new history.
Strong words. Like everyone at the club, he hoped that goal would rekindle his scoring touch. He'd arrived in Europe with a burgeoning reputation after scoring 56 goals in 153 games for Santos and becoming a key member of Brazil's gold medal team at the Rio Olympics.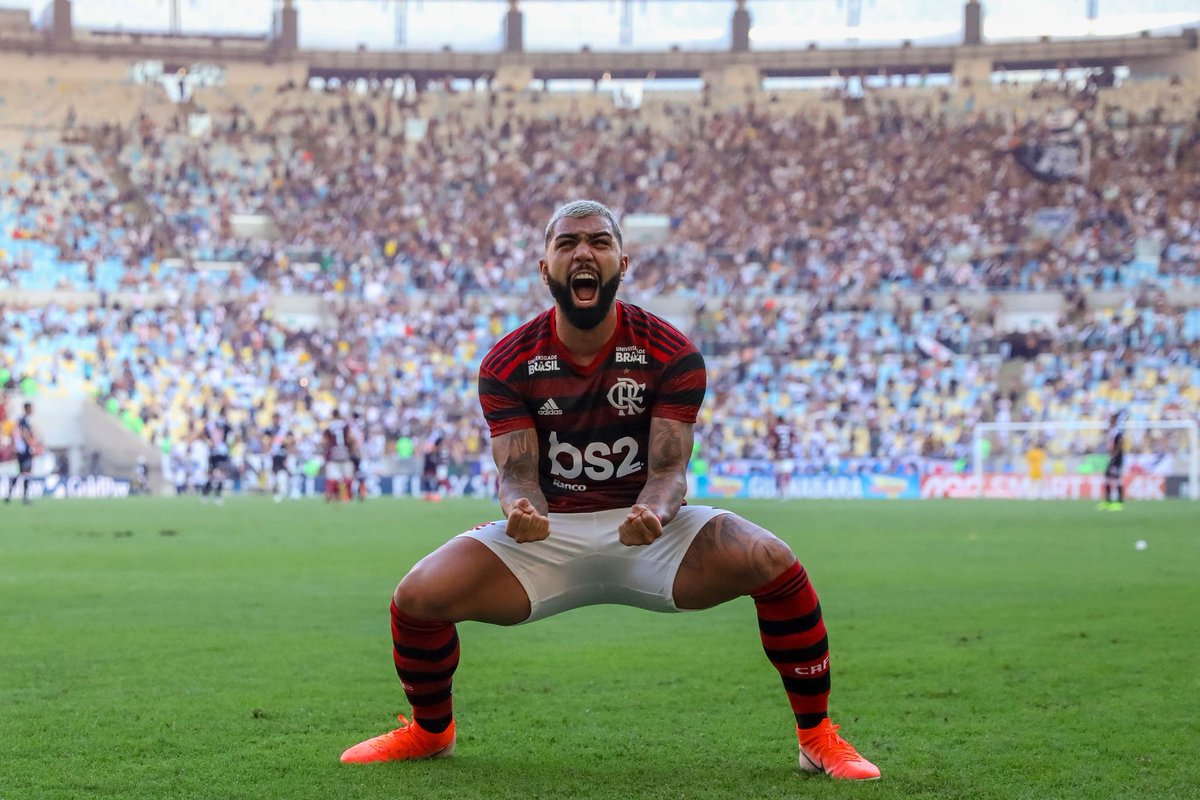 Gabriel Barbosa (22) since returning to Brasileirão in January 2018:
Santos:
⚪ 35 appearances
⚫ 18 goals
⚪ 2 assists
Flamengo:
🔴 5 appearances
⚫ 4 goals
🔴 0 assists
Home, sweet home.
https://t.co/qMfvqfx7bX
The goal didn't provide the anticipated spark, though. It remains his only contribution to the club. Failing to live up to expectations, form and fitness issues confined the Brazilian to just nine appearances. A season-long spell on loan at Benfica in 2017/18 proved even more disastrous. Once again frozen out of the first team, he made just five appearances before the Portuguese giants cut short his deal.
Gabigol then made the humbling return to his boyhood club in January 2018. It took time to shed the cobwebs. When he eventually did, there were no traces of the misfiring, unfit poacher. Barbosa returned to his previous predatory best.
The Inter man finished the campaign as the Campeonato Brasileiro's top scorer with 18 goals from 35 matches. Reports of interest from the Premier League and La Liga followed but Gabigol opted to remain in his homeland. He joined Flamengo on a season-long loan deal in January. In just five appearances for the Rio de Janeiro club, he's buried four goals.
His latest was a brace in the 2-0 victory over Fortaleza on Saturday At the Maracana, Gabigol put the hosts in front just before the half-time with a close-range tap-in following Georgian de Arrascaeta's cross. The Uruguayan served Barbosa another on a plate in the second half. Only teammate Bruno Henrique has enjoyed such a hot streak in the final third.
So, again, is Gabigol ready for Europe?
With his scoring touch and confidence back, the answer is a firm maybe. The Brazilian is still tied to Inter Milan but Spain or England could be his next destination.
At 22, Barbosa has grown in stature and experience. Like Florian Thauvin at Newcastle and Memphis Depay at Manchester United, his switch to Italy came a little too early. Gabigol would have benefitted from another year of regular football at Santos. Even Neymar waited until he was 21 before signing with Barcelona.
With a physique and style suited to the Premier League, don't be surprised if he follows Manchester City's Gabriel Jesus. The worst he can do is fail. If so, he already knows he can go home again.