Should Bukayo Saka choose England or Nigeria?
Which international colours will Arsenal's Bukayo Saka wear at senior level?
Arsenal's Bukayo Saka has become the subject of heated debate - not just because of his impressive performances for the Gunners, but also regarding his international career. Like many before him, a string of consistent performances has nudged Saka into the limelight, which has sparked the debate about the trajectory of his international career.
Born in Ealing, London, Saka is English and has played for the Queen's country at every age-group level from Under-19 downwards. His parents are Nigerian which makes him eligible to feature for the three-time African Champions. And therein lies the big question mark. Time to weigh in.
At his age, it almost seems too early to be discussing Saka's international career, but the game has morphed to favour younger player nowadays. Kylian Mbappe was only a teenager when he stole the show at Russia 2018. Matteo Guendouzi, another Frenchman, who coincidentally is Saka's teammate was a teenager when Morocco sent a delegation (including their head coach) to convince him to play for France. He declined.
Up until 2018, even among the Arsenal faithful, not many knew anything about Saka. Per Mertesacker would nod to this. In his early days in Arsenal's youth ranks, what caught the eye about Saka's fledgeling career was his impressive versatility. He could play in defence (as a full-back) in midfield (from the left) and anywhere in attack. Players with such quality are usually indispensable and so was Saka. The fact he broke into Arsenal's first team when he did (at 17) drives the point home.
Still two summers from his 20th birthday, Saka has somewhat cemented his place as a regular in the Gunners setup. He's already up double figures [10] in assists this season; which by the way, is the best we've seen from any Arsenal teenager since Cesc Fabregas in 2006/07. In the Europe League Saka is the assist leader with five. The bottom line is, Saka's been brilliant for Arsenal when he's played. Particularly on the left, either as left-back or wingback.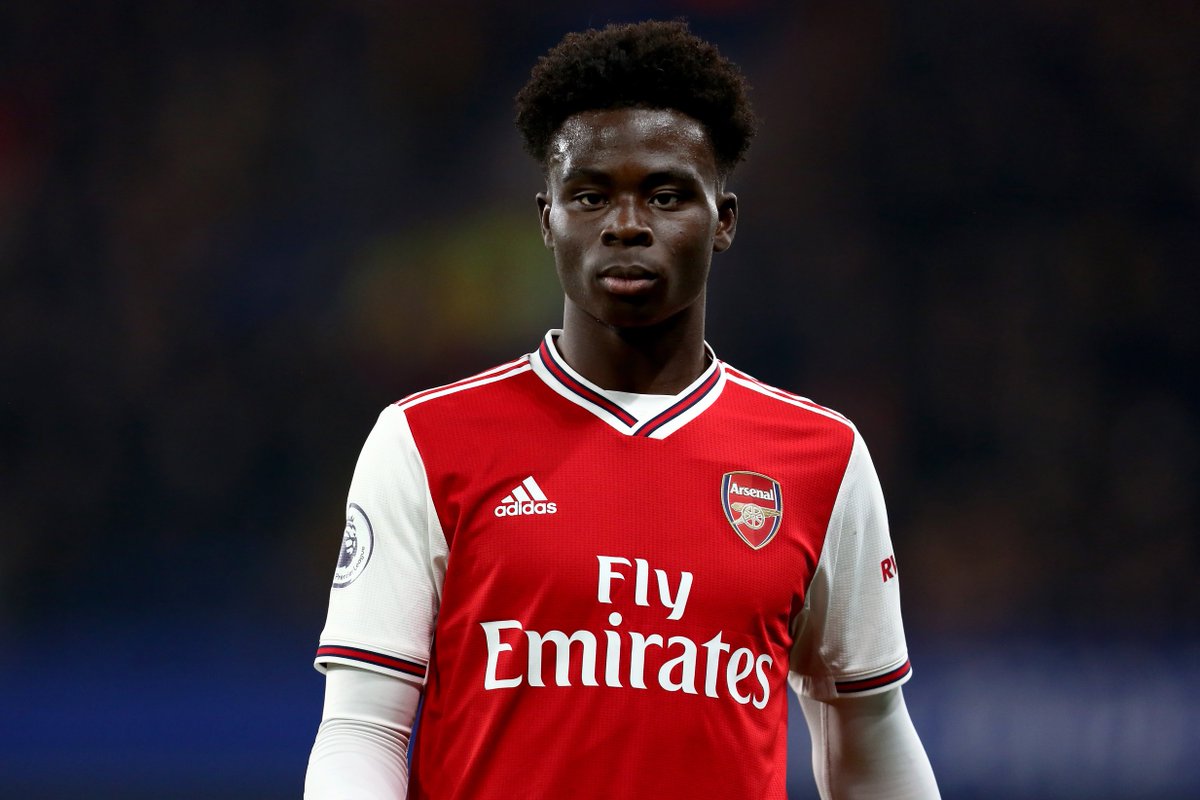 Bukayo Saka has now provided 10 assists across all competitions for Arsenal this season, more than any other player at the club.
A sensational ball from the 18-year-old. 🔥
https://t.co/UDDU9jNRNN
Form speaks volumes, but what obtainable at club level is a different kettle of fish to what players get on the international stage. It's why Saka must choose wisely.
We've witnessed contrasting choices from other Anglo-Nigerians who once wore Saka's shoes. John Fashanu, Gabriel Agbonlahor, Carlton Cole and recently Tammy Abraham made the choice to play for England. We're yet to conclude for Abraham but it never ended in aggrandizement for the others. Victor Moses comes to mind in this discussion. He's one of the few who didn't take the bait. And he has an African Cup of Nation gold medal for making that choice.
Saka knows where he'll face stiffer competition. At left-back, the Three Lions can call on the highly-rated Ben Chilwell and Luke Shaw. The midfield is way more crowded with the likes of Callum Hudson-Odoi, James Maddison, Jadon Sancho and Alex Oxlade-Chamberlain all vying for a spot. It's clear unless Saka can guarantee more than whipping deadly crosses into the box, he doesn't stand a chance with this England setup. Perhaps in the future.
On the one hand, if Saka chooses to represent Nigeria, he stands a better chance of breaking into the first team and assuming legendary status. This can be inferred because the Super Eagles desperately need someone with his expertise. The Eagles have been forced to play Ola Aina [a right-back] on the left because Paderborn's Jamilu Collins is way too jittery to lock down that left fullback position.
Maladministration in Nigerian football has often discouraged players from pledging allegiance to the country. Still, it takes nothing away from iconic players who chose to don for their fatherland. Bukayo Saka can become one for Nigeria. But first, he has to choose right.