Is Jadon Sancho worthy of the hype?
Background Image Via: Wikimedia Commons/Wolfgang Hunscher.
Jadon Sancho is a brave young man. Moving from his homeland to Germany in the pursuit of first-team football was an extremely bold decision. Leaving Manchester City at such a tender age has already proven to be the making of him; perhaps other young Brits should follow suit.
Although only twelve appearances were made during his debut season at the Westfalenstadion, Sancho could smell those all-important opportunities. At City, he was miles away from the first-team. Perhaps he'd still be on the periphery if he chose to remain in Eastlands through no fault of his own; the Blues' squad is absolutely stacked with talent.
The 2018/19 campaign has been the breakthrough. Sancho has turned himself into a week-in-week-out starter at an elite European side. Borussia Dortmund deserves immense credit, mind, as putting faith in one so young isn't easy. Lucien Favre, I salute you.
Last night, Sancho made his competitive debut for his country after partaking in a few friendly matches before the year's turn. Although his mate and ex-teammate Raheem Sterling stole the headlines, the ex-City man didn't look out of place. The skills, trickery, awareness and execution is way beyond his teenage years.
Whether it's the youthful exuberance or the exposure to first-team football remains to be seen. Sancho's nine goals and seventeen assists is something that deserves incredible praise. The Englishman has truly hit the ground running. That begs the question, has Sancho already outgrown a club with Dortmund's stature? The media seem to think so with rumours around his future already swirling.
It's a high ceiling, and I know it's a bold shout, but the trickery, and bravery to try the skills in competitive action reminds me of a young Cristiano Ronaldo. The players are different in terms of style, but you must have that elite mentality to reach football's summit. It's obvious that Sancho already has that.
Naturally, Sancho's head is probably swirling in regards to his next career move. If, say, City came calling, it'd be hard for him to say no to that. He'd love to go back to The Etihad and prove Pep Guardiola wrong. I'd still struggle to see him breaking into the team at this juncture, though. Then you have Manchester United. The prospect of Sancho linking up with England teammates like Jesse Lingard and Marcus Rashford is a mouthwatering one. Paris Saint-Germain's name has also been mentioned. In France, he'd win multiple trophies per year without even breaking a sweat; while also taking home a hefty weekly wage in the process. The decision's a tricky one. It's a career path he must choose wisely.
Honestly, if I were Sancho's agent, I'd seriously urge him to stay put. He's too young to go in search of money, but you wouldn't blame him if he chased the wages to look after his family and friends, either. Dortmund gave him his opportunity, it's only fitting that he gives them at least another year of service.
You better believe it, though, Jadon Sancho is special and this is just the beginning.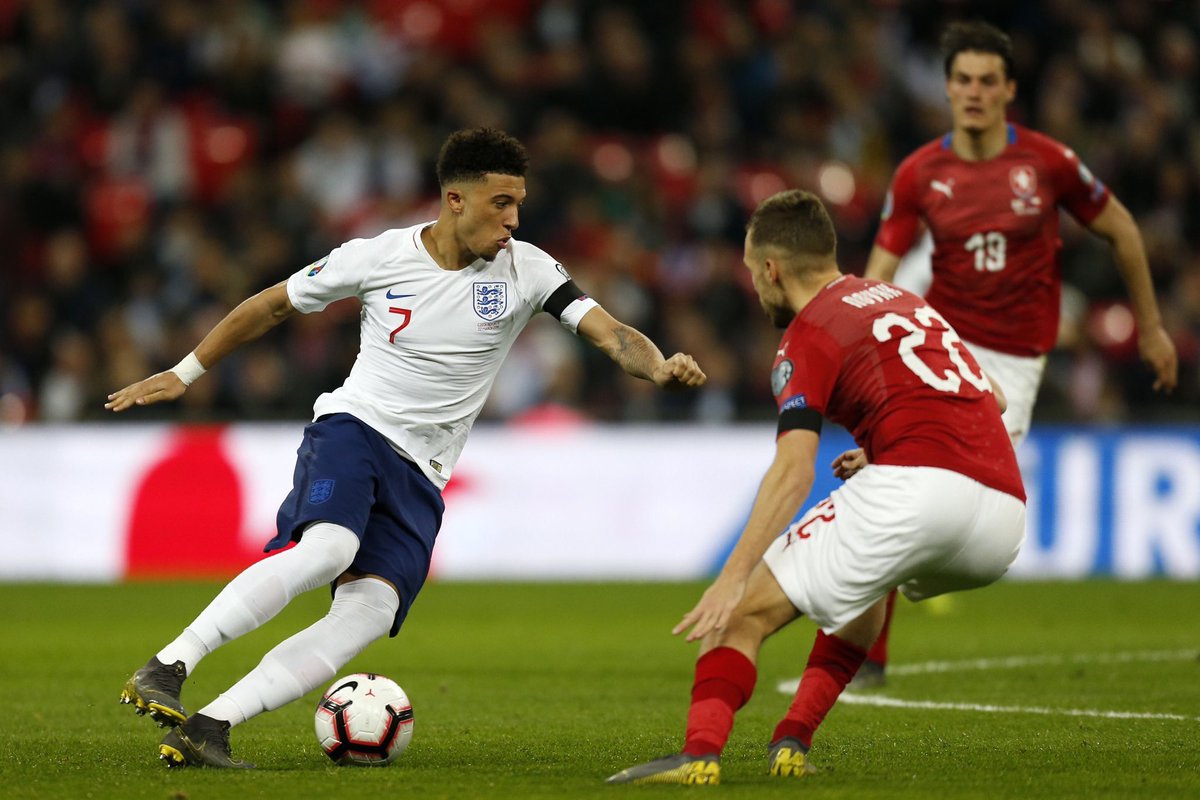 Another massive achievement for me, making my competitive debut! What a way to kick off our Euro2020 qualifying campaign! Congratulations to my bro @
Calteck10
making his England debut n my big bro getting ⚽️⚽️⚽️ @
sterling7
. @
England
🔥
https://t.co/ZbGVKW1kZU