Is loyalty yielding gold for Mesut Ozil?
Has Mikel Arteta found Mesut Ozil to be a reliable Arsenal servant?
Arsenal struggles to keep world-class talents. Their top players inevitably decide the club lacks ambition. Their eyes stray. Their heads turn. Patrick Vieira and Thierry Henry began the exodus but, too often, top Gunners found glory at Premier League rivals. Forget Emmanuel Adebayor, Kolo Toure and Alexis Sanchez. Think Ashley Cole, Nicolas Anelka, Samir Nasri, Robin van Persie and Cesc Fabregas. Arguably, the Gunners would have won more trophies in the last decade had their best players stayed. Surprisingly, it's the one least-loved who has.
Gooners begged Mesut Ozil to leave the club over the last few seasons. They cursed their luck when he chose not to follow Alexis to Manchester United despite Jose Mourinho flattering the German playmaker in the press, fondly recalling their time together at Real Madrid. Rather than dance to the Special Fiddler's tune, Ozil turned a deaf ear, extending his deal with the Gunners.
Among the finest midfielders modern football can offer, the Arsenal No.10 was Europe's assist king until Kevin de Bruyne joined forces with Pep Guardiola at Manchester City. His disinterest in defensive work cost him the love of many. While the stats show he runs further in a match than fans credit, his propensity to linger in open spaces as play whirls around him frustrates supporters who appreciate a bit of graft. He'd disappear for extended spells but pop up at just the right time to score a create an important goal. Unfortunately for him, Arsene Wenger retired and Unai Emery sided with the fans.
The Spaniard demanded more hustle and endeavour from the German. When he didn't provide it, he was exiled. Ozil's ability to stand still isn't limited to the pitch, however. He bided his time off it as well. Consequently, he remains at the Emirates while Emery is gone.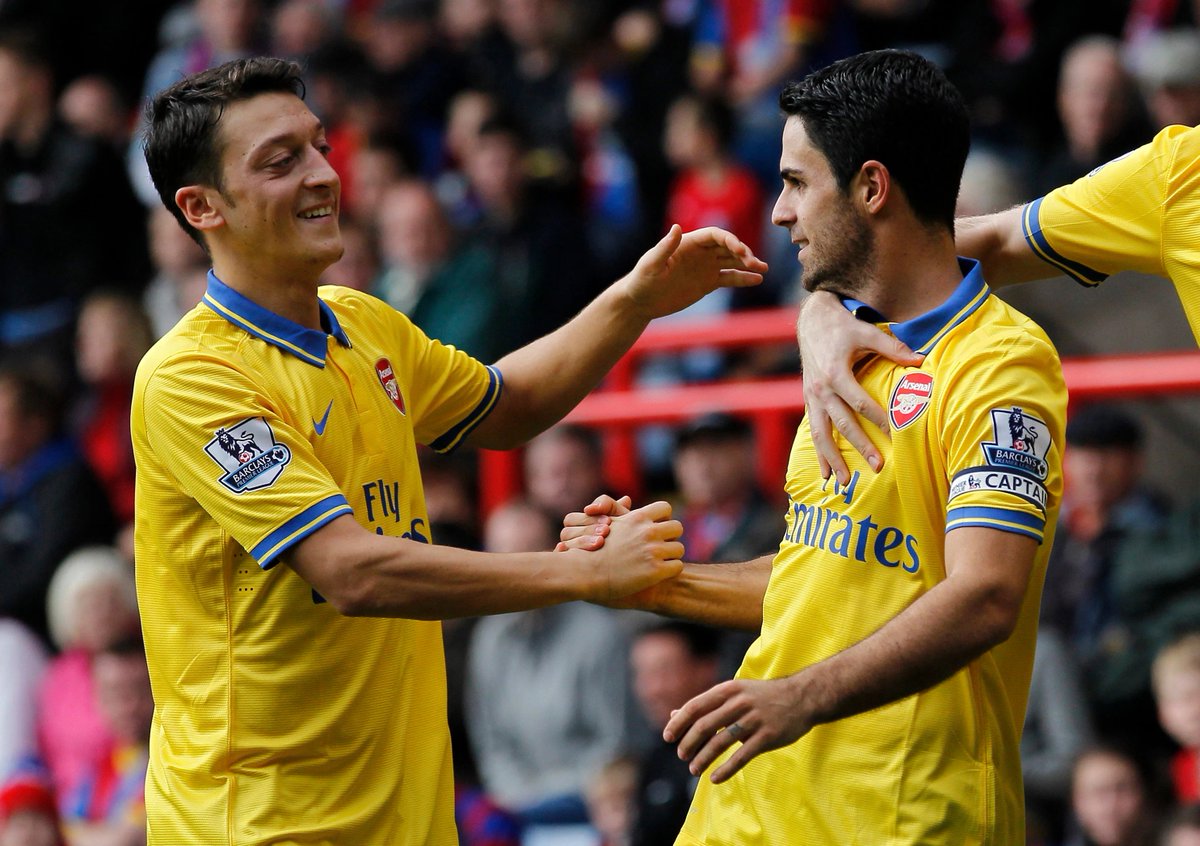 🗣️ Ozil on his improvement under Arteta: "We were teammates. We respected each other a lot & he was captain at the time so players respected him...As a playmaker, I need a lot of space. His playing style allows me to get that space & it's so important to be successful." #
AFC
https://t.co/kFccy4Ng1X
Upon his appointment, new boss Mikel Arteta promised Gunners faithful that Ozil would be expected to work hard in training to secure match time. He brought Manchester City's zeal for the high press with him from the Etihad. It's a tactic that doesn't work unless the entire squad is engaged, midfielders moving forward to fill the space vacated by forwards hunting the ball and defenders stepping up to do the same for the midfielders. Thus far, Ozil is committed to the cause and plays every Premier League match under the new manager.
At 31, it's a given that age has caught up with the German. He only lasted the full 90 in two outings from the six with Arteta in charge and is yet to register a goal or assist. Arteta lifted him on 55 minutes against Chelsea with Arsenal a goal down. After a long spell on the fringes, fatigue was bound to be a factor at some point.
Arteta provides a conducive environment in which Ozil can thrive. The German needs to be fully concentrated on creating chances. Given license to roam, look for free teammates or gaps in the defence, he needs time to fine-tune his game. Arteta plays a 4-2-3-1 which allows for that license. Ozil isn't asked to get dirty. He only needs to advance play.
It remains to be seen whether he can shake off the rust but he isn't likely to get a better opportunity elsewhere. Loyalty is rare, especially at Arsenal. The German showed it. Now Arteta returns the favour. The ball is back at Mesut Ozil's feet. What will he do with it?