Are Manchester United in crisis?
If you didn't bring trunks, you're just going to have to strip all the way down before getting in the hot tub. When you're ready, I'll set the dial to exactly one year ago. Keep your hands and feet inside the tub at all times during the ride. When you arrive, you can towel off just in time to hear Jose Mourinho saying he thinks his Manchester United squad is one of several who can challenge for the 2017/18 Premier League title.
Back so soon? That's understandable. Sometimes a trip in the hot tub time machine can teach us how events came to be. Sometimes, they remind just how wrong people were about important things. Now, If you're all dry, do you mind making way for Boris and Nigel, there? There's a good lad.
For all his optimism last campaign, the season didn't turn out as well as Mourinho would have liked. No one challenged Pep Guardiola and Manchester City for the Premier League title. Putting the noisy neighbours' celebration off for a week in April was especially cold comfort when United gifted their rivals the trophy by losing to West Brom immediately following that victory. The Baggies had as iron a grip on last place at the time as City had on first. The best-laid plans and all that.
This summer's tour of the United States hasn't been quite the exercise in optimism. Most of Jose's preferred starting XI is on holiday after World Cup duty with the season starting in less than a fortnight. The one starter available to him was delayed in entering the US by visa complications pertaining to his guilty plea for tax evasion in Spain. Not that Donald Trump has let anyone see his tax returns. To add woe to misery, Antonio Valencia picked up a knock against San Jose Earthquakes and new left-back Diego Dalot is out until September with a knee problem.
The boss has begun to sound eerily like Antonio Conte as he complains the club is not working hard enough to acquire his transfer targets.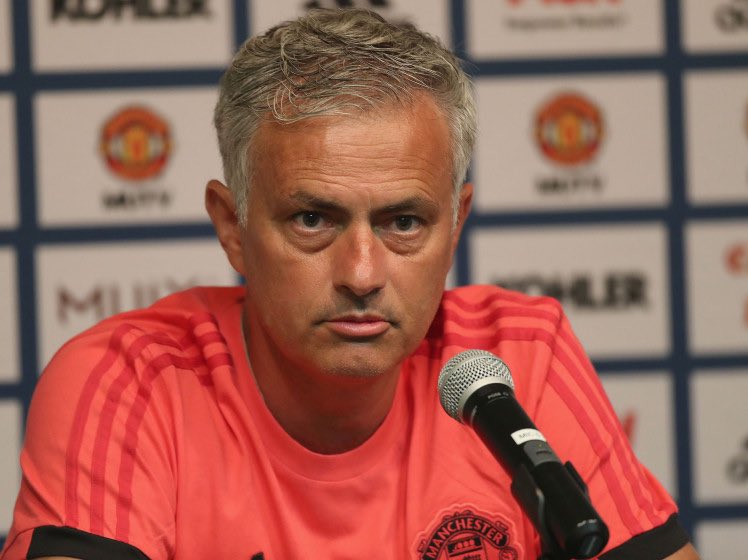 Mourinho on further transfers: "One thing is what I want and another thing is what is going to happen." #
mufc
[ESPN]
https://t.co/kGe8E72c88
The difference is Chelsea didn't spend £350 million or thereabouts for the Italian.
On the one hand, time is short. The Premier League window closes when the season opens. On the other, would the Portuguese need any new players if he could get on with the ones he has?
Reports are emerging that Anthony Martial, who has already expressed a desire to get out from under Mourinho's disapproving gaze, may not have had the manager's permission to leave the squad to care for his partner while she gives birth. Paternal leave is common practice these days. If anyone were looked at askance, it would be the manager who tells a player, "no, training is more important even if you aren't going to be sticking around for the season."
Then, when Valencia went off, Mourinho suggested that Ashley Young could cover for the Ecuadoran. Only, he did so in the rudest possible manner.
Ashley Young is a possibility to play at right-back. He is on holiday and I don't know if he fancies being back before that to put himself available for the team, or if he prefers to stay on holiday.
There are two possibilities here. First, Mourinho hadn't waited for Young's agent to contact his client before throwing him under the press bus. Second, Young had already indicated his 33-year-old body needed to recover after a season unexpectedly extended by his World Cup participation. Either way, if you're the player who has been there every time the manager has called upon you for the last two seasons, how would you react to seeing that quote in your twitter feed?
It is true that Matteo Darmian could be sold at any moment, leaving Mourinho only with Timothy Fosu-Mensah as a Premier League-experienced right back until Young returns. Of course, when that occurs, the veteran's experience in the role will help him get up to speed quickly.
United have Leicester in two Saturdays' time at Old Trafford, then Brighton away, nine days later. Is that cause for panic? Hardly.
Neither club is a walkover, but Claude Puel has his World Cup personnel issues, too. Kasper Schmeichel, Jamie Vardy, and Harry Maguire all participated in the knockout rounds. Ahmed Musa, Wilfred Ndidi, Kelechi Iheanacho and Shinji Okazaki also took part. Brighton isn't nearly so affected, but Mourinho will have some players back when that match rolls around. Does he think he's going to have to start names like James Garner?
Talk about a drama queen. Even if United lose their opening two fixtures, they won't have fallen hopelessly behind. Everyone else has similar problems. Manchester City and Chelsea must play the Community Shield next week. Neither has its top players available. The Blues will also be debuting Maurizio Sarri as manager. Unai Emery must cope with an unsettled Mesut Ozil for Arsenal, courtesy Uli Hoeness. Liverpool will be missing key players even though Mo Salah is now training with the team. Spurs, too. Mauricio Pellegrini has Jack Wilshere but not Manuel Lanzini, in case Mourinho is so panicked he thinks the Hammers are poised to do a Leicester. The Premier League is won in May, not August. United can afford to start slowly if the situation is handled with patience and poise.
The best United fans can hope is that the boss is over-correcting for last season's positive outlook. When Mourinho won titles with Porto, Chelsea, Inter and even Real Madrid he fostered an Us v Them atmosphere in the clubhouse. It was the same in his first United campaign, resulting in EFL Cup and Europa League triumphs, the latter after Zlatan Ibrahimovic, Eric Bailly and Marcos Rojo were all lost to injury. Now, the vibe is Mou v the World. Manchester United isn't in crisis, but their manager appears to be. If someone doesn't calm him down, it could get ugly.