Is Pep Guardiola finally ready to dominate English football?
Has Pep Guardiola's time arrived to give his Premier League rivals a real run for their money? Although his side look like running away with the title, the question is yet to be fully answered.
Manchester City is the only English top flight team which remains unbeaten after 12 games. They lead the pack by eight points. The Citizens are currently unstoppable, with the side having something to be proud about in each department. It has caused envy across the country.
Guardiola's men began last season in a similar fashion, basking in the euphoria of ten consecutive wins in all competitions. They soon faded, though, causing their title hopes to disappear. In his debut campaign in England, the Spanish manager blamed the heavy schedule for his team falling away. The truth is, City simply weren't good enough when it mattered most.
Expectations were high when Guardiola arrived at the Etihad Stadium. City's season failed to reach the anticipated heights, however. Faced with English football's harsh realities, the former Barcelona boss endured the first trophy-less season in his managerial career.
Six months on, City are flying high and showing no signs of abating. They have played some stunning football. Guardiola, unsurprisingly, looks to have found the magic tactics which delivered six trophies during his debut year at the Nou Camp. More soon followed in Spain.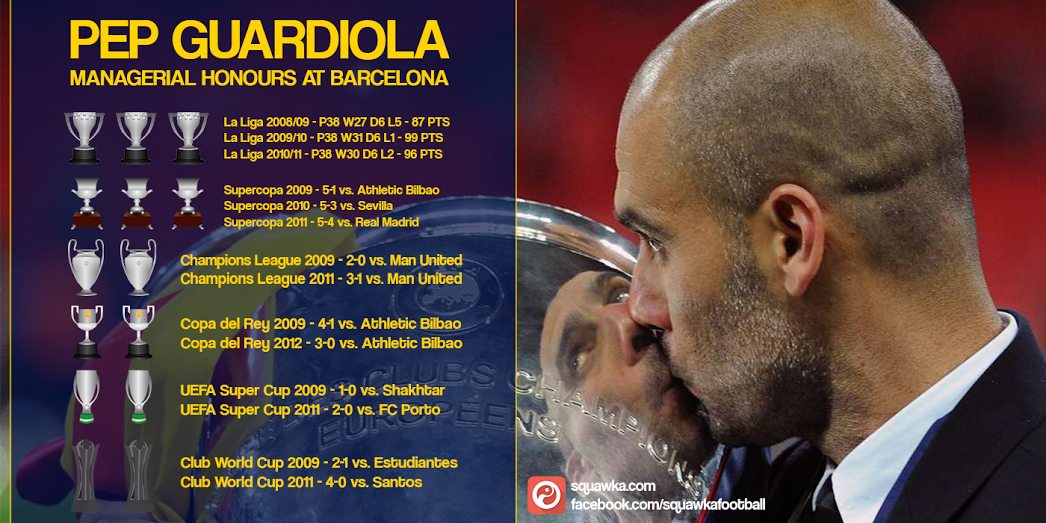 Pep Guardiola won 14 trophies in 4 years while in charge of Barcelona. Stunning success.
Tonight he returns home.
http://t.co/UyjmBFilOL
Across all competitions, City remain undefeated this season with 18 victories and 1 draw. They have found the net 55 times, scoring three or more on nine occasions.
In the Premier League, Guardiola's side have scored 40 times in 12 matches, eclipsing second-placed Manchester United's 27 strikes. City's attacking fluidity has torn big teams apart, making them seem uncatchable at present.
The Citizens have a passing accuracy of 89.3% this season, while averaging 17.2 shots and 3.5 goals per game. The eye-catching style of play has drawn many plaudits. As have the club's most influential players.
The attacking quartet - Leroy Sane, Raheem Sterling, Gabriel Jesus, and Sergio Aguero - have hit 39 goals between them this campaign. All four are a real menace to opposition defences. In midfield, Fernandinho, Ilkay Gundogan, David Silva and Kevin De Bruyne contribute massively to the attack, always keeping opponents on their toes. Having conceded only seven goals in 12 Premier League games, City's defence is also proving difficult to breach, with John Stones leading the way.
Despite each player's individual brilliance, Guardiola deserves all the accolades. He has built a formidable team which have the correct mentality to continue accumulating impressive results over the coming months, perhaps years.
Manchester City last won the Premier League title in 2013/14. With Guardiola now perfecting his tactics, the trophy looks set to return to the Etihad after a four-year absence.