Is Pep Guardiola playing mind games with Jurgen Klopp and Liverpool?
Following a busy midweek with highlights aplenty in the Carabao Cup, focus returns to Premier League action this weekend, as Liverpool and Manchester City continue their battle for supremacy. Pep Guardiola and Jurgen Klopp's rivalry will also stretch a step further as football fans remain eager to witness another interesting development.
The two managers showed us why the Premier League is regarded as the most competitive division in Europe last season. Manchester City triumphed with 98 points, Liverpool came behind with 97 points in what proved to be one of the closest title races ever witnessed in history.
This season promises to follow the same path. Klopp and Guardiola's men are the early pacesetters once again. The two sides enjoyed a flying start to the new campaign with big victories in their opening fixtures. They've been in an exclusive class since, following each other relatively closely with each passing weekend of fixtures.
However, a plot-twist has seen Liverpool pull five points clear of City at the top of the table. The Reds capitalised on City's 3-2 collapse at Norwich to establish a decent lead over their rivals. After that defeat, Guardiola shocked the football world by congratulating Liverpool for winning the Premier League title...
That obviously came too early. Only six games have been played so far as it appears the man from Catalonia has something he wishes to achieve with the aforementioned comment. He said something similar last season when Liverpool topped the table heading into Christmas. We know how that turned out.
It was a technique he employed to reduce the expectations on the shoulders of his men and added more pressure on Klopp's troops. It worked wonders las term with Guardiola now hoping lightning will strike twice.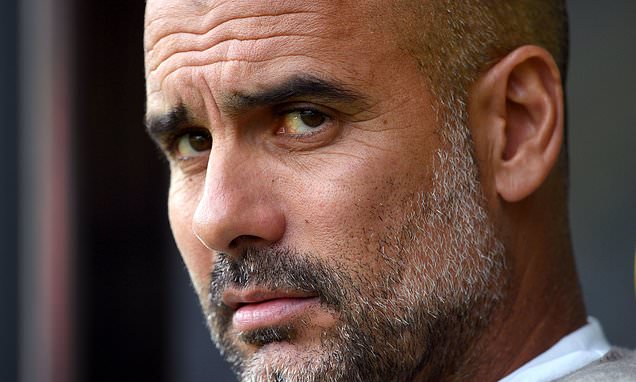 It also brings to memory Roberto Mancini's popular comment during the 2011/2012 Premier League campaign. The Italian mentioned in October 2011 that City weren't contenders for the title. He repeated the statement in February 2012 and asked fans not raise their hopes in April. The result? City emerged victorious at the end of the term.
Guardiola is becoming increasingly famous for his mind games just as much as he is with his on-field exploits. The days of Jose Mourinho, Antonio Conte and Maurizio Sarri all accusing him of trickery haven't escaped the memory. He has tried it even on some of his own players - Leroy Sane, Raheem Sterling, and Riyad Mahrez to mention just a few...
Meanwhile, Liverpool is looking as determined as ever in their pursuit of the Premier League title this season. That puts Manchester City's hopes of making it three in a row under a serious threat. Guardiola understands this more than anyone - and he has started playing his mind games again. Whether he'd succeed this time remains to be seen...
Following last season's collapse, Klopp will be more sensitive this term. The German recently dismissed Guardiola's flattery comment. He stated that nothing has been won yet and urged his side to focus on the next game instead.
The Reds will look to continue their steady run when they face Sheffield United for their next Premier League encounter. Meanwhile, Guardiola and City will travel to Goodison Park to take on Everton, knowing quite well that they cannot afford any further slip-ups.