Is Raheem Sterling's form Ballon d'Or worthy?
It has been a while since a Premier League player has lifted the Ballon D'or, could Sterling break the mould?
Background Image Via: Wikimedia Commons/Cleria De Souza. CC BY 2.0.
Last season, Manchester City's 'fourmidables' scooped every single domestic trophy on offer. Pep Guardiola's men were run close by a spirited Liverpool side, though the blue half of Manchester were the ones left celebrating come full-time.
It goes without saying that City has some truly outstanding footballers on their books, with no fewer than five players who ply their trade at the Etihad Stadium in the running to win the highly-coveted Ballon d'Or award. Somewhat ironically, though, it's Liverpool's Virgil van Dijk who's the front-runner, following some stellar defensive displays.
City's key man, Raheem Sterling, is going somewhat under the radar despite some world-class outings of his own. The question I'd like to ask is why? After all, his record on both personal and team levels speak for themselves. His combined tally of 53 goals and assists in 2019 is the best in Europe - even besting Lionel Messi's total of 51.
The 24-year-old always had immense abilities, though under Pep Guardiola, Sterling has kicked his game up a notch. The rawness in his game has now been fine-tuned. The Englishman is now not just a super-talented individual with the ball at his feet, rather he's more polished, complete and well-rounded. It's all down to dedication, hard work and commitment to the cause. Sterling has that in abundance, he, and his Manchester City team are reaping the rewards.
Perhaps it's City's slow (well, slower than Liverpool anyway) start to the Premier League campaign which is the problem. The Blues sit six points behind Jurgen Klopp's Red Men, though that can be cut in half with a City win at Anfield on Sunday. Who knows, if Sterling scores in an away victory, perhaps those bookies could be quickly changing the odds and putting them in Sterling's favour (as they absolutely should).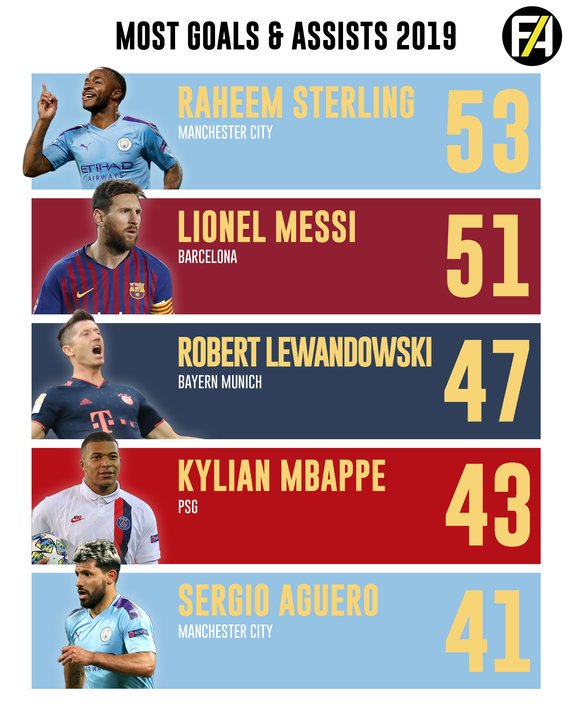 You have to dig deeper to find the real reasoning behind Sterling's lack of Ballon d'Or support. As always, it comes down to what you do on the continent. After all, this award is a European-wide contest, what better way to stake your claim than by lifting the greatest trophy in domestic team sport? Virgil van Dijk did exactly that, meaning voters will overlook the Dutchman's slow(ish) start to the 2019/20 term.
City, on the flip side, were dumped out in the quarter-final stages at the hands of Tottenham Hotspur. Sterling scored a brace in a 4-3 victory in the return leg. The Englishman would have made it a hat-trick, and one that would have seen City progress into the final four before VAR intervened.
Liverpool have been the talk of the town, their players are getting all the media attention while City stars don't pale into insignificance, they're just being slightly overlooked. For what it's worth, give me Sterling over Van Dijk every single time, though the Red Men will argue that the Dutchman's influence has been second-to-none since his arrival on Merseyside. I guess in the end it comes down to preference, I just feel City's #7 isn't getting the praise he deserves for his exploits. I also suspect even if he scored in every game now until decision-day it wouldn't matter. The good thing about football is that there's always a chance for redemption.
So, City and City know what they have to do. They've made the perfect start winning three from three in the group stages and they're certainly looking good for progression. End their European hoodoo? Well, the world is Sterling's oyster and those phone calls from Real Madrid et al may just start to happen a little more frequently...