Is Serge Gnabry proving Arsenal, doubters wrong?
The former Gunner is realising his potential with the Bundesliga champions.
What difference is there between working stiffs fighting to support their families and millionaire footballers fighting to win trophies? Obviously, money's an easy answer. On the other hand, some people struggle to find commonality between the two. They shouldn't. It's staring them in the face. Both have purpose. Before footballers can live to win trophies, however, they must prove they deserve the opportunity. That was Serge Gnabry's purpose in moving from Arsenal to Bayern Munich.
Arsene Wenger believed in the young German but ultimately gave up on him. The player himself persevered. He kept going when the Gunners loaned him to West Brom and Bayern Munich sent him to Hoffenheim for seasoning. Gnabry gained experience as a regular starter with the Baggies and Achtzen99. After completing the loans, he was ready to step into the void left by Arjen Robben's retirement.
Wingers with the pace and close control to break defenders' ankles are in high demand in football. Gnabry's dedication put him on that list. The German's dribbling skills and lightning pace send opponents to their orthopaedists regularly. Ask Tottenham's rearguard. He made Serge Aurier, Toby Alderweireld, Jan Vertonghen and Danny Rose look like fools as he put four past Hugo Lloris. That he did it against Arsenal's North London rivals further illustrates how foolish the Gunners' were to let him go.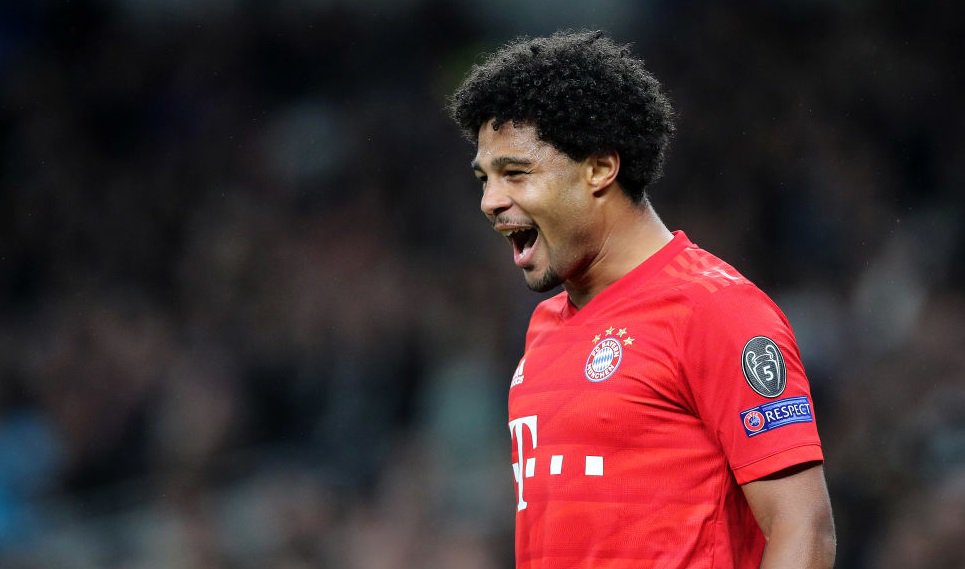 He's also proving himself with the national team. Germany's failure at the World Cup in Russia can be blamed on several culprits. Gnabry's isn't one. His introduction to the senior team improved die Mannschaft's attack. With Gnabry and a healthy Leroy Sane providing width, Joachim Low's squad is back to scoring two or three every match. Thanks to his brilliance to double the lead against Northern Ireland, Germany now sit atop their Euro2020 qualifying group. His chemistry with Marco Reus, Sane, Julian Brandt and Timo Werner performs wonders for Die Mannschaft.
At 24, there is more to come. In 2020, Gnabry may find himself playing in a Champions League final for club and European Championship final for country. Having proved himself, he's primed to compete for silverware.
Following the win over Tottenham, Gooners took to social media to claim the German as one of their own. It's empty pride, however. While he thrives with Bayern, Arsenal continues their search for a dynamic winger to claim the role for which Gnabry could have been groomed. Nicolas Pepe seemed like the answer in the summer but he is struggling to adapt to the Premier League. As the club's record signing, those same fans who point to Gnabry may soon shove the Ivorian out the door if cooler, more patient heads don't prevail.
Gnabry's dynamism and versatility would have ignited Arsenal. He could have been the perfect partner for Pierre-Emrick Aubameyang and Alexandre Lacazette, already in place when they arrived.
Even if it's simply to prove doubters wrong, purpose can take you to heights others can only dream of reaching. On second thought, dream might be the wrong word. Serge Gnabry is dreaming with Bayern Munich. Arsenal fans can only wish he was still theirs.