Is Sergio Ramos becoming more trouble than he's worth at Real Madrid?
Sergio Ramos channels his inner problem child yet again.
After a difficult start to the season that cost Julen Lopetegui the job he'd only just accepted at the expense of managing Spain in the World Cup, Real Madrid finally turned a corner. The Merengues won seven and drew one in their last eight across all competitions before extending too much hospitality to Girona at the Santiago Bernabeu on Sunday. In La Liga, they'd won six and drawn two since losing to Real Sociedad on 6 January.
Prior to that run, the season was being written off. A Liga title challenge and Champions League defence were out of the question.
New manager Santiago Solari opted for a blend of youth and experience upon taking charge. The experiment worked. Positive results included a one-goal draw in the Copa del Rey semifinal first leg at the Nou Camp against Barcelona and a resounding 3-1 victory over Atletico Madrid at the Wanda Metropolitano.
As the weekend proved, it's the home matches where the rails still come off. Against Girona, Sergio Ramos was the engineer of the latest disaster. Players like Isco and Marcelo now find it difficult to get into the team as new players give good accounts of themselves. The captain and centre-half faces no competition, however.
For a team that was flying for the past few weeks, the defeat came as a huge surprise. As has too often been the case this season and last, it was self-inflicted. The team was out of sorts. Ramos was in a mood. Heralded for several years now as perhaps the world's best defender, he is that good. The problem is he's like Marlene Dietrich. When he's bad, he's very bad.
Prior to the Girona match, Ramos rose to his peak against Barca and Atleti. All and sundry sang his praises. Then he hit a pique against Girona. In the blink of an eye, he went from hero to villain. It's a week in the life of a player most people love to hate.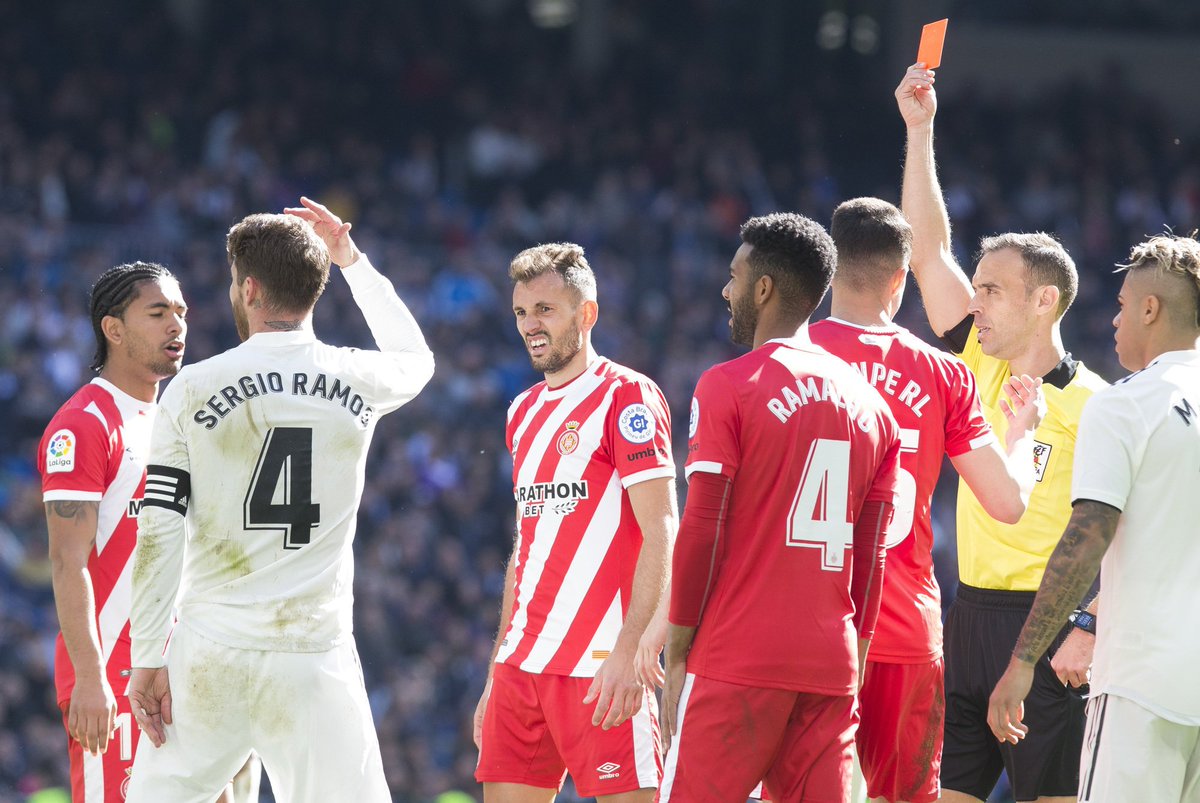 Ramos has been a key figure in the post-Ronaldo era. He takes set-pieces and penalties. At odds with his role as a defender, he thrives on leading from the front rather than behind.
His audacity produced a trove of winners medals and awards of which all but a few players can only dream. When he goes off the deep end, however, he becomes more a liability than an asset.
In less than a week, he courted a UEFA investigation after admitting he'd intentionally drawn a yellow card to clear his slate for the Champions League quarterfinal round. if the charge sticks, he'll miss that tie. Against Girona, Ramos picked up the 25th red card in his enigmatic career. He also conceded the penalty that helped the Gironistes achieve a memorable victory.
The rest of the squad neglected to cover themselves in glory but as Sergio has led them to great heights, he blazed the trail into another abyss. He failed to attack or defend. The loss could prove catastrophic in the title race. Barcelona's victory over Real Valladolid lifted them nine points clear of their Clasico rivals in the table and allowed Atleti to reclaim second place.
Set to turn 33 next month, Ramos' best years on the pitch are behind him. The once solid rock at the back is crumbling. He attempts to compensate in the opponent's third, exacerbating the problem by too often failing to provide cover for his partners. It's a hard decision for new man Solari to seek his replacement. Necessary choices often are.