Is Sergio Ramos' obsession with scoring hurting Real Madrid and Spain?
Sergio Ramos during Real Madrid's 2018 Champions League ceremony.
Sergio Ramos has been ever present in the FIFPro World XI for several years. The 32-year-old ranks among the decade's most successful players with two European Championship medals, a World Cup title and several Champions League trophies to his name. He has achieved what most players only dream.
He is on the short list of players who have scored in 14 consecutive Primera Division seasons. The only other name, as you might guess, is Lionel Messi. The difference is Ramos is not a striker. He's not even a midfielder. Central defenders don't usually share accommodations with the Argentine maestro.
It's far from the only factor but his timely scoring contributes to his reputation as the world's best defender. Speaking of short lists, he's been on that one for several years. The Real Madrid captain is a seven-time member in the UEFA Team of the Year. Four times he's been La Liga's best defender. No one has claimed that honour more often.
Ramos and former teammate Cristiano Ronaldo are two peas in a pod when it comes to pushing themselves to do more. Unfortunately, that ambition is now eliciting a cost.
Eleven players take the pitch to play a football match. Each has a specialty, a role to play, a primary function. Ronaldo was the goalscorer. When their talisman left, the club failed to replace him. The team has struggled. Seeing the need upfront the captain has attempted to compensate by involving himself more in the final third. Unfortunately, he can't be in both boxes at once. Opponents are capitalising on his absence in defence. Los Blancos are losing to teams they should dominate.
Real Madrid have failed to win five out of nine league matches this season with Ramos starting all. They have also conceded seven goals and scored just one in the last five. Ramos has played every minute in the depressing run. Alone among the Merengues, he's played every minute of every game.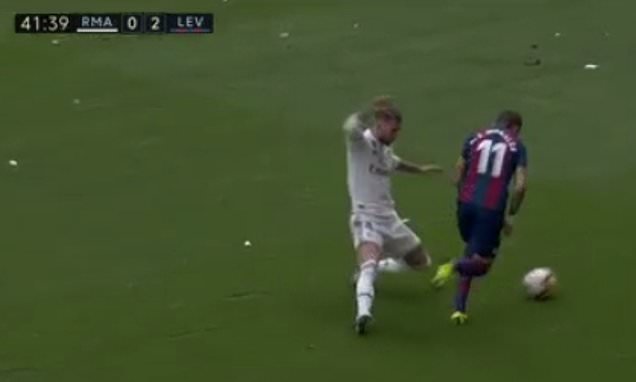 As a constant in the team, Ramos is central to new boss Julen Lopetegui's troubles. He ranks third in goals scored among Madrid players this term. Only Karim Benzema and Gareth Bale surpass him. As a centre back, should he not be judged on clean sheets rather than scoring prowess? In neglecting his primary function, he is culpable in the club's failure.
Defenders are in the team to defend. Only when they have succeeded in that role should they venture forward. Helping the team keep clean sheets is their priority. Ramos has forgotten and not just at the Santiago Bernabeu. His wanderlust cost La Furia Roja progression at the World Cup.
Last week, England capitalised on defensive lapses to race to an unlikely three-goal lead against Spain in the Nations League. Ramos was the man charged with preventing such an onslaught. He scored the second goal for the home side as they attempted to level terms. That should be commendable but the fact the defence had already let in three makes it difficult to say nice things.
Even a walk in the park against Champions League lightweights Viktoria Plzen turned into an adventure last night when the Czechs pegged one back late.
Ramos wants to be everywhere these days, claiming penalties and free kicks. When he is not taking them, he's usually queuing up for the ball around the penalty area. Benzema and Bale are not assuming his defensive duties.
When Sevilla thrashed Real Madrid with three unanswered goals and Levante bossed RM in the Bernabeu, it was clear the defence wasn't doing enough. Attack builds from defence. When the defence fails to defend, the entire team destabilises.
Sergio Ramos needs to focus on his job rather than trying to do everyone else's.