It's not like Antonio Conte said he loved Chelsea and never wanted to leave
Chelsea experienced a topsy-turvy season under Antonio Conte. The most recent blows came via a frustrating draw to Huddersfield followed by a 3-0 defeat to Newcastle United. One point of six from those two matches bid goodbye to Champions League football at Stamford Bridge for the second time in three years. The Blues have lost ten games and drew seven. Hardly a vigorous title defence. There are serious problems at the club.
The club spent big to welcome Antonio Conte to the Premier League. He repaid the investment. It is rare to see a manager win the Premier League in his debut season. The pundits tub-thumped for Conte's preferred formation at Juventus and with Italy. Soon enough, they got it. Three at the back and two vigorous full-backs became the in strategy in England. Arsenal made the switch to steal the FA Cup from the Blues. It was a near-perfect debut season for Conte. Now, he had a bigger task to perform: save the league title while also playing in the Champions League.
A season later, it's all gone south. Failure to make Europe's top competition will massively affect their summer recruitments, not to mention Eden Hazard and Thibaut Courtois' contract extensions. The Belgian duo is expected to leave the club. The Blues no.1 is entering the final year of his contract; their no.10 his second-last. Both are heavily linked to Real Madrid and have made open comments on their future. It is very similar to the situation Arsenal faced with Alexis Sanchez and Mesut Ozil five months ago.
So where did it all go wrong?
In 2017, Chelsea played an active role in the transfer market. Conte's gaffe with Diego Costa led the defending champions to sign his replacement. It was meant to be Romelu Lukaku until the Belgium international chose Man United. Instead, Chelsea bought Alvaro Morata from Real Madrid. United 1-0 Chelsea. They also sold Nemanja Matic, N'golo Kante's partner in shielding the defence. Again, Matic went to Old Trafford. The board had tabbed Monaco's Tiemoue Bakayoko to replace the Serbian. United 2-0 Chelsea.
Antonio Conte when he saw the club was struggling or didn't want to land his targets - could've turned to the academy and loanees as a resource and demonstrated his coaching qualities.

At least he would've walked away at the end of the season leaving behind a legacy of his work
Conte couldn't work with his new players. Morata didn't adapt to English football's pace. He scored 11 goals in 22 appearances, but most came early in the campaign. Morata wasted a rash of clear-cut chances from that point forward. Experiencing an extended drought while not contributing defensively will earn a player a seat on the bench.
Bakayoko was caught out tactically. Positionally naive, it was clear he was more of a box-to-box midfielder than a holding midfielder like Matic.
Davide Zappacosta and Antonio Rudiger also failed to make a major impact in Chelsea's run, although the former started with promise and the latter finished in the same manner.
Loaning Michy Batshuayi to Borussia Dortmund was the stupidest move of all. With Morata wandering the desert, Conte panned every brilliant performance the young striker provided. Olivier Giroud proved a strong addition, but it was an unnecessary move.
Similarly, Conte should have trusted his academy rather than buy Danny Drinkwater or Ross Barkley. His policy with youth has been no different than past managers. It's no surprise he didn't look to the academy, however, given that Juventus bought him every player he desired.
The season-opening defeat to Burnley, 2-3, questioned Conte's naive tactics. Bakayoko and Kante liked to go forward. There was no Matic to stay home. Chelsea suffered losses against Man City, Crystal Palace and West Ham in the first half of the season in large part due to the personnel change in defensive midfield.
January was a horror show. The Blues won only one game. February was better statistically but they drew to Barcelona in the Champions League when they should have won then lost to Man United on the pitch after Conte lost war of words in the press to Jose Mourinho.
Conte's man management is another thing to talk about. On several occasions, he benched both Giroud and Morata, feeling safer when playing Eden Hazard as a false nine. The tactic backfired miserably against Barca. All this because he cast out the perfect poacher, forcing Diego Costa out of the club.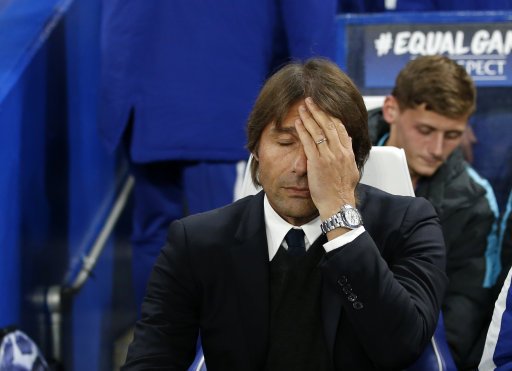 The hard truth is Conte has been caught up by poor summer recruitments, naive tactics, weak man-management, and busted competition this season. He also lacks character and patience.
After losing the Community Shield to Arsene Wenger, Conte was again beaten in the Carabao Cup by the Frenchman. He didn't have an answer for Barcelona in the Champions League. The FA Cup is now the only possible silverware Chelsea can touch this season.
Beating Mourinho in a cup final is a damn hard job for any manager. For Conte, it will be even more difficult with all the personal baggage the two are carrying.
Whether or not he can get the job done, don't expect him to remain at Stamford Bridge. Silverware isn't job security with Roman Abramovich. Ask Roberto di Matteo and Rafa Benitez. All signs point to Conte joining the esteemed list of sacked Chelsea managers.