Is Jack Ross Sunderland's loss?
Ownership's naivete and unrealistic expectations cost Jack Ross his job just when the club had found firm footing again.
When we arrived at the club 18 months ago we appointed Jack because we felt that he was the right man to take Sunderland forward over a number of years. Jack has worked extremely hard and helped us achieve stability and I sincerely thank him for his efforts. I hope and believe he will go on to have a successful career in management.
That's Sunderland owner Stewart Donald explaining his decision to sack manager Jack Ross last week with the Black Cats on the edge of the League One playoff picture. The search for a new boss continues.
On Sunday night, Donald deleted his Twitter account, vowing to never use the medium again after receiving abuse for allegedly demanding promotion bonuses in talks to sell the North East club he bought only a year-and-a-half ago. Many fans hope it's the first step in his complete withdrawal from the club.
True or not, promotion bonuses aren't the issue. The rationale in Donald's statement is the damning evidence. Saying Ross was hired because he fit ownership's long-term view, crediting him with stabilising the club and then sacking him for suffering a second defeat in 11 games and just the tenth in 75 reveals that Donald is either insincere or irrational.
The Stadium of Light has fallen on dark times in recent seasons, suffering relegation in successive seasons. American owner Ellis Short sold the team to Donald with the club on the Premier League brink. Midfielder Darron Gibson's drunken rant compounded the club's misery. Ross steadied the ship, however. The former St Mirren boss led the Mackems to fifth in League One in 2018/19. They failed in the playoffs but were positioned to make another run this season.
To be fair to Donald, fans weren't happy with the Scot in charge either. While Ross' side proved difficult to beat, his squad shared the spoils too much for supporters' liking. While he won more than half his 74 matches in charge [39], he drew a third. That trend continued in his sophomore campaign. In 11 League One games, this term, Sunderland claimed five wins and four draws.
Phil Parkinson and Nigel Pearson remain two of the frontrunners for the Sunderland job.
However, @
_FootbalLab
argues that the Black Cats should consider Nigel Adkins, a 33/1 shot for the vacancy. Here's why... 🤔👇
Odds subject to change | BeGambleAware |18+
#SAFC
If the Black Cats were a club with a winning culture, those numbers would be cause for action. But Sunderland is a side trying to rid itself of a toxic culture. That doesn't happen overnight. Draws indicate two things. One, players are fighting to the end. Two, inconsistency. You expect to see both in an improving side. Consider that Ross' squad remained alive in the EFL Cup on the back of victories against Premier League clubs Burnley and Sheffield United. Had Donald defended his manager against fans rather than serving him up as a sacrificial lamb while planning his own escape, Sunderland would be better off.
Will Grigg's injury also impeded Ross' progress. The Wigan hero was signed to replace top scorer Josh Maja, sold to Bordeaux in the winter transfer window. Grigg settled quickly, pumping in four goals and an assist in 17 appearances totalling 895 minutes but the ankle injury he brought with him from the DW Stadium worsened over the summer. The Northern Ireland international lasted 71 minutes in the opener against Oxford United, a 1-1 draw, and managed the full 90 against Bolton on Matchday 10. Otherwise, he's featured as a substitute in his other eight appearances, only three of which came around the hour mark. He hasn't made the score sheet and missed the manager's last game in charge.
While Ross needed to replace another scorer, the owner is finding it difficult to replace him. Already, Coventry City boss Mark Robins ruled himself out by signing an extension with the Sky Blues. Sunderland has permission to talk with Wycombe Wanderers boss Gareth Ainsworth but it's difficult to imagine a man with the security and support of seven year's tenure walking willingly into such an uncertain situation. His own club is in takeover talks with American investors, adding a wrinkle of insecurity to his current position but why jump from the frying pan into a raging fire?
Nothing has come of Roy Keane and Phil Parkinson rumours. Recently sacked Barnsley boss Daniel Stendel remains an option but how is a man who had his team on the verge of non-league football an improvement on Jack Ross?
Who knows what Stewart Donald was thinking? Perhaps he had romantic notions of being the saviour in a quick turnaround that would make his investment a profitable venture. Maybe he was just in over his head. Either way, sacking Jack Ross only dumps Sunderland back into the toxic soup just when the struggling city needs a glimmer of hope.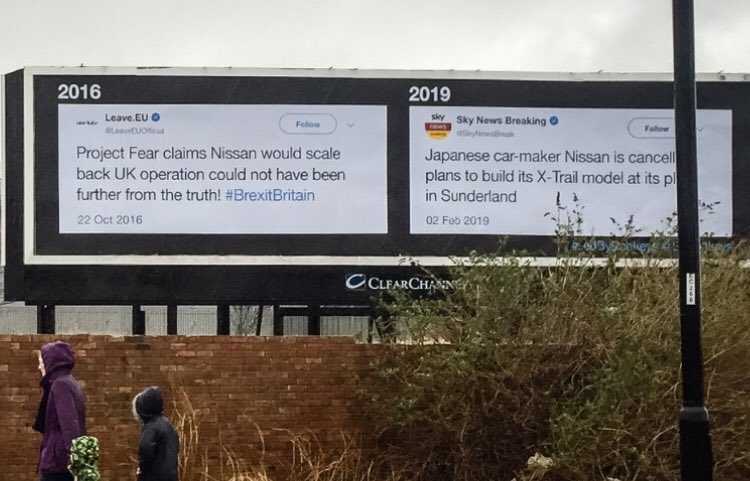 Nissan has just announced it's axing the night shift at its Sunderland plant. Last time it scaled back production there we put up this billboard in the city. Solidarity with the people affected.
https://t.co/Snuyvhj83o