Jamie Vardy still loves to party against the Premier League's elite
Background Image Via: Wikimedia Commons/Pottercomuneo
The phrase 'Jamie Vardy's having a party' became the Leicester City's strikers staple during that simply stunning title-winning season a few years ago. The Englishman's 24 league goals earned him the Premier League Player of the Season award, and to his credit, he has remained loyal to the Foxes despite offers to move elsewhere.
Fast-forward a few years, and although no single campaign since has been anywhere near as productive for the 31-year-old, one thing has remained consistent; the ability to produce when the lights are at their brightest.
Vardy has this knack of becoming borderline unstoppable when playing against the so-called Premier League 'big six'. In their last two games, the England international has helped his side beat both Chelsea and Manchester City, with the #9 playing vital roles in both. In the game at Stamford Bridge, it was Vardy's goal that deservedly won the game for the Midlands side, although he did have considerable help from a watertight defence.
His performance against City was considerably different. Vardy didn't grab himself a goal, but instead, he turned provider, playing an inch-perfect, beautifully-weighted lofted pass onto Marc Albrighton's head, who eased the ball past Ederson. The plaudits would be stolen by Ricardo Pereira who won the match with an absolute thunderbolt, but again, it was Vardy who epitomised everything good about Leicester's play. It's also worth noting that the forward was seemingly carrying a knock after a collision in the first 45 minutes. It's the grit, determination and sheer willingness to play on that is so impressive to me. Those traits perfectly sum up his career as a whole.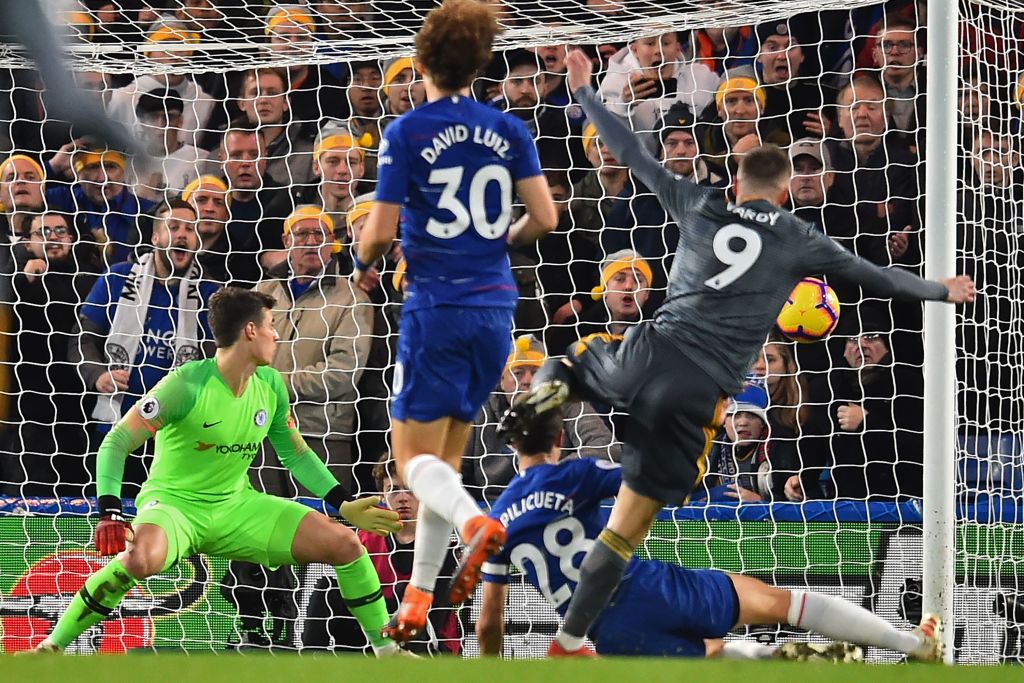 .@LCFC's Jamie Vardy has scored 28 of his 68 PL goals (41%) against 'Big 6' teams:
⚽ ⚽ ⚽ ⚽ ⚽ ⚽ v Arsenal
⚽ ⚽ ⚽ v Chelsea
⚽ ⚽ ⚽ ⚽ ⚽ ⚽ ⚽ v Liverpool
⚽ ⚽ ⚽ ⚽ v Man City
⚽ ⚽ ⚽ ⚽ v Man Utd
⚽ ⚽ ⚽ ⚽ v Tottenham
Those 28 goals have come in 48 appearances
https://t.co/90afm5A4Ss
Statistically, it's just frightening. Not many forwards can boast 28 goals against the Premier League's big-boys. Scoring 41% of your top-flight goals against the best 29% of the league tells you everything you need to know. He loves to show the footballing world what he can do when all eyes are on him. That has to be commended.
Perhaps the moment that I'll always remember is his record-breaking goal, that came, quite fittingly against Manchester United. Ruud van Nistelrooy was the proud, previous owner, having netted in 10 consecutive Premier League fixtures. Vardy's strike against the Red Devils that day meant he'd bettered his Dutch counterpart by scoring in eleven in a row. A truly outstanding achievement during a season that Foxes fans will always remember.
As you'd imagine, he's approaching the latter years of his career so the levels have dropped slightly, but it's great to see Vardy still turning up when it matters most. Honestly, with the way things are going for United, Chelsea and Arsenal, I wouldn't completely rule Leicester out of a top-six finish this season, but their talismanic striker will have to continue playing in this manner when taking on the sides above them in the table.
I guess what I'm trying to say is that quite often, Vardy doesn't get the overall credit that his brilliant individual performances have deserved. He's a truly underrated gem of the English game and his overall career should be looked at with far more pride than he currently receives...