Japan's Copa America performance justified sending young squad
When Japan only announced four senior players in their Copa America 2019 squad, many were left baffled. Some mistook it for disrespect in a competition perhaps beyond their grabs. However, Hajime Moriyasu had other plans in place which saw beyond just the South American outing.
Little did anyone know the intricate, long-term vision behind the decision. The Asian heavyweights were put in a hellfire group involving Chile and Uruguay, two stern favourites packed with world-class players. With sixteen out their twenty-three squad members not even having made their national team debuts, many expected a similar drubbing to the 1999 edition with so little experience.
As Chile produced a masterclass to prove their mettle as defending champions, thrashing them 4-0 in the opener, predictions were coming to fruition. The Samurai Blue's inexperience was exposed, but Hajime Moriyasu wasn't going down without a fight. Indeed, after showcasing warrior-like spirit in the FIFA World Cup last year, where they almost upset Belgium, the 50-year-old was keen on integrating a similar never-say-die attitude into the young ones.
The Japenese made six changes in the next game against South American giants Uruguay. Two defenders Ko Itakura and Tomoki Iwata made their debuts, with only three senior players getting starts. On this occasion, however, inexperience didn't crumble under pressure. Rather than parking the bus, hoping for the best, the Samurai Blue actually thrived in taking the game to La Celeste.
Indeed, the young Japan stars proved their mettle with clever movement, incisive trickery resulting in dazzling attacking chances which even had the home supporters astonished. Koji Miyoshi, only making his second appearance under Moriyasu, turned up the heat with his irresistible skill. In a competition where most eyes were on Real Madrid Castilla extraordinaire Takefusa Kubo, the 22-year-old shined on all cylinders.
With his tricks and thrills, the Samurai Blue displayed confidence to play out an open game against the South American giants. Miyoshi's first international goal came thanks to Gaku Shibasaki's intelligence marred with his incisiveness to outsmart Diego Laxalt. After enduring endless pressure, a gift from Fernando Muslera's mistake handed the winger a brace. Had a clear penalty been awarded to the Asian heavyweights, group C might've ultimately looked very different.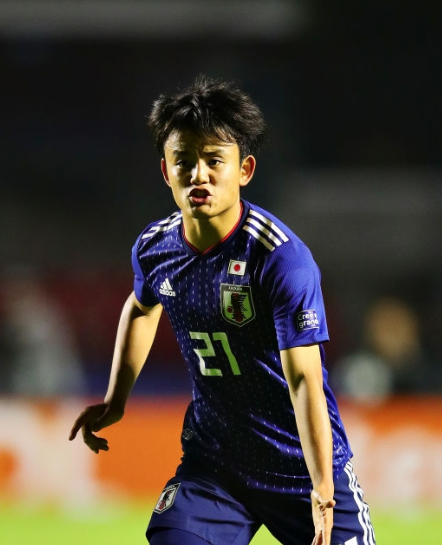 🔎| FOCUS:
Our #
CopaAmerica
player of the day is Takefusa Kubo🇯🇵
90' played
65 touches
3 shots
4/6 dribbles
7 key passes
2 big chances created
---
8.0 rating
✅Was involved in 53.8% Japan's created shots
✅Completed 15 passes in the final third, more than anyone else
#ECUJAP
https://t.co/jp3qntSe5K
Granted, defensively they were in tatters, perhaps due to their physical inferiority. The bullying South Americans capitalised on their weakness by smashing in set-pieces or long-balls to salvage draws. The inexperienced centre-backs surely need honing of their aerial or physical prowess. However, from their point of view, this tournament probably served many positives. No longer are the Japenese the whipping boys.
Moreover, apart from Miyoshi's brilliance and glimpses of Kubo's Messi-esque ability-exemplified in a fiery display against Ecuador - the other youngsters made a bright mark as well. Shoya Nakajima, who netted a clever finish in the final group game, is an ideal creative enforcer to guarantee finesse in their incisive attacks. Even young defender Ko Itakura, a versatile player, excelled in defence as well as midfield with his strong-tackling nature along with impressive game-reading nature.
Moreover, the chemistry these budding youngsters share with their senior figures like Shibasaki or Shinji Okazaki's is a testament to Moriyasu's impressive management skills.
While many perhaps scoffed at sending a young team to a prestigious tournament like Copa America, the fact Japan outdid their performances in 1999 indicates they were out to prove a point. If not anything, the youngsters were keen on drawing the line about potentially becoming a bigger threat to the world's best in years to come. After the heartbreak in the FIFA World Cup last year and AFC Asian cup earlier this year, change is the utmost necessity for Samurai Blue.
Thankfully, the youngsters responded to the intimidating challenge in flying colours. Taking aside initial cold feet against Chile, the fight-back which followed exemplified their fearless nature. Considering a chunk of these players will perhaps be at their prime in the 2022 World Cup, allowing them to butt heads against top-quality teams gives them much-needed experience. No longer will they crumble under pressure against daunting opposition.
If the Copa America display was any proof, The Samurai Blue will get braver and attain superior technical ability to soon go shoulder-to-shoulder against the world's best. If their development continues at this rapid pace, perhaps outdoing last World Cup's heroics isn't a far-fetched goal for 2022.