Jesse Lingard: Not all that glitters is gold
There are two types of football players. First, the stars. The ones that win their team three points week in, week out. They either dribble past three or four defenders to score screamers like Neymar, link everything in midfield like Luka Modric, remain rock solid at the back like Mats Hummels, or produce sensational saves like David de Gea. Second, the hard worker. The ones that always give their all in training and matches. They may not play every game, grab the headlines, nor receive much recognition, but without them, the stars couldn't flourish. Manchester United possess such an unsung hero: Jesse Lingard.
Henrikh Mkhitaryan has slipped under the radar at Old Trafford. Before Wednesday night's Carabao Cup defeat to Bristol City, he hadn't featured in United's matchday squad since 25 November. A lesson for the Armenian playmaker: hard work beats talent when talent doesn't work hard.
Jesse Lingard has covered for the misfiring Mkhitaryan in some style. The Warrington-born attacker is living his dream. He's playing for Man United, the club he supports and the fans he adores.
Lingard has four goals and one assist in his last five Premier League starts. He has been United's best player in many of those games too, including against Watford at Vicarage Road, Arsenal away and even the Manchester derby, wherein he ran his socks off. Much was made about his lack of direct involvement in previous seasons. Despite once being a sporadic player, he has made the most of his chances this campaign.
Lingard was never touted to become a world beater. He never had the best technique, nor was he the most talented footballer. However, he is a hard worker. He runs tirelessly, pressing the opposition, tracking back to defend and breaking quickly to counter-attack. His work rate is commendable. It is somewhat reminiscent of Ji Sung Park during Alex Ferguson's time in charge. The South Korean would chip in wherever possible, especially in the big games. Lingard, too, has shined in vital matches. His goals in cup finals, as well as away at Arsenal, Watford and West Brom all spring to mind.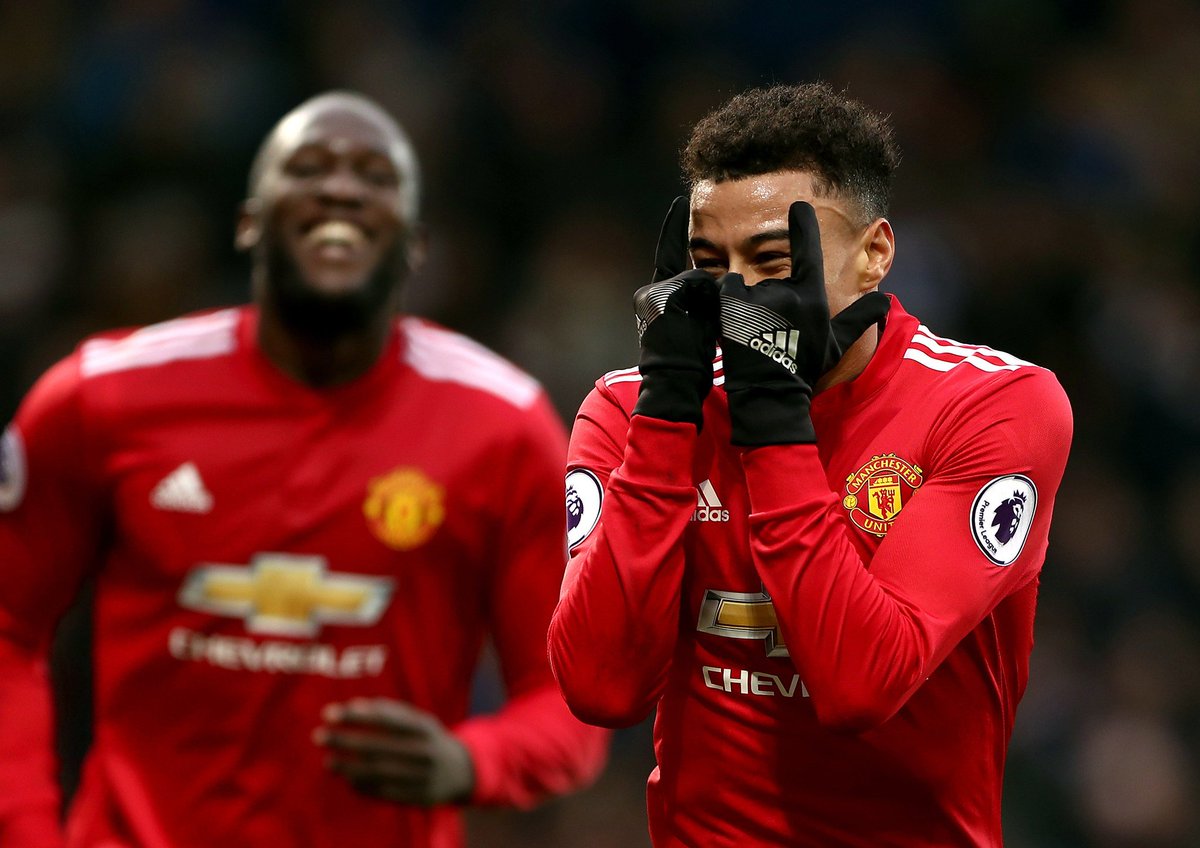 Premier League Goals & Assists this season:
🔴 Lingard:
⚽️⚽️⚽️⚽️⚽️
🎯🎯🎯
🔵 Hazard:
⚽️⚽️⚽️⚽️⚽️
🎯🎯
🔴 Sanchez:
⚽️⚽️⚽️⚽️
🎯🎯🎯
🔴 Mane:
⚽️⚽️⚽️⚽️
🎯🎯🎯
⚪️ Alli:
⚽️⚽️⚽️
🎯🎯🎯
https://t.co/5DTrZd6kHh
Lingard has always done the simple things well, but he looks more composed on the ball in recent times. His link-up play and movement in the final third are lethal. His pass completion rate in the Premier League is almost 87% this season. He also creates more than two chances per 90 minutes.
Although he's not the biggest name on Man United's teamsheet, Lingard's ability to pressurize defences is invaluable.
Lingard's success is largely due to a change of role in a different formation. Credit to Jose Mourinho. The England international is in turn perfect for Mourinho's style of play. He is a versatile, tireless runner with defensive steadiness. Man United generally set up in a 3-4-2-1 formation, with Lingard in the roaming number ten role. On other occasions, a 4-2-3-1 is used, with Lingard as the central attacking midfielder.
The systems have allowed Lingard the freedom to push forward, press higher up the pitch and counter-attack after quick turnovers in possession. He can drop deep, drift wide, stay central, or join Romelu Lukaku in attack according to the situation. Lingard had this to say regarding his new position.
I played centrally when I was younger and when I got into the reserves, I played more on the left or the right for my development, but eventually moved inside again. I think [playing centrally] you get on the ball a lot more and you can make things happen more and you can obviously play closer to the main striker and feed off him.
Before December, Lingard had no Premier League goals and no fixed starting position in United's first team. After a remarkable spell, however, his name is being mentioned throughout the country. He has gone from somewhat of a joke figure to having equal or more goals and assists than Dele Alli, Eden Hazard, Alexis Sanchez and Sadio Mane.
The past month has been significant for Jesse Lingard. His confidence is at an all-time high after grabbing the opportunities given. He will now look to prolong his excellent form during the festive period.