Can Germany reinstate its fearsome reputation?
Joachim Low is tasked with creating another formidable Die Mannschaft.
The short international break offers clubs time to reflect on their current situation. For international teams, their resting period is over. Germany return to action tonight. Joachim Low will hope his side pick up from where they left.
Die Mannschaft's shocking slip in Russia last year was a huge blow. In fact, DFB considered dismissing Low. Patience extended until the Nations League, giving the 59-year-old time to get his foot back on the pedal. The ongoing Euro 2020 qualifiers have brought an end to the Germans' long slumber. They must now look to maintain their Group C invincibility.
The Netherlands knock first. Ronald Koeman's men inflicted a 3-0 defeat on Germany in October before holding them to a 2-2 draw a month later. Low's team ruled their latest contest, winning 3-2 in March.
Die Mannschaft then face Northern Ireland, on Monday. Michael O'Neill's charges have no fear. They've got a 100% qualifying record so far, having beaten both Belarus and Estonia twice.
The Germans remain clear favourites to progress. But with only two automatic places available and three strong contenders, they'll want to take the driving seat as quickly as possible.
Germany's steady improvement is glaring. It took a while for different strategies to fit. Their preferred 4-2-3-1 formation was dropped, replaced with either a 4-3-3 or 3-4-3 system, depending on the opposition. Introducing Leroy Sane improved the side's attack. Others such as the two Julians, Brandt and Draxler, Leon Goretzka along with Serge Gnabry have also added a huge lift.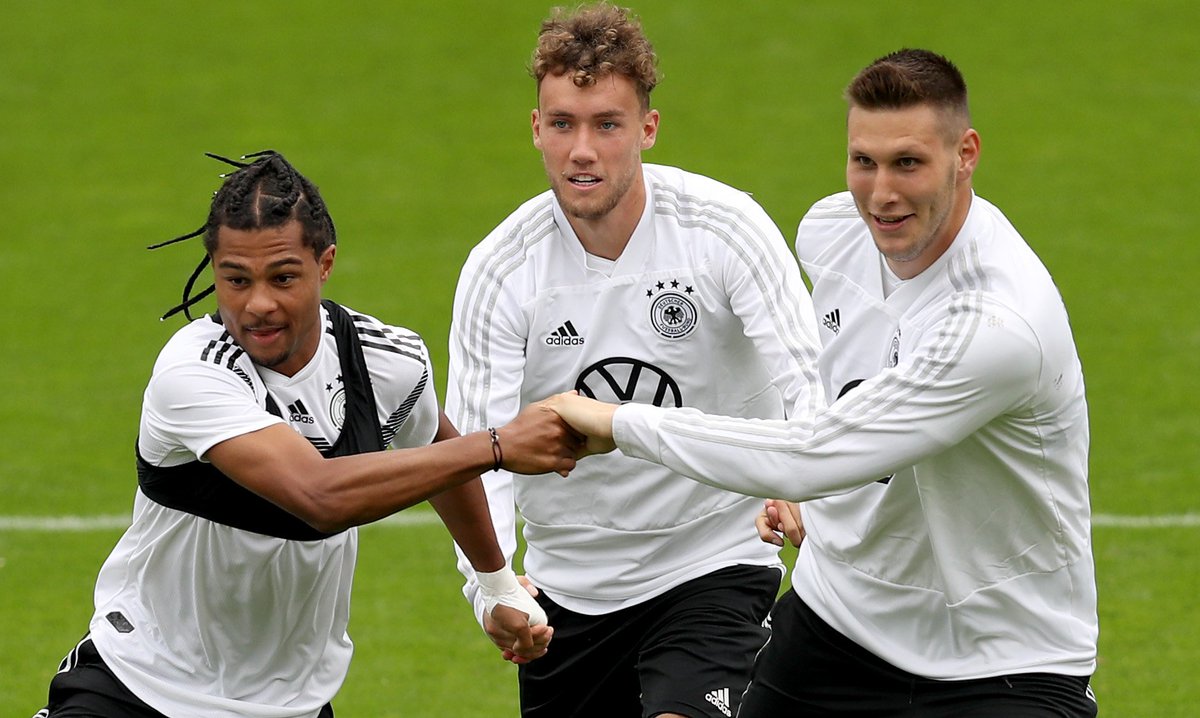 Obviously, bossing a qualification group won't suffice a team of this status. Low's sights are on returning to football's peak, a point he reached winning the 2014 World Cup. His next focus is ruling Europe in 2020. Achieving it will give back Germany's stellar reputation. The question is, do they have what it takes to realise this ambition?
Scoring 13 goals while conceding only twice in their last three games speaks volumes. Die Mannschaft boast top-quality players from back to front. One thing which could hold them back is injuries. Sane's ruled out until at least February with a cruciate ligament rupture. His influence will be a miss. Should other key talents sustain a serious injury prior to next summer's Euros, Germany may slip before reaching the promised land.
That said, Low must stick with his new philosophy. Younger players are more important than the weary old guard. Thomas Muller, 29, Mats Hummels, 30, and Jerome Boateng, 31, have all been shelved. Timo Werner, 23, and Niklas Sule, 24, now play important roles. Toni Kroos, 29, has less responsibility. In his place, Joshua Kimmlich, 24, is proving a worthy successor.
Low is preparing for the future. His other prospects include Jonathan Tah, 23, Brandt, Goretzka and Gnabry, all no older than 24, as well as Kai Havertz, 20.
Still, experience can't be totally overlooked. It's needed when the going gets tough. Low's nous has this covered as well. His goal's kept in check by Manuel Neuer, 33. Kroos and Ilkay Gundogan, 28, offer maturity to midfield. In attack, Marco Reus, 30, has a significant role. These four are worthy mentors for the youth.
While many top teams build around their best player, Germany are based on their collective strength. They have a vast pool of quality players to select from. Promising youngsters mean their future is secure. It's now Low's job to mold them into a champion outfit.