On John Stones and the risk of playing from the back
Contrary to current opinion, playing from the back isn't for everyone.
Background photo: Aundrup
Playing from the back is the new mandate in football. 'Anywhere will do' has gone from sensible to foolish almost overnight.
Ice hockey went through the same transition a few years ago. Dumping and chasing into the opponent's end was a 50/50 proposition in terms of regaining possession, much like 'hoof and hope'. On the other hand, it didn't expose a team to turnovers in the middle of the ice much like playing from the back is vulnerable to a high press in the centre of the park or the defensive third. If the opposition gained possession, you weren't caught out of position with everyone haring off in the wrong direction at full steam.
Statistical analysis fostered both changes. The numbers suggested you were more likely to spark a successful attack if you could keep possession and that the errors leading to goals were an acceptable cost of doing business. Why give the ball away freely when opponents who pressed high should be beaten more often than not, leaving ample space behind them to exploit?
Fair enough in theory. In practice, however, every goal is crucial. When you have eminently skilled players at every defensive position as Manchester City and Liverpool do, the risk/reward might be in your favour. When you don't, maybe not. The notion that everyone should play out from the back regardless of their comparative ability plays into the hands of the more technically gifted team. The beauty of football is that it can be played by surgeons and plumbers alike.
Last week's Nations League semifinal between England and the Netherlands was a clinic on the dangers of playing from the back. Three of the match's four goals came from mistakes by defenders trying to knock it about too near their goal.
To begin, Matthijs de Ligt, the Dutch man-child who by all accounts has somehow trapped the spirits of Paolo Maldini, Lothar Matthaus and Sir Bobby Moore in his 19-year-old body, failed to control a back pass. Marcus Rashford pounced, drew a panicked penalty from De Ligt and converted from the spot.
The Oranje centre-half made up for it later with a free header from a corner, levelling terms with the only goal in the match irrelevant to the conversation.
Late on, it all fell apart for England. First, John Stones tried to turn away from Memphis Depay's press only to cough up the ball much like De Ligt. Depay's shot was stopped but Quincy Promes' rebound caromed in off Kyle Walker. Then Walker's back pass to Jordan Pickford was soft and too far to the England keeper's right, allowing Depay to pounce again and set up Promes, who knocked the ball cleanly into the net this time.
Three errors. All derived from pressure on players attempting to play out from the back. That's an awful lot more risk than reward.
Admittedly one game is a small sample size but, again, it comes down to the relative abilities of the players asked to take such risks.
Gareth Southgate took the Three Lions to the semifinals in two consecutive major tournaments if we're counting the Nations League. His honeymoon as England boss continues. That said, it seems fair to question why he would start John Stones when the Manchester City player was completely lacking in match fitness because Pep Guardiola, the dark overlord of playing from the back, had about as much use and respect for him as Donald Trump shows for any of his wives.
Stones was also to blame on De Ligt's equaliser, losing his man off a block from another Dutch player. Debating the legitimacy of that tactic is fodder for different column, however. For now, let's just note that while Southgate defended Stones vehemently in the press, branding him England's most skilled defender, he didn't start him in the third-place match against Switzerland.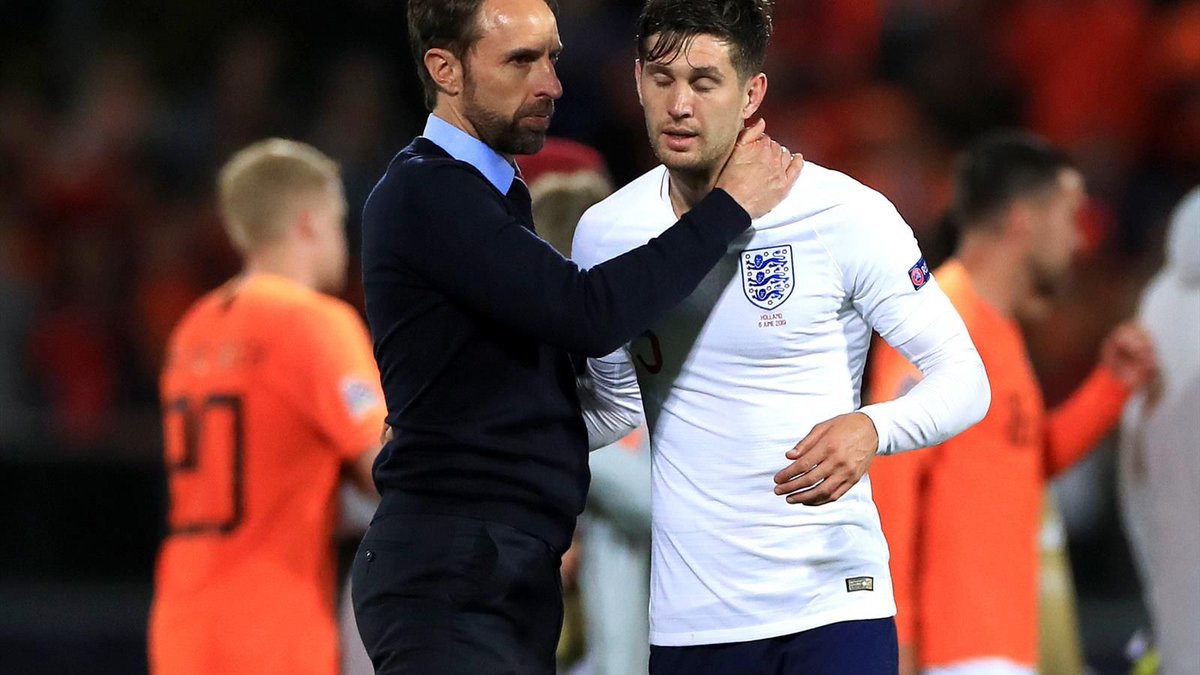 G. Southgate:
"He [J.Stones] knows that I am here to support him, I know he is going to get criticism, and he's had a difficult end to the season in that he was not playing regularly...
But we still think he has been our best centre back, has huge qualities and huge potential."
https://t.co/WObMhdzX0f
To a point, I agree with Southgate. Stones is not useless. If I were to compare him to any defender, it would be Chelsea's David Luiz. The Brazilian has upped his defensive game as he's matured but is primarily a threat with the ball at his feet and time to pick out a pass. Any pass. Given the chance, Stones can develop into a similar threat. Against the Netherlands, he made at least two important interventions that terminated Dutch attacks just when it seemed they'd broken through. In addition, it was his pass from as far back as the back gets that led to Jesse Lingard's disallowed goal.
VAR reversed the on-field decision because the Manchester United forward's toes were closer to the goal than the Dutch rearguard and, as harsh as that sounds, the rulebook doesn't say the smallest part of your anatomy that is eligible to score can be between the last defender and the keeper. It says no part shall.
Even so, the sequence illustrated the benefits of playing from the back and it began with Stones. It was highly entertaining to watch him dribble within a yard or two of his own goal post. First, because it's delightful to hear Gary Neville mutter, "Oh dear, oh dear," in a muted tone. Second, because Stones' pinpoint pass to Ben Chilwell halfway up the left flank sparked a counterattack featuring a quick exchange between Raheem Sterling and Ross Barkley, who provided the incisive through ball for the clinical finish. For his part, Lingard will from now on clip his toenails before every game with VAR in mind.
Again, John Stones is not useless. He's just proof in the pudding that playing from the back is a precise method that demands the absolute best in close control and composure. It isn't suitable for everybody or every situation. Therefore, not every club should adopt it. Nor should all but the very best use it without compromise. Strike a balance. Take what the defence gives you. If there is time and space, bring the ball out at your feet. If your foes press effectively, clear your lines. Don't try to force a square peg up an angry lion's round nostril.