Jose Mourinho must not revert to type with his team selection
Manchester United Football Club have made a less-than-ideal start to the 2018/19 season. Jose Mourinho's men have looked way off the pace from pretty much the get-go. Whether that's down to a poor summer transfer window, or the manager himself, remains to be seen...
This weekend, the Red Devils travel South to play their toughest game of the campaign to date; Chelsea away. Stamford Bridge has notoriously been an unhappy hunting ground for United. Heck, even the great Sir Alex Ferguson struggled to eek out victories against the six-time league champions.
How fitting that the self-proclaimed Special One goes head-to-head with his former employers with his neck potentially on the chopping block. The hosts are favourites for the eagerly-anticipated encounter, rightly so. If the visitors stand any chance, it's down to Mourinho's stubbornness. He must avoid reverting to type.
Time-and-time again we've seen the 55-year-old's failure to trust in his youngsters. Just ask Luke Shaw, it has taken the Englishman over two years to win his manager over. Perhaps the best example is Anthony Martial. The attacker was in superb form a year or so ago, then Alexis Sanchez joined... From that point forward, United's new #7 became undroppable - even when he was putting in consistently inconsistent displays for the best part of six months.
Understandably, that ticked the 22-year-old off. Martial made clear his desire to leave Old Trafford. Obviously, that move didn't happen, to his credit, the ex-AS Monaco man hasn't sulked. In fact, he has been working harder than ever. He started the season on the bench, but over the last two games, Martial has made an excellent impact on the pitch. Last time out against Newcastle, he was the star of the show during that spectacular second-half comeback. His goal drew United level, his pace, energy and directness was a constant thorn in the opponents' side.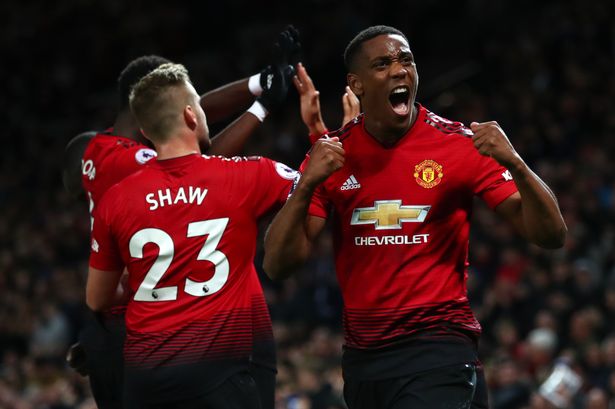 So often, Jose Mourinho has opted for the out-of-form, experienced player rather than keeping the men who are currently performing in the team. That has to change this weekend. This man simply must start against Chelsea. #
mufc
https://t.co/6Pvit09tSV
Last term, Mourinho would have been all-too-quick to inexplicably drop Martial, even after playing well. The United manager must find a place in the team for his in-form players, that much is obvious, right?
Unfortunately, I wouldn't be surprised to see the 55-year-old put Martial back on the bench, alongside a much-improved Shaw and a Marcus Rashford who had a brilliant game against Spain last time out, in favour of an ageing Ashley Young, a struggling Sanchez and a Romelu Lukaku who's confidence looks bereft. That's just his way, but he must avoid temptation, he must roll the dice.
Speed. Hunger. Directness. Fearlessness. That's what United need as they enter the lion's den. Lukaku looks like he's running through mud, why not give Rashford a shot playing through the middle? It's obviously his best position, he's a natural goalscorer, not a wide man. Give him his chance, who knows, it may also re-ignite that fire in Lukaku's belly if he's watching someone else do his job. It's a win-win.
If it were me, I'd go one further. I'd also throw a young Diogo Dalot into the mix. He has looked a promising prospect during his two first-team appearances. When you compare him to Antonio Valencia, who looks slow, exhausted and quite frankly, finished, it seems to be a no-brainer. This one is somewhat different as Dalot hasn't been tested at the highest level so I'm willing to give Mourinho a pass on this one.
As for the others, failure to opt with the in-form youngsters, well, it could lead to Mourinho losing his job...