Why Joshua Kimmich's versatility is a Bayern Munich masterstroke
Joshua Kimmich upped his midfield game this season.
Background image: Christian Willy.
Bayern Munich is in a colossal mess right now. The Bavarians suffered a 5-1 defeat to Eintracht Frankfurt on Saturday, after Jerome Boateng conceded a red card in the early proceedings. Two days later, the Bavarian giants parted ways with Niko Kovac. Assistant coach Hans-Dieter Flick has been promoted to the interim manager role while an ongoing injury crisis has made the situation more concerning. However, in a roundabout way, Bayern has found a way to bolster their squad using the ever-versatile Joshua Kimmich to full effect.
This term, Kimmich has been deployed in the middle of the park. With Thiago Alcantara as his partner and Phillippe Coutinho ahead of them, Bayern have a fast-moving, mobile, dynamic midfield. Following Benjamin Parvard's arrival in the summer, Kovac was handed the option to shift Kimmich to his preferred role.
There no surprise of Kimmich's brilliance in this position, either. Before Pep Guardiola deployed him in defence back in 2015, he used to play as a central-midfielder for RB Leipzig - the club in which he made a name for himself. On the international stage, Germany boss Joachim Low also sees him as a fantastic partner to Toni Kroos in said position, while Bayern's new assistant, Flick, worked under Low in the 2014 World-Cup winning campaign and follows a very similar ideology.
The 24-year-old is built in the Phillip Lahm mould. Both are incredibly versatile and possess an identical skill-set. Kimmich is not frighteningly quick, but his intelligent positioning rarely gets caught by opposition forwards in a one-on-one battle. The midfielder reads, processes and reacts. Effectively and efficiently. That's the German way, right?
Kimmich was very vocal with his preferences in the press:
On the pitch, I can exert more influence in midfield, I'm closer to my teammates and also have more contact with opponents. I can influence the game much more from there.
If bayern play their cards right, kimmich could be the next midfield general. The club has still not really replaced schweinsteiger, vidal held it together for a couple years but he's been gone for 2 seasons now. Its time
Against Augsburg in the league, Kimmich played an interesting role. When Niklas Sule got sidelined with a season-ending injury, Benjamin Pavard and Lucas Hernandez played as centre-backs while Javi Martinez dropped between the defenders. Kimmich took an advanced position, rolling between the right-back, right-wing and central midfield slots.
The German linked extremely well with Serge Gnabry and provided penetrating diagonal balls aplenty into the box, for Robert Lewandowski and Kingsley Coman to feast on. Kimmich's position changed as Bayern progressed with the ball from midfield, helping Hernandez to constantly overload and become a passing option - while wingers pushed forward and create more overloads out on the flanks.
Kimmich is also a constant threat from set-pieces, too. His ability to dip piercing balls through opposition defenders with precision helps with long-distance free-kicks and corners. It's an underrated asset that any team worth their credence needs to be successful.
Furthermore, the German drops deep and facilitates Bayern's brave style of involving Manuel Neuer while playing from the back. It increases the gaps between opposition forwards and midfielders and leaves acres of space for them to exploit. Anyone who has watched Bayern remotely closely over recent years knows that Kimmich is a passing wizard. His balls from deep positions is a vital tool to unlock the Bundesliga's weaker teams and deeper defences.
Against Olympiakos in the Champions League midweek, Kimmich started alongside Leon Goretzka in the midfield. Goretzka's ability to protect the ball and get out of tight spaces gave Kimmich a free role which made him a passing option while building up the play; resulting in keeping 70% of the possession. Kimmich dominated the midfield through and through, taking 137 touches during the 90 minutes played. We also witnessed his wide array of passing abilities at full throttle, spraying long-balls and passes into the box from every angle.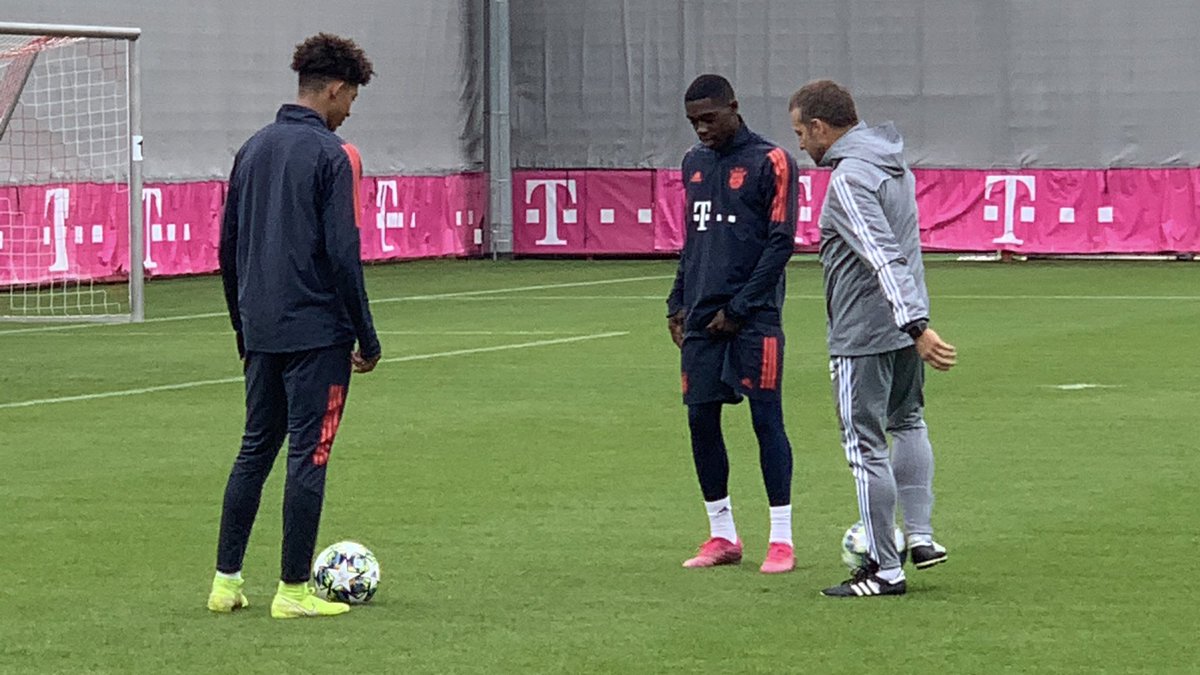 Chris Richards & Derrick Köhn trained with the 1st team. Kimmich is planned at CDM tomorrow. Martínez & Pavard would be the CB duo as Boateng won't play v BVB. The RB position would be vacant. Richards, who is highly rated at the club, could be a surprise inclusion [@Plettigoal]
https://t.co/2U27zeSOGJ
As of now, Sule's season is over while Hernandez is expected to be back by Christmas and Boateng is suspended. This means Kimmich will have to compromise his preferred midfield position and go back to the right-back spot for the team being. No, this is not meant to sadden things, as Kimmich always excels even in this role. In fact, the German has arguably been the best right-back in the world over the last couple of years, marauding up and down the flank all-game long.
What makes Bayern unique is that no team possesses their diversity and versatility in defence. Hernandez, Pavard and David Alaba can all play as a full-back or centre-back, while Javi Martinez can drop from defensive midfield into a centre-half role when required. You add Canadian youngster Alphonso Davies into the mix, then sprinkle in Kimmich's multi-faceted style, it's a backline which can be tinkered with to yield sweet results in different ways.
Bayern faces Borussia Dortmund in the Der Klassiker today. Placed fourth in the league, this game is a must-win for the Bavarians. If they're to have any chance, expect a Joshua Kimmich masterclass in whatever position Flick sees fit to utilise him in today...