Joshua Kimmich proving to be more than Philipp Lahm's clone
After Phillip Lahm's retirement, Bayern Munich pinned all its hopes on Joshua Kimmich to fill those colossal boots. Thus far, the 22-year-old has done so seamlessly, albeit adding an extra ingredient to his own game.
Last February, Bayern was thrown off balance when club icon, Phillip Lahm announced plans to end his playing career. He intended to see the season out; however, at only 33 years old, he could have continued for another three to four years, at least. Alternatively, he may have jumped at the pension plan offered abroad. But the diminutive full-back had no motive whatsoever to boost his bank balance nor dent unwavering loyalty to the Bavarians.
Instead, Lahm felt the time was right to bring the curtain down on a remarkable career:  
"I can manage that until the end of the campaign, but not beyond it,"
 he said.
His final bow against Stuttgart was a colourful one. Almost 80,000 fans crammed into the Allianz Arena to catch a final glimpse of their idol. Lahm received a thunderous ovation after being withdrawn three minutes from time. Amidst the excitement and jubilation, however, a feeling of horror gripped the faithful. 
"Who replaces Lahm?"
 That was the question anxiously muttered.
Bayern had some viable options to fill the vacant right-back position. Rafinha had looked accomplished on a few occasions. Another option was the versatile Sebastian Rudy, confirmed to join the German giants in summer. Neither was considered good enough to replace the departing legend though. But wait - there was also a talented youngster on the books. Joshua Kimmich.
The club's hierarchy
had already chosen the man for the job. It was Kimmich. The selection made perfect sense: his size, stature, ability and demeanour made him the ideal candidate to replace Lahm. The youngster glides across the pitch, not just shuttling up and down the right flank but also deliberately drifting to penetrate a crowded midfield. Similar to his predecessor, Kimmich is also adept at receiving the ball and taking it forward in one movement. The inevitable comparisons have since followed.
Although their physique and style of play is almost an exact match, comparing both was somewhat delusional at this tender stage.
"Philipp enjoyed a perfect career,"
Kimmich told
Bundesliga official. "You can never replace a player like that like-for-like, but it's also important for me to go my own way. I don't want people to see me as a Philipp Lahm clone. I want to do things as Joshua Kimmich."
Indeed, Kimmich is taking his own pathway to greatness. Since Lahm's retirement, the 22-year-old has filled the role with aplomb. He's been Bayern's most consistent performer, by far. His defensive prowess has never been questioned but recently, Kimmich's exploits in the final third have come to the fore.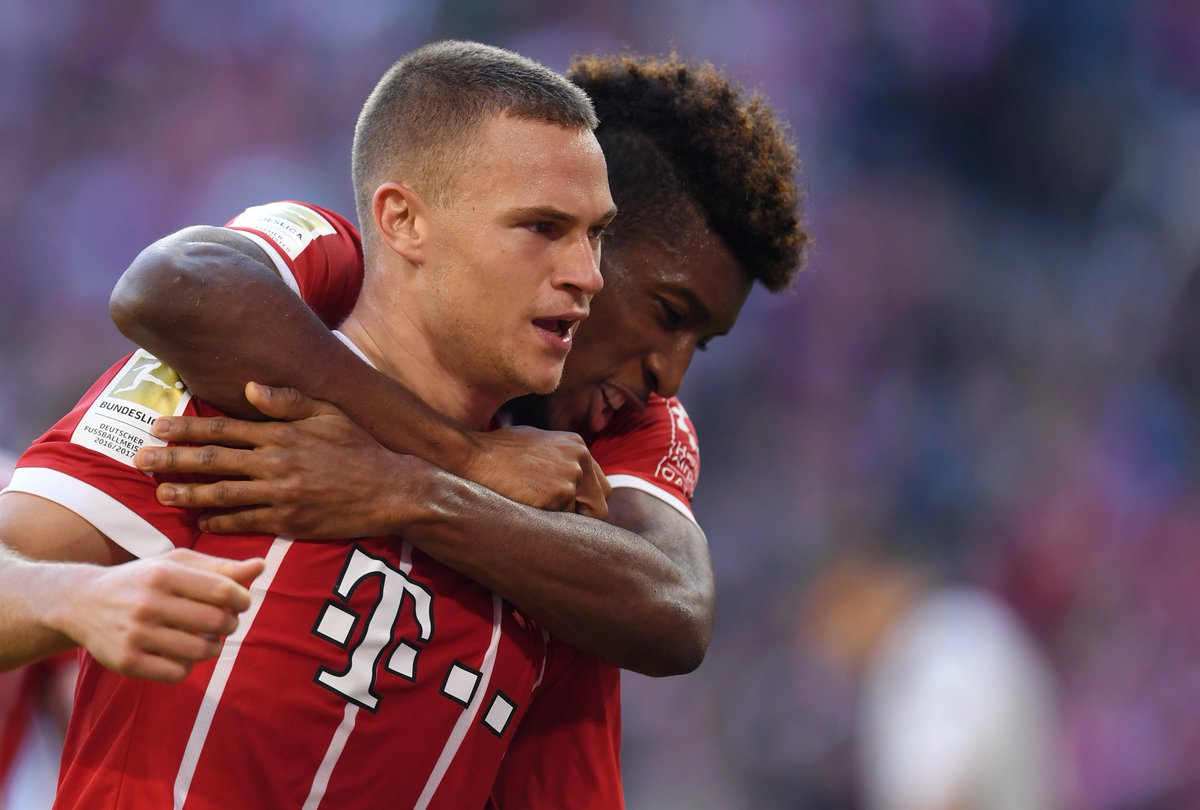 Joshua Kimmich has now been directly involved in 8 goals in 13 games for Bayern this season.
5 assists 🅰️
3 goals ⚽️
What a header. 🙌
https://t.co/Av1eRc06a9
That is remarkable considering his predecessor managed a paltry 12 league strikes throughout his career. Worse still, Lahm never found the net in Europe's elite club competition. Kimmich, meanwhile, has grabbed two already this season; one of which was a looping header from long range against Celtic on Wednesday night. He has now scored five Champions League goals for the Bavarians, 12 in all competitions. Not bad for a defender.

Today's full-backs are, increasingly, deciding to concentrate on the offensive side of the game. That is what Joshua Kimmich has added to Bayern in recent times - an attacking dimension from the right-back position.