Is Jurgen Klopp fashioning a new Liverpool dynasty?
It took a while to gain momentum but the German's Anfield project appears to have legs.
Background image: Polo Metz
It's a wonderful time to be a Liverpool fan. The football is great. What's more, the results are amazing. The reigning European champions are virtually unstoppable. Jurgen Klopp is leading a revolution at Anfield. In addition, their luck has turned. With depth throughout the lineup, the injuries that proved so critical in past seasons aren't even testing the squad. Meanwhile, everything seems to be going wrong for Chelsea and the Manchesters City and United, the three clubs who have won every Premier League title but one in the last 15 years. They're also on course to defend their Champions League crown.
That isn't to say the Reds are lucky to be where they are. While everything has gone right for them elsewhere, they haven't taken a step wrong themselves. They'd only be unlucky not to be on top. All they've achieved derives from meticulous work by the manager. Jurgen Klopp brought in the right players and brought out the best in them. Building on the foundation laid by Brendan Rodgers, the former Borussia Dortmund gaffer has turned Liverpool into the best team on the continent. Most amazing, he did it after losing Philippe Coutinho and Raheem Sterling.
Contrary to bygone days when managers were celebrating arrivals like Andy Carroll and Paul Konchesky, Liverpool is the go-to destination for world-class players. When a manager is savvy enough to pick out Africa's two best players, the world's best goalkeeper and centre-back while redefining both fullback positions, he deserves commendation.
The board deserves credit as well, not only for signing him but for staying out of his way until their assistance is requested. The German tactician was allowed to implement his programme and received enormous backing to carry out a patient rebuild at a club fed up with disappointment. Initially, it seemed their trust in him wouldn't pay dividends. Three years in, there was no silverware. Then everything changed last season. The Reds conquered the continent and came agonisingly close to winning the Premier League. Klopp promised to have a go at the latter this term.
Going almost three decades without winning a league title is no joke for a club with Liverpool's pedigree. After a decades-long wait, this may be their greatest campaign ever. Eight points beyond surprise package Leicester and 14 above Pep Guardiola's supposedly unassailable Citizens, the Kop is quietly preparing to celebrate their first title in the Premier League era.
Ironically, it's Klopp's predecessor, Rodgers' who poses the greatest threat. While many believe they're punching above their weight, the consistency in their results suggests they intend to remain in Liverpool's rearview rather than merely coast into next season's Champions League. Even so, the Reds are setting a pace to drop far less than eight points going forward. The title is theirs to lose.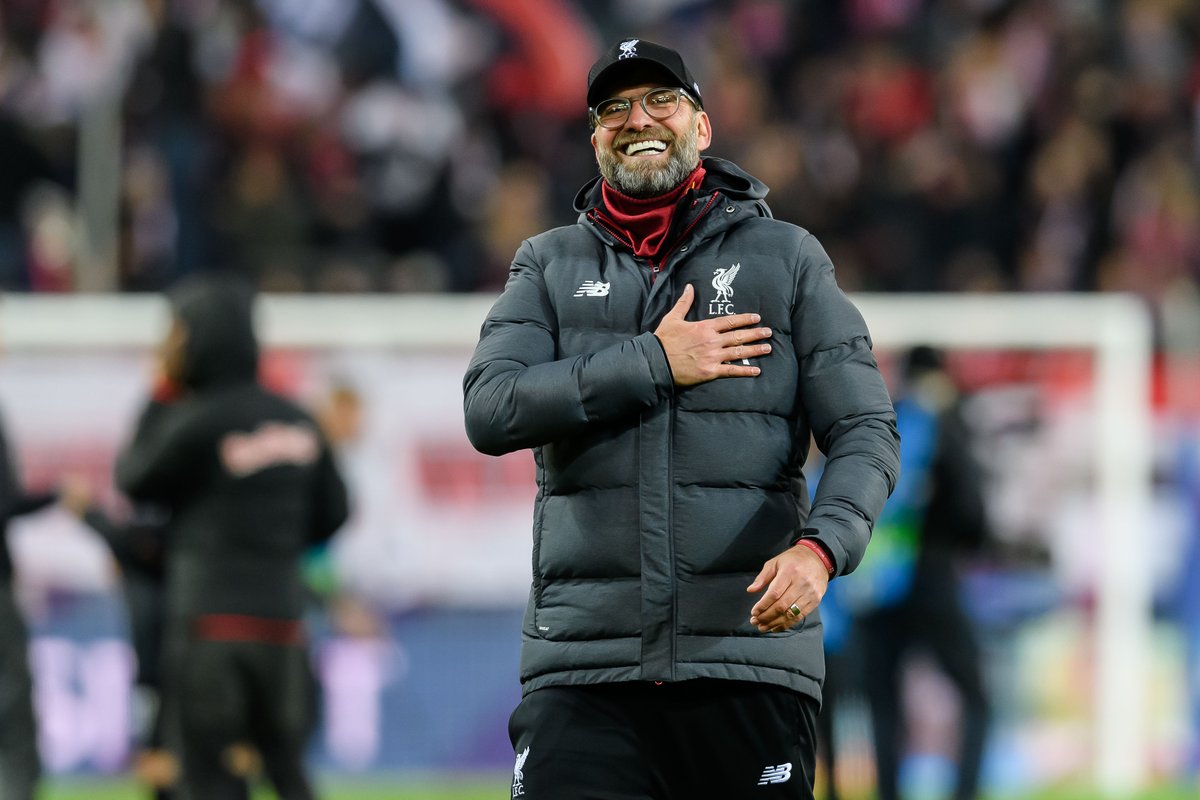 Jurgen Klopp:
Fastest @
LFC
manager to 100 top-flight wins 💯
League win ratio of 63% - best in club's history ✅
On longest unbeaten top-flight run in club's history 📈
Deal until 2024 🤝
https://t.co/eRvQzkMcUt
Unlike their recent history, capitulation doesn't appear likely this time around. There are three games remaining before the campaign hits the halfway mark but the squad is grinding out results on bad days and looking more than invincible on their best. City isn't showing the same fight this season. The Catalan confessed his side can't compete both domestically and in Europe.
So far, it appears the Merseysiders can. Real Madrid managed a European treble under Zinedine Zidane after no one had repeated since Milan did so to close out the 1980s. Klopp doesn't want to wait that long.
Last weekend's 3-0 win against Bournemouth took Liverpool's unbeaten Premier League run to 33 games, a club record. The club's last such defeat came against Manchester City on January 3. There's now talk of not only pursuing but shattering Arsenal's invincible record, having dropped a single point to date.
Liverpool bosses the Premier League and has beaten some of Europe's best in recent season. The German manager put pen to paper on Friday to extend his stay at Anfield until 2024. Apparently, he has plans.