Can Justin Kluivert follow in his famous father's footsteps?
Justin Kluivert has been grabbing attention recently, as his stock in the European game continues to rise. The teenager is performing extremely well for his hometown club, Ajax, chipping in with a healthy tally of goals and assists for the 2017/2018 season. The son of former Barcelona favourite, Patrick, has been tempting the likes of Manchester United, Chelsea and Arsenal into a summer bid. Let's take a look at why the teenager is potentially the next biggest thing in football.
Kluivert first made his debut in January 2017, enjoying a solid 60 minutes as his fledgeling career began. He's quickly become a regular in the Dutch side's starting line up, accompanying Klaas-Jan Huntelaar and David Neres across the forward line.
The young striker has done remarkably well to cement his position within the top European side, who are the leading goalscorers in the Eredivisie this term. His ability to perform at a high level in a short space of time, while adapting to the challenges the Dutch league brings, is something that European heavyweights will be keeping an extremely close eye on. Eventually, the young man will likely move on.
Whether it's the Barclays Premier League, La Liga or Serie A, Kluivert will have to adapt his footballing approach in order to be successful. There have been many players, namely Memphis Depay, Michy Batshuayi and Radamel Falcao who've achieved great success before struggling in the Barclays Premier League, unable to adapt to the different game, perhaps Kluivert can do what they couldn't.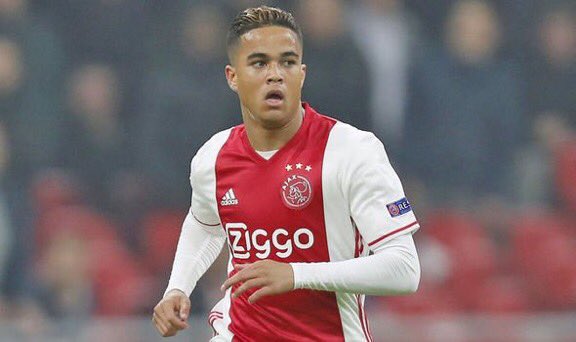 Ajax's 18-year old starlet Justin Kluivert when asked about a move away from Ajax
"If you get a nice offer, you never know. England appeals to me: Arsenal, Tottenham, Chelsea or Manchester United are nice clubs where I can see myself playing in a few years."
https://t.co/BcGZMXGfSI
Not only does Kluivert's goals, assists and adaptability add to his value but so does his age. At just 18, he's young, while still learning the game. The Dutchman may lack experience in big games but he has his whole career ahead. Slowly but surely, he'll learn little tips and tricks that'll help him on his way.
With Manchester United heavily linked with the teenager, Kluivert could potentially have a very prosperous career. However, the level of success that Kluivert would achieve at Old Trafford is questionable. Why you ask? The Red Devils already have a number of young wingers and attackers, including Marcus Rashford, Jesse Lingard and Anthony Martial - do they need another starlet? Or would they benefit from an attacker with experience to aid the development of their current youth players in the first team squad? Perhaps the talented forward would be better off moving to a different team, somewhere he could learn from older players. Immediately, I look at Chelsea or FC Barcelona.
There's absolutely no doubt about it, Kluivert will have a long successful career provided he remains grounded. He's proven how capable he can be, causing a whole host of top European clubs to track his progress throughout the 2017/2018 season. While Kluivert's father has advised him to hold out for a move to a club such as Barcelona rather than picking a Premier League side, it's possible that we may not see the winger in England anytime soon. However, wherever the speedy winger decides to go he will almost certainly provide assists, goals and trophies for many years to come.