Was motivating Benzema worth the cost of signing Jovic?
Karim Benzema has scored four La Liga goals in four games this season, while Luka Jovic is yet to open his account.
Remember when Karim Benzema was scapegoated for every negative Real Madrid result? The Frenchman received the hard end of the stick for not scoring as frequently as Cristiano Ronaldo. Well, things have changed.
Following Ronaldo's departure, Benzema's now the one worshipped at the Santiago Bernabeu. He's been Real's driving force with timely strikes, despite multiple surmounting issues. Taping his hand like a boxer to protect a broken finger, he's come out swinging to consolidate his influence up top.
Perhaps the high-profile acquisition of up-and-coming Luka Jovic rejuvenated Benzema's scoring gene. The 21-year-old's been roped in as his eventual successor in Los Blancos' attack but the older striker's not going down anytime soon. After his tireless contribution in 2019, even a ruthless Zinedine Zidane wouldn't dare remove him.
Last season, Benzema netted 21 La Liga goals. He didn't reach that figure in the previous two campaigns combined. The reason for his sudden revival? Ronaldo's departure. Of course, the Portuguese was adorned in Madrid. Considering his 51 league goals from 2016-18, it's hard to argue against his priority over the Lyon-born.
Yet, despite getting stick from fans, Benzema did contribute well. He tweaked his game to Ronaldo's benefit. Operating similarly to Olivier Giroud in France's set-up, he created space for the number seven by dropping deep, drifting out wide, dragging defenders or making clever passes to force an issue. As CR7 was integrated into a more centre-forward role in his later years, Zidane's natural striker had to take the backseat.
Since Ronaldo moved to Juventus, Benzema's wings have again taken shape. He's successfully stepped from the shadows to showcase his clinical attributes. Certain players might've lost confidence during the difficult last year. Instead, his consistency along with an upbeat attitude is proving Real's biggest asset.
After finishing as the team's top-scorer last season with 30 strikes in all competitions, Benzema is ready to leap that figure this time around. Of course, the added pressure in Jovic has reinvigorated his senses. Last campaign, even with little competition, he notched goals galore. One can imagine he'll hit another gear once Eden Hazard starts working his magic.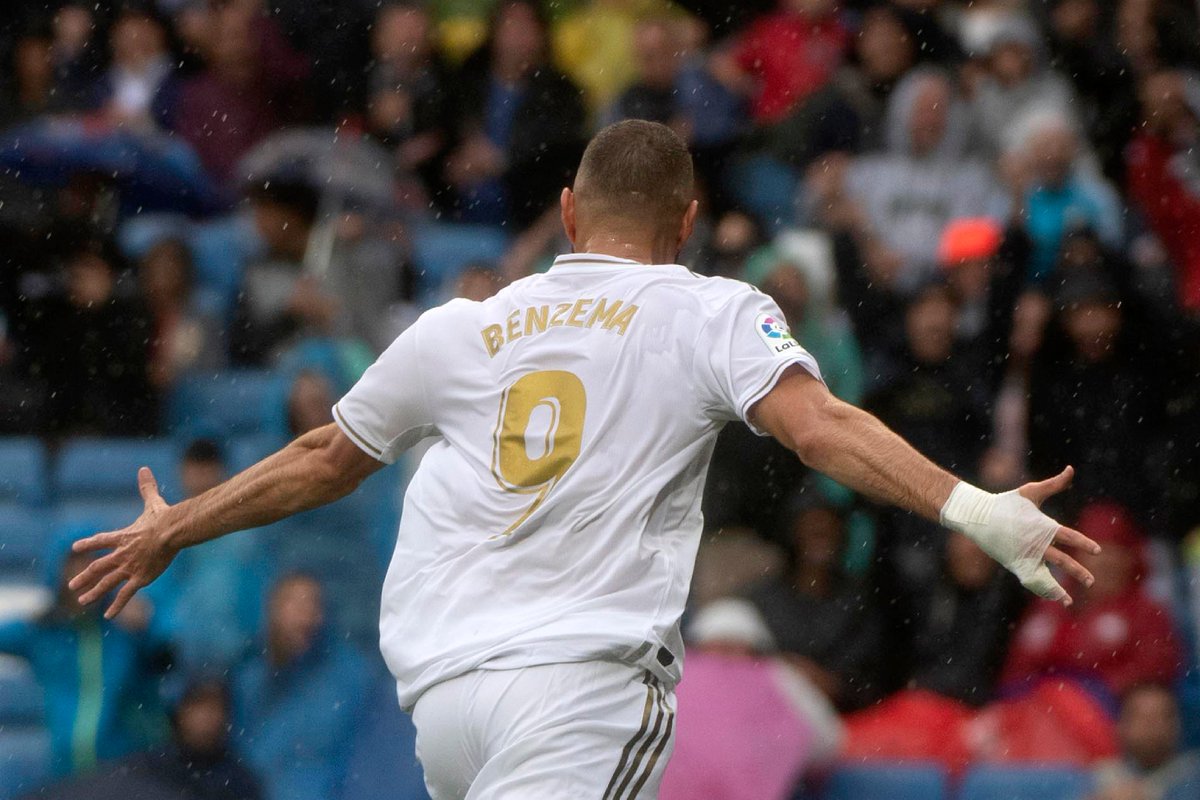 19 - Karim Benzema 🇫🇷 has scored 19 goals in La Liga in 2019, only Lionel Messi & Kylian Mbappe (21 each) have scored more in the Top 5 European leagues. Fire.
https://t.co/1Yz4wjqf5W
If Benzema's superior expected goals per 90 minutes than the last two campaigns proves anything, he's become more proactive with his effectiveness in attack. There's definitely more to catch the eye than the four La Liga goals he's netted this season.
Benzema is among the rare breed of combative strikers doing it all to formulate their goals. He basically starts off Real's attacking flow with clever passes down the channels or to a creative playmaker. His instinctive nature to dart back into scoring positions and pump in natural centre-forward finishes have mixed for a dangerous combination.
Jovic tried matching Benzema's industrious effort at this month's beginning by dropping deep to orchestrate play against Villarreal. He failed. Of course, the Serb's a decade younger than his French teammate and clearly at a disadvantage thanks to Benzema's superior chemistry with Los Blancos' marquee stars.
Rather than raging an unnecessary personal battle, Jovic will benefit learning a few tricks from his senior striker. Having spent ten years in Madrid, Benzema's seen and done it all. He knows how to take the pressure in his stride. Many speak up Ronaldo and Lionel Messi getting better with age. His effectiveness is reaching something similar.
Of course, Benzema can compete at the highest level for only so long. The passing of the torch to Jovic is inevitable inside the next few years.
Until then, Benzema will continue surpassing expectations. He's helped Real Madrid adjust from their Ronaldo era. His next job is to play a major role in restoring La Liga parity.