Kevin de Bruyne health key to Manchester City's title defence
Background image: Jonathan Palombo, CC BY 2.0
Manchester City's back-to-back victories at the Etihad against Tottenham Hotspur left a bittersweet taste. Elimination from the Champions League quarterfinals in the first wasn't compensated by sending the Premier League title ball back into Liverpool's court in the other, especially, considering the Reds dispatched relegation-bound Cardiff 24 hours later. The bitterest pill to swallow, however, was Kevin de Bruyne's return to the trainer's table.
The prime reason for their incredible title win last season, the Belgian can't shake the injury bug in 2018/19. A torn ligament kept him out for almost half the season. Against Spurs in the Champions League, he appeared back to full fitness and was the most dangerous Citizen on the pitch. In the Premier League, he was pulled after the half-hour mark with another injury. At the writing, a return date was uncertain.
Before the setback, he was a warhorse charging the opponents box from midfield, creating chances as he pleased. De Bruyne's unstoppable work-rate and killer passes created three of City's four goals on Wednesday night. He did everything humanly possible to tip them over the line, only for technology to spoil the party.
City found their ultimate attacking groove with his involvement. Liverpool had to be nervous. KDB hit his stride in time for the final stretch. In April, he contributed to goals in every match he played barring two, both due to limited game time, coming on as a substitute in the first leg against Spurs in London, being helped off after starting the league match in Manchester.
He scored one goal, assisted six in five starts, running rings around every defence he faced. Just when Manchester City began to run out of ideas in the final third, De Bruyne's sparked their lethal attackers with his magic. It's his clever attacking work that allows City to pump in goals, validating their dominance on paper.
It's not like Pep Guardiola doesn't possess further creativity in his arsenal. David Silva, Bernardo Silva, Riyad Mahrez all have tricks up their sleeves. That being said, the experienced Spaniard's performance levels understandably dipped after a personal tragedy. The greener Portuguese can be bullied. Mahrez's inconsistency and need to try the spectacular do more damage than good. De Bruyne is the most direct and commanding of the group.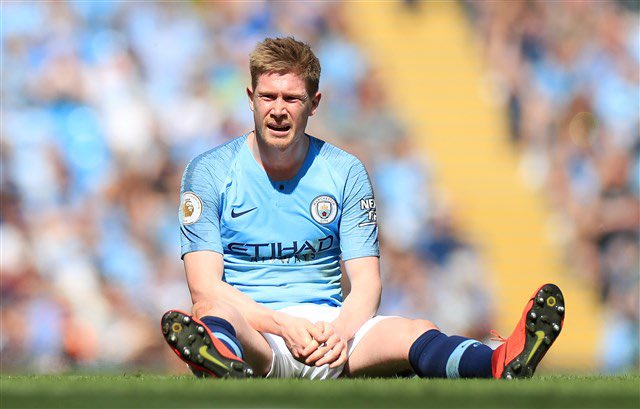 Kevin De Bruyne's season:
⏱ 30 mins
🚑 9 weeks (right knee)
⏱ 204 mins
🚑 6 weeks (left knee)
⏱ 184 mins
🚑 1 week (muscle tiredness)
⏱ 910 mins
🚑 3 weeks (hamstring)
⏱ 449 mins
🚑 ? (left knee)
30 games, 5 goals ⚽️, 9 assists 🅰️
#mcfc #
mancity
https://t.co/O5YTJVlrx0
That directness supplied the wanted cutting edge. He can make 50+ passes a game but rather than just moving the ball around, he pushes into promising positions to feed his striker's with defence-splitting passes. He's also lethal enough to power the ball into the net himself. It's like he's the illegitimate lovechild of Paul Scholes and Frank Lampard.
He's a striker's dream partner thanks to his incisiveness. Ask Raheem Sterling. They seem connected on a telepathic wavelength. De Bruyne knows exactly where his Sterling will go. The Englishman knows when to make his runs.
When City's most lethal finisher and inspired creator gel, opponents have little choice but to pick the ball out of their net. That partnership may not be available to Guardiola for the final few games in the Sky Blues' title defence. De Bruyne is out for an undetermined period.
The pressure is on the City manager. His options are limited and the squad has little choice but to run the table. To edge out Liverpool in this title race for the ages, he needs all hands on deck. The best news he can receive is that Kevin de Bruyne will be back in the squad sooner rather than later.