Can Kingsley Coman and Serge Gnabry become Bayern's New Age ''Rob-bery''?
Twenty-nine August, 2009 began an eminent chapter in Bayern Munich's history. Arjen Robben and Franck Ribery took to the field together for the first time. Bayern were still licking their wounds after a 2-1 defeat at Mainz. With two previous games drawn, die Roten plummeted to 14th. The French and dutch combination reversed the club's fortunes with a 3-0 victory over Wolfsburg.
Leading 1-0, Louis van Gaal first sent on Robben for his Bundesliga debut after arriving from Real Madrid. Ribery was also sent into the fray 15 minutes later. He promptly set up Robben for a dream debut goal. The same combination put the finishing touches to the win. Rob-bery was born.
Ten years later, they've become a legendary partnership. They share seven Bundesliga titles, five German Supercups, four DFB Pokals, one Champions League Crown, one FIFA Club World Cup, and one UEFA Supercup.
Rob-bery's culmination approaches, however. Arjen Robben announced his retirement at season's end. It signifies the end of the tandem and an era at Bayern. Plagued by injuries in recent years, the Dutchman's lost his touch. Ribery's career follows a similar trajectory. Now is the right time to pass the baton.
Nico Kovac's stewardship raises questions. Among the most important, who will man the wings? Robben, Ribery, Kingsley Coman and Serge Gnabry all demand consideration. Full-backs across Germany and beyond try to stop the youngsters. Even wearing jet-packs, it's a nigh impossible task.
All four revved their engines, impatient for the green light to signal the 2018/19 Bundesliga season's start.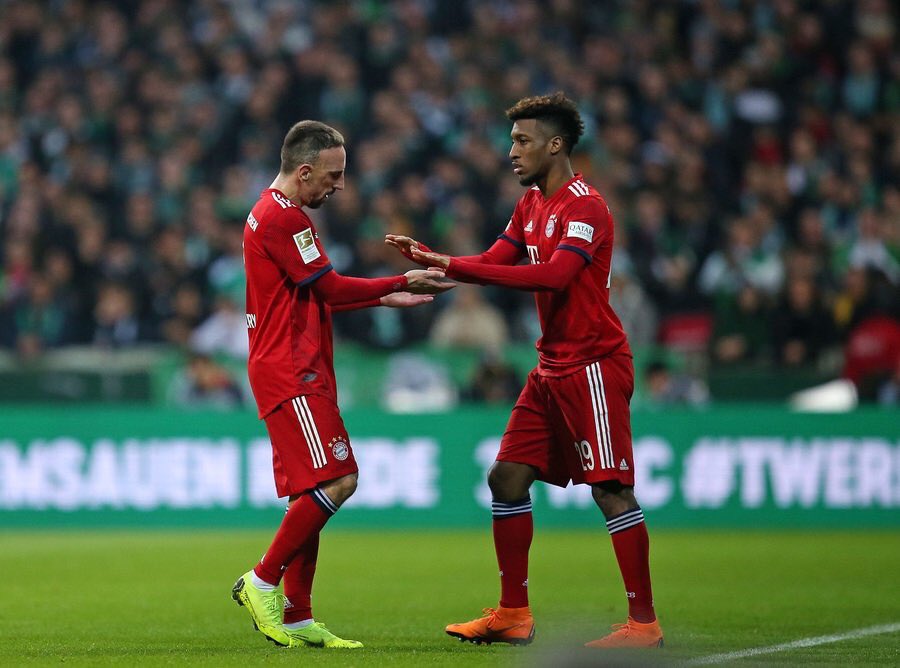 Kingsley #
Coman
: "There is only one Franck, nobody will ever be like him. Franck is a great example for me. My goal is to do it as well as he does, but in my own way. I'm Kingsley #
Coman
- not the new @
FranckRibery
."
https://t.co/qmEbSuOZ0s
A young manager, at 47, many expected he was brought in to facilitate the transition. Not that Robben is interested in watching play from the bench in his final campaign. Or Ribery, for that matter.
Coman and Gnabry promise to be first-rate wingers who can apply pressure and create havoc with their pace. Coman was enjoying a breakthrough season in 2017-2018 before succumbing to injury. Gnabry turned in an excellent campaign for Hoffenheim on a loan assignment.
Coman is arguably Bayern's most talented winger, a huge addition to the squad when fit. He holds the pace, technique and ability to rise to the top at his position. Furthermore, he has two of the best to teach him. Hopefully, he can complete the maturation process he began under Pep Guardiola.
Serge Gnabry's taken an unconventional journey to Bayern. The former Arsenal, Werder Bremen and Hoffenheim player has been on the left, right and centre for just about every team. Versatility served him well but being a jack of all trades can mean you're a master of none. At Bayern, Gnabry is surrounded by far more talent than at Hoffenheim.
Enjoying his first full season with Bayern, the 23-year-old is on 18 appearances in all competitions. He's produced four goals and two assists, emerging as a key figure in the attack. The same can be said at international level. Gnabry started Germany's last three games, scoring once and providing two assists.
Although Coman's fourth season on the Bayern books has been blighted by injury, the France international slotted in seamlessly as a substitute against Bremen on his return. Still, only 22, the former Paris-Saint Germain and Juventus winger already owns 97 appearances for the Bavarian club, registering 16 goals and 22 assists, winning three successive Bundesliga titles and the 2016 DFB Cup.
If you could criticize either player for anything, it's their proclivity for injury. Coman has suffered a Syndesmotic ligament tear twice in a year. He's missed 40 games over the past two seasons. Gnabry has had a string of thigh and muscle problems during the same period.
Rob-bery's continued presence provides cover. If the Bayern faithful have learned anything over the years, it's that a good squad rotation can carry them through a season. Perhaps the mix of youthful exuberance and veteran guile will help Kovac keep all four healthy for the season's remainder. Young players deserve to come into their own but it's also hard to say goodbye.