Kyoto Sanga choose experience for 2020
This year, Kyoto Sanga are showing they mean business...
Kyoto, the former capital city which governed Japan for over a thousand years until 1868, fondly remembers such imperial heady days with civic pride. The sporting fans in the locality reminisce the early 90s when Kyoto Sanga was relevant in Japanese football. It's now been a decade since the city had a team playing in J1.
The purple-clad team made international news for the wrong reasons in November. They were subject to a 13-1 loss at the hands of J2 Champions, Kashiwa Reysol; ensuring Kyoto's season finished there and then when a victory would have seen through to the playoffs given the other results.
Two points off the post-season, but 12 goals behind division champions invigorated change for Daisuke Yamanaka, who's given the green light for a rehaul. Eleven free transfers in the transfer window are indictive, this year Kyoto Sanga means business.
Tadanari Lee won the top-flight championship for the first time in his advancing years at 33 last year with Yokohama F.Marinos. This trophy completed his Japanese top-flight set, having won the Emperor's Cup, J.League Cup as well as the Fuji Xerox Super Cup with Urawa Red Diamonds previously. Add in his success in the Asian Champions League, then Lee could retire with success attributed to his name.
Affectionately known as Chung to some, the veteran striker didn't eye hanging up his boots when his contract ended with the J.League champions but set himself a new challenge. Proclaiming on twitter that he desires another unique trophy, wishing to add to the J2 trophy to his collection. Later adding he is joining Kyoto Sanga to do so. Given Lee has played over 450 games in his career with top clubs like Yokohama, Urawa and Sanfrecce Hiroshima – not to mention having been cherrypicked from Japan to play for Premier League outfit, Southampton – Lee's presence goes a long way. His combined tutorship, wisdom and goal-scoring should steer the youngsters/the club in the right direction.
Accompanying him in the 'successful veteran striker' department is Peter Utaka. The former Nigerian-international elevated Ventforet Kofu to the post-season playoffs last year, with his 20 goal tally. Having scored over 200 career goals with teams like Shimizu S-Pulse, Sanfrecce and FC Tokyo in J1 before, it's another critical signing which will bring the necessary firepower as well as experience to climb the table. Should Utaka line up with Lee in a strike partnership, the front line might not be the fastest but an incredibly experienced one.
Ryota Moriwaki brings experience to the other side of the pitch, joining from Urawa. At 33-years-old, the defender his more than qualified for Kyoto in J2, having won the ACL two years ago. Often pictured smiling, Moriwaki had to grin from the bench last year as his involvement became less and less frequent as the season progressed.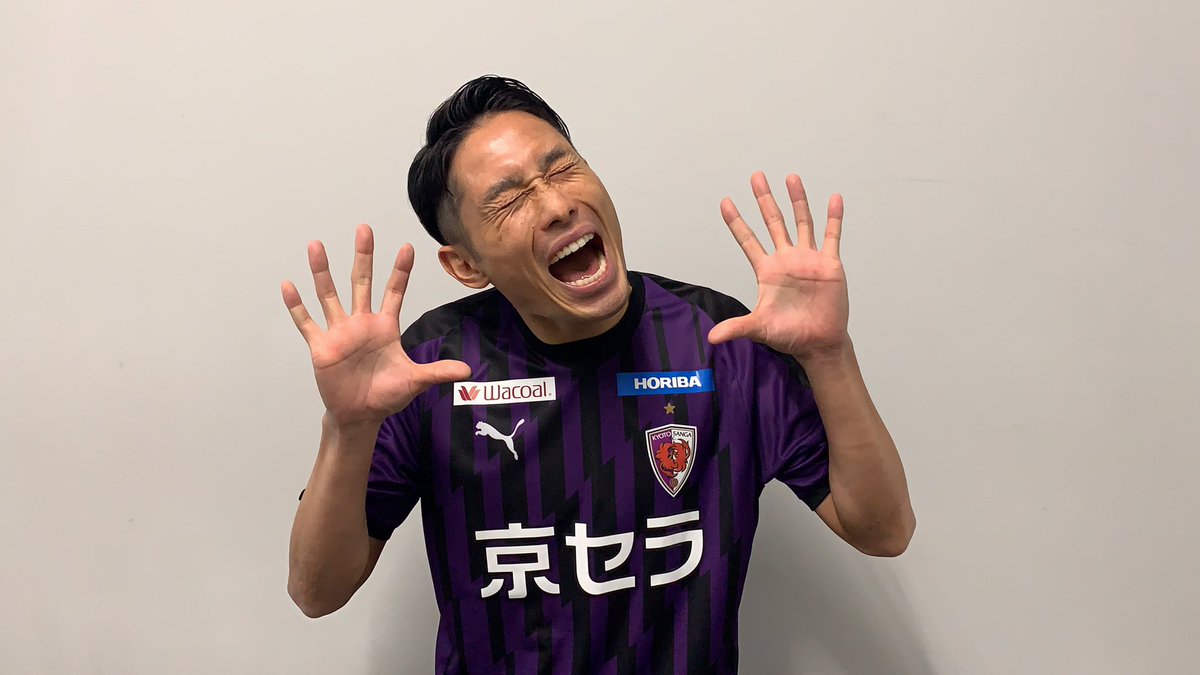 Ryota addressed the fans saying he wanted to give his all for Kyoto, with his objective to gain promotion to J1. He's since tweeted content of him appreciating the local culture, with his signature smirk with a mouthful of udon noodles.
Bringing such prolific names is a result of selling Kazunari Ichimi, a 20-year-old with 17 goals for the club. In addition to both Keiya Sento and Tomoya Koyamatsu who are also leaving the club after stellar seasons. Mostly, their entire strike force is moving on to J1 clubs – forcing their hand to find replacements. Selling 20-year-olds to buy players in their mid-30s is a sign the club is unwilling to wait any longer for success. Getting to J1 before 2021 is a priority, bringing promotion-money investment, allowing them to foster youth again. The problem is if it doesn't happen for any reason this year, the club then owns players reaching age 40 all too soon, or even a depleted squad due to faded ambitions with the club. Though they may sell more tickets to domestic fans with such iconic J.League names coming to the team.
The manager, Noritada Saneyoshi, steps into his first senior team role having prior experiencing coaching at Nagoya Grampus, as well as leading Gamba Osaka U23. He notably coached Ritsu Doan during the 2016 season in the Gamba youth setup, who later become a full Japanese international as well as a first-team starter for PSV Eindhoven. Having spent his entire playing career from 1995 to 2007 with Gamba, he's clearly the one for legacies. Now he's got to the pre-existing Kyoto history by building a team worthy of the city, subsequently reaching J1 as a by-product.