Does La Liga transfer exemption betray clubs in the relegation battle?
Martin Braithwaite could be on his way to Barcelona from Leganes in an emergency move and his club can do little about it.
Background image: Mutari.
With key forwards Luis Suarez and Ousmane Dembele likely ruled out for the remainder of the season, FC Barcelona have been given permission by La Liga to take advantage of a special rule which makes them able to sign a player from another Spanish top tier club outside of the transfer window as a replacement. The club had to submit medical documentation to prove Dembele would be ruled out for at least five months, to allow them to acquire within the following 15 days. Barça presented evidence to La Liga that Dembele would be out for six months, even though he suffered the same injury to his other leg in the past and it only took three for him to recover...
The Blaugrana have considered signing Willian Jose of Real Sociedad and Getafe's Angel Rodriguez, but both moves have failed to progress. Every player in Spain has a buyout clause, though, so with Barça's financial capability, it would be difficult for any smaller club to be able to hold on to them. The move they're currently pursuing is Leganes striker Martin Braithwaite. The Danish forward has a £15million release clause, so if the Catalan club present that money, Leganes would be helpless to let him go. Leganes owner Felipe Moreno has already announced that they're not going to negotiate the buyout clause. With the club battling relegation from La Liga, they may now have to do so without their top striker so that he can go and sit on the bench at Camp Nou until the end of the season - when they likely let him go for a cut-price.
As Martin Palazzotto wrote earlier this week, clubs elsewhere in Europe such as the Premier League have no such ruling and are forced to make do by calling in youth players or moving first-teamers into different positions. This La Liga ruling is there to help sies in a time of need and could, in fact, benefit a team such as Leganes - should they have suffered an injury crisis like Barça's, but it can also work against them extremely detrimentally. Although they may receive £15 million , losing the player could cost them their place in the top tier, which would be much more of a loss in the long term.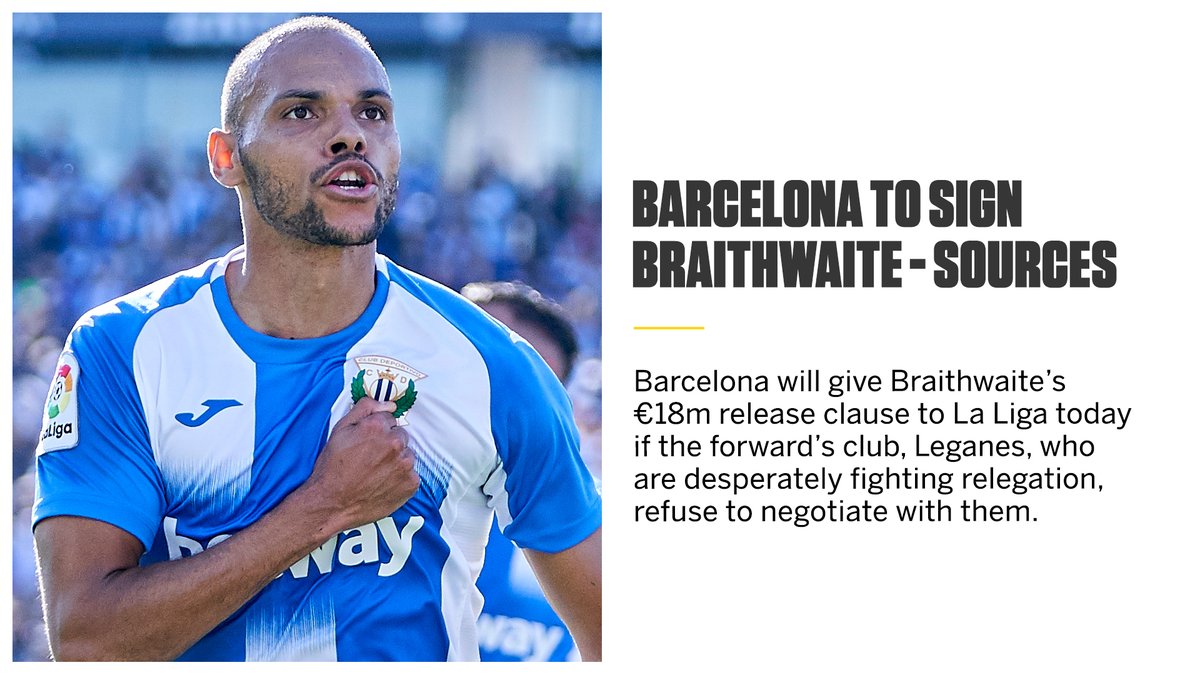 Barcelona expect to complete a deal for Leganes forward Martin Braithwaite today after being granted permission to make a signing outside the transfer window, sources have told ESPN.
https://t.co/lrC6uOgSYa
Barça have thirteen games left in La Liga. Should they sign Braithwaite, he would be ineligible for the Champions League as the squads for the knockout stages have already been submitted, and the club are no longer in the Copa Del Rey. He would likely stay on the fringes and only be there as an insurance option, similar to Kevin Prince Boateng's surprise loan move from Sassuolo last year in which he made just three league appearances. However, losing Braithwaite could effectively relegate Leganes. The club currently lie in 19th place in the table, two points from safety. Braithwaite has just six goals and two assists so far this term but is still their top goalscorer and has the joint-most assists in the team. A club whose goal difference is currently minus 18 would be losing crucial goals. In a normal situation, the 28-year-old would not get anywhere near the Barça squad. However, they need someone at the moment. Anyone.
With one of the best academies in world football in La Masia, surely Barça should look to their youth to fill in the gaps. Manager Quique Setién has already expressed regret in letting 22-year-old Carles Perez go on loan to Roma, telling media he wouldn't have let him go if he knew that there would be such an injury crisis. 17-year-old Ansu Fati has been thrust back into the starting eleven recently, but Setién still requires backup.
This La Liga ruling was intended to be one of assistance to all clubs. However, as we may see in this situation, the league should consider it in future. Should Braithwaite move to Barcelona, make a couple of appearances while watching Leganes drop to the second tier after having his buyout clause activated, and then be sold to anyone who will take him in the summer, it would be a sad case for Spanish football...