Blue It: Why are Chelsea struggling to string together results?
Lampard is doing a good job but worrying cracks are appearing.
Chelsea's poor performance against Everton wasn't surprising to ardent Blues fans. Even at their absolute worst, Everton's uncanny ability to morph into 1970 Brazil for one game against their London counterparts, especially at Goodison Park should not be underestimated. Despite this, worrying signs are emerging at SW6.
Although Chelsea impress offensively, the same problems plague the defence. Kepa Arrizabalaga not kicking on from a solid debut season looks shaky, coupled that with bad luck means the Spaniard's clean sheet record this season is sparse. Most worryingly, his shot-stopping acrobatics, his most impressive goalkeeping skill, have dipped in quality. Sources behind the scenes suggest the problems stem from the promotion of Henrique Hilario to Head Goalkeeping Coach; the club keen to put trust in an ex-stalwart, but one who never really had particular pedigree in the position. Ironically, the club's technical director, Petr Cech, would probably be a more appropriate choice.
Arrizabalaga is not the only reason why Chelsea are struggling defensively. Frank Lampard, for all the positive things he is bringing to the West London club since taking over, is unable to pick a first-choice defensive pairing. Fikayo Tomori, Lampard's own pet project from Derby is developing into a fine option, but there are still erratic moments and his lapses in concentration were fatal in the Manchester City match in November. Since then, Tomori has been out of the firing line.
Kurt Zouma, who ironically impressed for the Toffees last year, wilted on his return to Goodison, being thoroughly dominated by Richarlison and Dominic Calvert-Lewin. Sadly, the imposing Frenchman lost several yards of pace after serious knee injury several years ago. It appears he'll never regain this vital asset. Andreas Christensen is technically superior to his counterparts, offering a great range of passing and awareness from central defence, but the giant Dane does struggle in physical encounters and he can lack speed in vital moments. Antonio Rudiger is Chelsea's most talented defender by far: imposing, quick, strong and excellent in the air while his reading of the game is improving as he matures. However, a persistent knee injury thus far is blighting his season.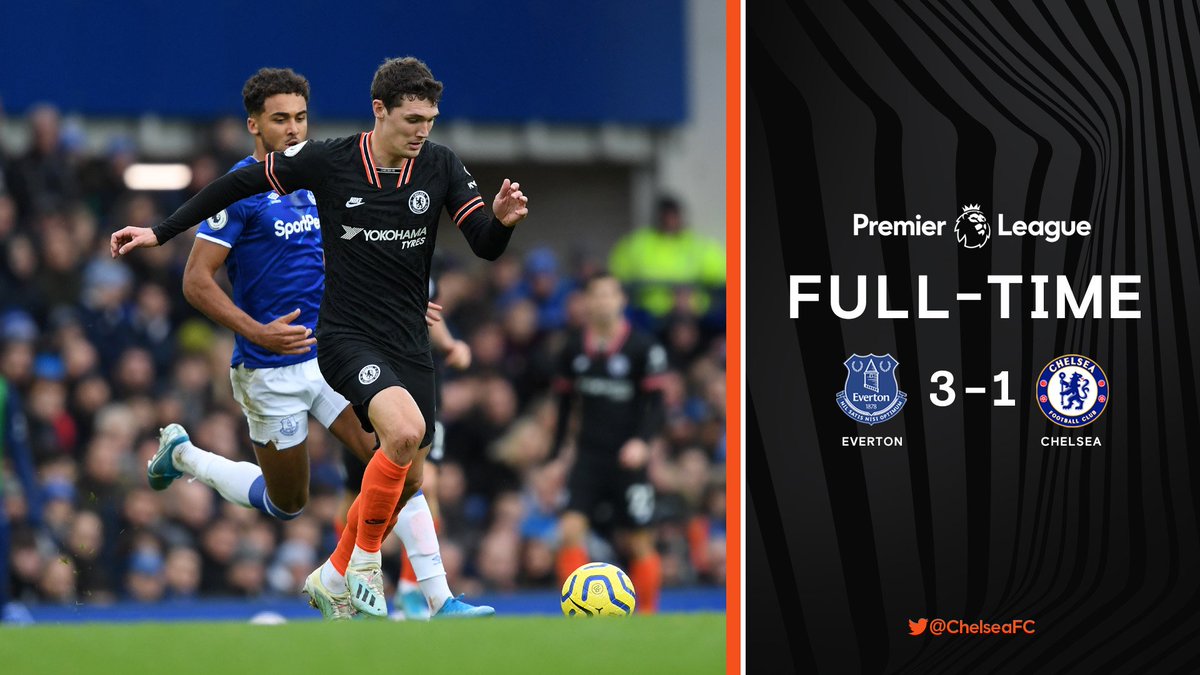 Lampard also faces tough choices at full-back, too; the emergence of Reece James sees club captain Cesar Azpilicueta shunted to left-back, but he struggled badly against Walcott's pace on Saturday and there is a feeling that his legs may be starting to go. Marcos Alonso seems to be out of the picture, whilst Emerson is struggling with fitness. With Chelsea's transfer ban being overturned last week by the Court of Arbitration for Sport, one suspects Frank Lampard will be in the market for a quality, experienced central defender. Chelsea has a buy-back option on Nathan Ake and given that he excels weekly for Bournemouth, as well as being cover at full-back, you wouldn't bet against them exercising it to bring back the Dutchman.
Moving further up the pitch, midfield is Chelsea's strongest position but also their most problematic. N'Golo Kante is a shoe-in and arguably the only true world-class player in the squad. The remaining two spots are filled by Mateo Kovacic, who has vastly improved this season and Jorginho, who possesses the calming influence and leadership that no one else in the team currently offers. Then you have Mason Mount, another pet project from Lampard who is more direct and offers a greater goal threat. They badly miss Ruben Loftus-Cheek's dynamism and drive, typified in the West Ham match where Mount was anonymous. Until Chelsea consistently get the balance right, they're going to lurch from result to result. It will be interesting to see if Lampard considers moving Christensen forward into the defensive midfield role, a position in which he impressed at Borussia Monchengladbach and often does so for Denmark, too.
The frontline for Chelsea is another issue. Lampard is sticking with Tammy Abraham and being rewarded with impressive performances. At least 'the No. 9 Curse' appears to be over. Alongside Abraham, Pulisic looks sharp in flashes, but at times needs to show a more selfish streak. Callum Hudson-Odoi is a talent, but like all young players, his performances do fluctuate in quality and intensity. It's also worth noting he is returning from a long-term injury and it may be a while until his best is consistently on offer. Willian offers a consistent threat from the wings, but again his end-product is erratic at best and Chelsea will be concerned about the lack of noise from his camp, regarding signing a new deal. Chelsea is linked heavily to Jadon Sancho at Borussia Dortmund and perhaps he'll be their big-money replacement to take the place of Willian, Pedro and even Eden Hazard...
It's a pivotal week for Chelsea. A must-win match against LOSC Lille tomorrow at Stamford Bridge promises either Champions League knock-out or Europa League disappointment. A home-match against Bournemouth could extend the gap to fourth back to eight points or could see it shortened to just two; a far cry from the chasm a few weeks back. All of this is against a backdrop of a showdown with 'The Special One' before Christmas. Lampard is doing a lot of good work at Chelsea, but a run of poor results could see the atmosphere turn blue – and not in a good way...