Is Lautaro Martinez Antonio Conte's Inter Michy Batshuayi?
Lionel Messi. Sergio Aguero.Paulo Dybala. Angel di Maria. All were pegged to be Argentina's heroes at the ongoing Copa America. Lautaro Martinez was an afterthought. Say hello to the afterthought.
Having netted twice, including one against Venezuela in the quarterfinal, he's become manager Lionel Scaloni's knight in shining armour. While Messi 'underperformed' to a startling degree, the 21-year-old dragged his nation out a harrowing ditch match into the semi-finals. Argentines have fallen in love with the smouldering 21-year-old. What about Antonio Conte?
The former Juventus, Italy and Chelsea boss took charge last month at Inter where Martinez ably filled the Mauro Icardi-sized void in the attack after the New Year. Knowing Conte's tactical aptitude, he's surely keeping an eye on his young star while adapting into his newest challenge. Even so, the Italian persists in pushing for a front-line makeover. His long-held infatuation with Romelu Lukaku was rekindled in the Italian back pages as well as a newfound admiration for Roma's Edin Dzeko.
It seems odd although not unprecedented that Conte would make the number nine his number one priority. In his debut season in Italy, Martinez took to the Nerazzurri's system like a fish to water. He came up big with crucial strikes while Icardi and his agent/wife Wanda Nara watched from the stands, resplendent in their fur coats. With a goal in the Derby della Madonnina, the 21-year-old proved his fearless mettle. His driving nature and insatiable appetite recalled another Inter Argentine, Diego Milito, and placed Martinez above multiple experienced candidates at Inter last season.
Acquiring Lukaku is like kissing Sleeping Beauty after she's awake, both an expensive proposition and unnecessary. Ed Woodward surely won't concede his £75 million acquisition for anything less than his purchase price. With Icardi's suitors disappearing into thin air, producing that amount of money could lead to severe financial repercussions. Rather than blowing up his transfer budget, Conte should see the sense in polishing the edges on the raw talent already at his disposal.
In the Italian's infamous 3-5-2 formation, which proved highly beneficiary to strikers like Carlos Tevez and Diego Costa, the 21-year-old Argentine can flourish. Indeed, in a system that encourages working the ball into the box, the clinical youngster should exponentially improve his scoring.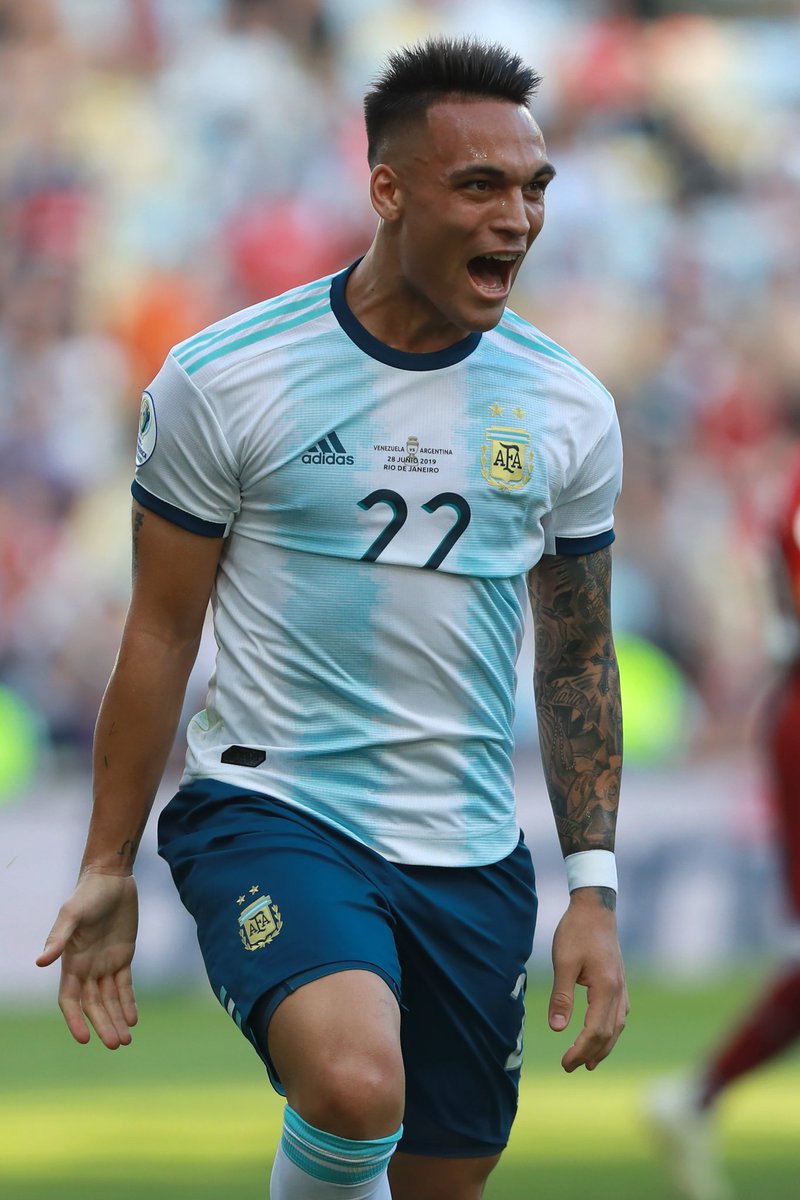 When you want to talk about making the most of opportunities...
Lautaro Martínez - 6 goals in 10 appearances
Mauro Icardi - 1 goal in 8 apps
Paulo Dybala - 1 goal in 21 apps
https://t.co/jy1IkYQQXK
The youngster rarely fails to capitalise when handed chances inside the area. Two goals from only four shots on target at the Copa America are a sweet conversion rate that should impress his new boss. If Conte prioritises playmakers who can support Martinez, his goal rate can only increase.
Unfortunately, Conte hasn't ever placed much faith in young forwards. He signed then sidelined Michy Batshuayi at Chelsea despite the young Belgian taking every scrap thrown his way and making a full meal from it. The Italian never considered Batshuayi as his first choice at Stamford Bridge despite dispatching Diego Costa and finding Alvaro Morata woefully insufficient as his replacement. Rather than using the player at hand, Conte engineered a complicated three-way transaction that left Batshuayi lighting up the Bundesliga for Borussia Dortmund, Pierre-Emerick Aubameyang tearing up the Premier League and Olivier Giroud languishing on the Blues' bench. Injuries and a dry spell at Sevilla subsequently stalled Batshuayi's rise but he enjoyed a resurgence on loan at Crystal Palace from January to May.
Sitting on the bench can only slow Martinez's development as well. Every player needs regular minutes to reach their full potential. In Martinez's case, that could be as Argentina's next legendary scorer in a pantheon that includes Gabriel Batistuta, Tevez, Aguero and Gonzalo Higuain. Being sidelined or transferred threatens a promising career. If his performances for the Nerazzurri in the second half of last season proves anything, he can do the job.
Martinez's attitude is also exemplary. He isn't a cancer in the clubhouse as Icardi has proven to be. He simply goes out and performs. While Icardi was a problem and is not in Conte's plans for the 2019/20 campaign, he did provide Inter with a century in goals. The Italian's lack of faith that Martinez can replicate his countryman's consistency because he only has a half-season under his belt is taking the easy way out. Signing proven talent absolves him of any responsibility as a coach. Lautaro Martinez deserves an opportunity. Does Antonio Conte have the courage to provide it?