Leicester City vs Manchester United : What we learned
Manchester United traveled to the King Power Stadium to face Leicester City in a match filled with thrill, nerves, and excitement. The game was as unpredictable as it could get.
The Red Devils started off on the front foot with intent, prowling around Kasper Schmeichel's goal. Then Leicester did a Leicester, scoring on a counter attack through none other than Jamie Vardy. The North-Westerners slowly regained their hold on the game, coming back through two composed Juan Mata finishes. Leicester sub Daniel Amartey next handed the visitors an early Christmas present through two quick yellows. Anthony Martial couldn't take advantage, shooting over the bar with Schmeichel's back to the wall. Nor could Jesse Lingard, hitting the post after being put through brilliantly by Romelu Lukaku. Marcus Rashford should have been given a penalty but the angle was entirely wrong for Jon Moss to see any contact. Then Chris Smalling came up lame after Jose Mourinho had used all his substitutions. Leicester took advantage at the death when Harry Maguire latched onto a back post cross from Marc Albrighton.
United fell 13 points behind City, Pep's side being far more clinical against Bournemouth.
Here is what we learned from this game :
The Marshall Mathers Show
The King Power was the perfect place to be for anyone whose name began with the letter 'M.' Juan Mata, Nemanja Matic, Riyad Mahrez, Harry Maguire and Marc Albrighton. Emineminemineminem.
Mata was undoubtedly United's man of the match. The Spanish magician was sublime to say the least. He registered four key passes and two goals. The well-known humanitarian almost looked like he had a certain someone in his corner.
Matic was another one who performed to his fullest, as he has done all season. The Serbian midfielder broke play and won every second ball in midfield. He had 92 touches, the most by any player on the pitch.
Leicester's trio of Mahrez, Maguire and Albrighton were no less impressive. They all worked their stockings off, defending as well as attacking. Marc Albrighton's deliveries into the box were typically fantastic. Maguire had a solid game in both boxes. The Englishman was Leicester's biggest aerial threat, finally providing the King Power faithful a perfect holiday gift, albeit with his foot. Mahrez's exclusive skill set was on full display. His performance marred only by a booking for simulation, the Algerian was at his best. From orchestrating counter attacks to delivering inch-perfect crosses into the box, to dribbling past United players, he did it all.
United leaky at the back
Manchester United under Jose Mourinho has been best known for its defensive resilience. United have kept more clean sheets than any other team in the Premier League in the 2017 calendar year. Recently, however, United have made costly schoolboy errors. Both goals conceded against Leicester fall into that category.
Victor Lindelof and Phil Jones failed to hustle back on the counterattack finished by Vardy. It shouldn't be surprising to anyone in the league that Leicester's striker has some pace.
In added time, United failed to adjust for Smalling's injury, leaving him isolated on the back post, unable to leap on one leg to intercept Albrighton's cross. Mourinho must address the issue if he wishes to chase down City rather than fall into line with Arsenal and Liverpool.
A Merry Christmas in Leicester
Claude Puel has quickly built something special at Leicester. The Foxes have been in tremendous form under the French manager, losing only two from the last ten. The spirit his players showed, playing to the final whistle, was reminiscent of Claudio Ranieri's reign. Even though United dominated the opening stages, Leicester struck first. then to come back when down to ten men against Manchester United requires something extraordinary. Leicester faithful are delighted to see their team's best position in the league table since they hoisted the trophy.
United's inability to finish returns
Last season, United were the king of draws. Chances created went wanting. To begin 2017-18, it looked like United had resolved the issue. Yet, Mourinho's men have suddenly forgotten how to finish games.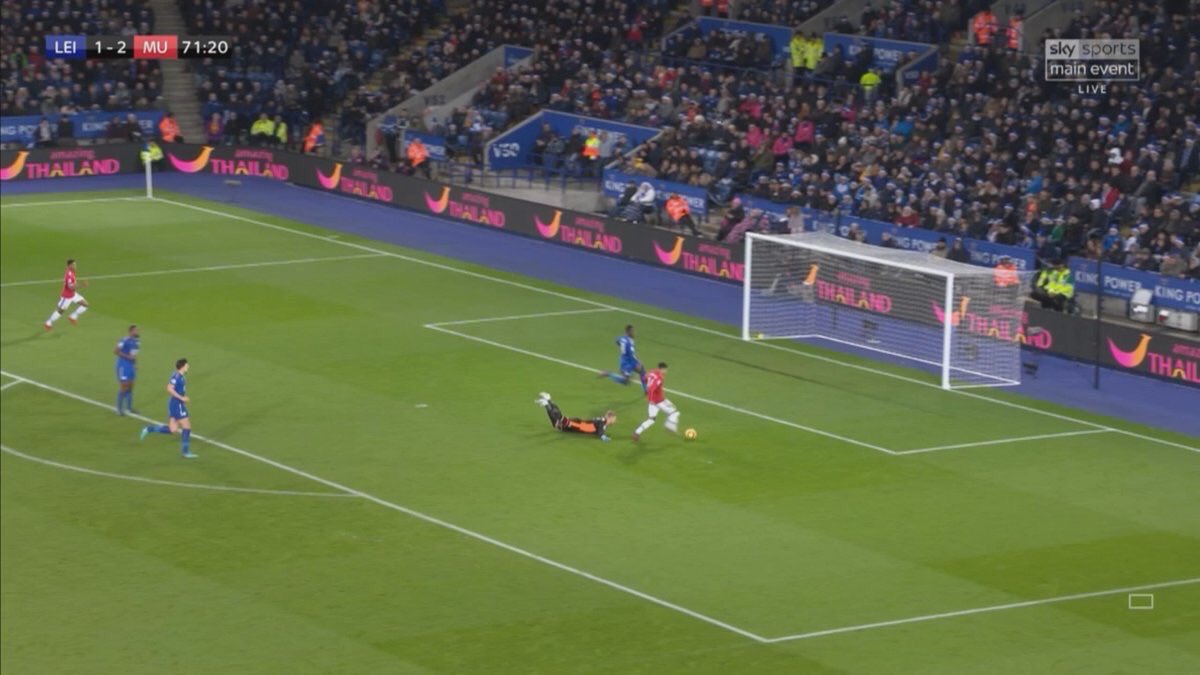 Against West Brom, United were 2-0 up, then sat back, inviting pressure. United learned that lesson against the Foxes, but continually failed to convert gilded opportunities. Jesse Lingard hit the post, Anthony Martial bottled the one-on-one with Schmeichel. Henrikh Mkhitaryan unsuccessfully passed rather than shooting from six yards. Rashford couldn't get it right, either.
Romelu Lukaku and Jesse Lingard could be a great partnership
Lingard has been in a terrific run of form. That continued with a good performance at the King Power. Apart from the miss, he hardly put a fut wrong. The 25-year-old's movement caused the Leicester defence trouble. He even assisted Juan Mata's first goal with a touch of class.
The match was also Lukaku's best creative game in a United shirt. He dropped deep to collect the ball, held it well, distributed inch-perfect passing and threaded the eye of the needle with through balls. The Belgian forward made incisive runs into the channels and counter attacked with pace, too. Nothing came of it on the day, but the partnership formed between Lukaku and Lingard seems like one Mourinho can build upon.