Leroy Sane: The closest thing to Ryan Giggs the Premier League will see
On this day in 1991, a young lad named Ryan Giggs made his debut for Manchester United. The Welsh Wizard spent almost 25 years marauding down the Red Devils' left-flank, winning 34 major honours for the Old Trafford club.
During Giggs' early years, in particular, the left-footer from Cardiff used to embarrass defences with his skill, trickery and balance. It used to feel like he had the ball tied onto his shoe with a string, and without question, his unbelievably good dribbling was by far his biggest weapon.
Fast-forward to 2018. United's 'noisy neighbours' are on their way to a first Premier League title under Pep Guardiola. The Catalan manager has his team playing some sublime football, but I cannot help but see a Giggs reincarnate buccaneering down Manchester City's left. Obviously, we're talking about Leroy Sane.
The German was signed by Guardiola in 2016, and although we were treated to glimpses of Sane's spectacular talent, it was largely one to forget for the Schalke 04 academy product. This term, however, we're watching a 22-year-old with the footballing world at his feet. He's a real throwback to the good old days. Sane is a player I could genuinely sit down and watch for hours on end without getting bored.
His trickery, balance, sheer pace and willingness to win can only be admired. He's tailor-made for a Guardiola team. Sane is especially deadly on the counter-attack, while also showing a determination to win possession back as quickly as possible, enabling to do what he does best; terrorising opposing defences.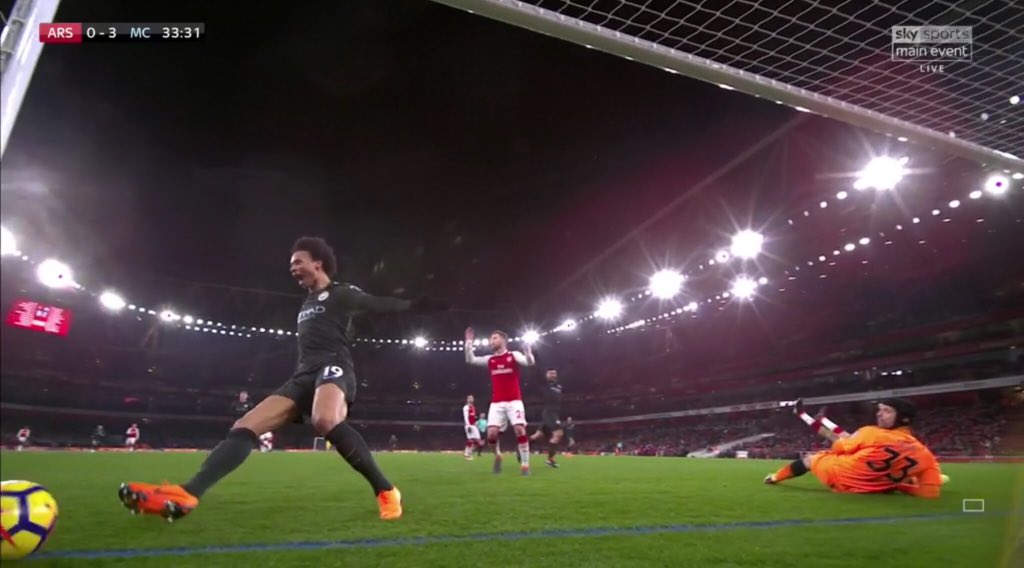 With a goal & an assist this evening, Leroy Sane is 1 of 2 players with at least 8 of both in PL this season
M.Salah 23 goals, 8 assists
L.Sane 8 goals, 11 assists
https://t.co/uNsVdypdTf
If you get the chance, just take a look at Sane's assist for Manchester City's opener against Arsenal last night. He raced past four defenders with relative ease before passing it into Bernardo Silva who coolly slotted home. Ironically, it reminded me of Giggsy's stunning solo goal in the FA Cup semi-final back in 1999.
Sane had his way with Arsenal again, with City's second-goal also being created down his flank. Then the winger finally got his deserved goal as the Blues wrapped up a comfortable 3-0 victory, albeit with the help of a Hector Bellerin deflection.
His eight goal-tally, coupled with 11 assists tells you everything you need to know about Sane as a player. He knows when to take the shot himself, while being able to pull off the pass if his teammate is in a better position. Giggs was the master at choosing the right option, and the similarities between these two left-wing dynamos are seemingly endless.
Kevin de Bruyne is certainly the man that makes Manchester City tick, but Sane is just a step behind the Belgium international in terms of overall importance. The winger is a big-game player who steps up when his team needs him most, and he more than deserves to be in amongst the conversation when talking about the best Premier League players this season.
Sure, Sane has an awfully long road ahead if he wants to usurp Giggs' English football legacy, but watching the German perform so brilliantly, week-in-week-out is a real pleasure. We should enjoy him while he's here, because who knows where his future will take him.