Liverpool loss is Juventus gain when it comes to Emre Can
Slipping conspicuously into the news stream amidst World Cup fixtures, Emre Can's switch from Liverpool to Juventus was completed with minimal fuss. In truth, the German's move to Turin was a foregone conclusion for several months. His refusal to sign a new deal pushed him closer and closer to the exit.
Juventus, as they always do, moved quickly before any other big clubs could get a sniff of the bargain. For that is what Can represents. On a free transfer, he should prove yet another astute signing from a club that has become synonymous with making a mockery of football's ever-growing price tags.
Can developed greatly under Jurgen Klopp's tutelage, becoming a defensive midfielder of real quality, a perfect counterweight to the abundance of attacking talent playing ahead of him. Strong in the tackle, a smart passer with a powerful engine the German midfielder has all the abilities to go far.
In 2016/17, he matured drastically to play a key role in Liverpool's midfield before injury curtailed his campaign in March. At 24, he has room to continue growing. Under Massimiliano Allegri, a manager whose tactical system should suit Can perfectly, he probably will. Sami Khedira faces a fight for regular game time next season. Can is an upgrade in all departments when compared to the 31-year-old. Blaise Matuidi must also work harder to justify a starting place. Juventus' already strong midfield has just beefed up even more.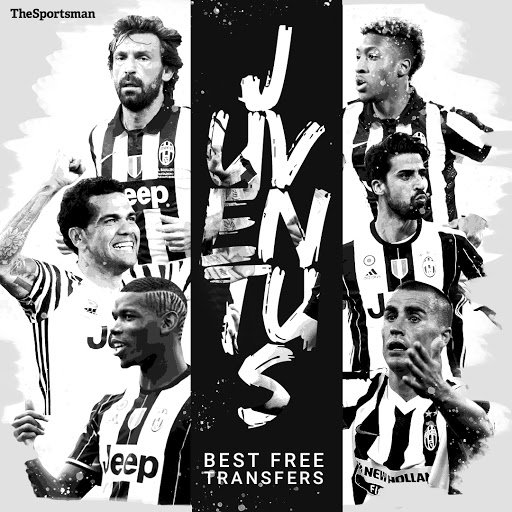 ⚫️ ⚪️ 👏 Emre Can joins Juventus and this epic list of free transfers over the years...
They know how to find a bargain!
#ForzaJuve
https://t.co/ZPp2yX3x4L
Liverpool's, on the other hand, has weakened considerably. While Juventus will be patting themselves on the back for another smart signing, the Reds will be bitterly disappointed. Can established himself as a key player in their midfield last season, 38 appearances in all competitions testifying.
The Reds spent £45 million to sign Monaco's young sensation Fabinho as a replacement. The expenditure illustrates how much Klopp valued the Brazilian's predecessor. Fabinho is more tactically flexible than Can but the Merseysiders wouldn't have pursued him had Can renewed. It would be advisable for Liverpool to identify an adequate back up for the Brazilian, too.
Jordan Henderson has evolved well under Jurgen Klopp but is not the energetic, physical defensive midfielder the German wants at the base of his midfield. With Naby Keita arriving this summer, the captain faces a fight to keep his place.
Youngster Marko Grujic would be an option. He's just 22, however, and needs regular game time. A return to Cardiff would make more sense than sitting. Whatever Klopp decides, he must remember how often he's been caught short because of a lack of squad depth. Fabinho has replaced Can but finding a suitable backup is necessary, even more so when factoring in Klopp's newfound love for rotation.
In the meantime, Liverpool can feel a little sorry for themselves. Being forced to sell Can would have been disappointing but not nearly so painful. He is a player they spent time and energy developing. No doubt, the club hoped to benefit from his growth in the years to come. The way things have worked out, it wouldn't be a shock to see the two clubs drawn against each other in the Champions League at some point next season.
Juventus won't mind. Once again they've secured a talented player who improves their squad without an upfront investment.
It's now on Can to step up his game to justify the move. At Juventus, he will be playing in his favourite position with better players around him in a league that demands less physically. The opportunity is there for him to develop into a world-class centre midfielder.