Alex Oxlade-Chamberlain: Control vs dynamism
The former Arsenal man's return from injury forces Jurgen Klopp to make some difficult decisions in the middle of the park.
When it comes to balance and depth, it doesn't take much convincing to agree Liverpool have perhaps the best squad. That's why Jurgen Klopp wasn't bothered about the Reds' lack of summer transfer activity in the summer. The German shrugged off the talk by saying, "If it's not broken, don't fix it".
Absolutely fine. Given their start to the campaign, there's no reason to disagree. While they bought a young Dutch defender named Sepp van den Berg for £1.8 million, they also gained a player who was returning from long-term injury.
There were doubts Alex Oxlade-Chamberlain would be the same again. Ox is not only up and running, he's picked up from exactly where he left off 18 months ago.
A serious knee injury kept him on sidelines for the end of the 2017-18 season, the whole of the World Cup and 2018-19 season. The Merseysiders hardly felt his absence. Their European success speaks for itself. Maybe he'd have made a difference in mid-season, preventing the Merseysiders from falling too far behind Manchester City to regain the advantage in the title race. However, the 26-year-old midfielder is back now and surely that's not less than a new signing.
His return lifted the mood around Anfield but instantly hitting his previous form gives Jurgen Klopp a selection headache for his midfield. To be fair, it's the kind of headache any manager loves to have.
It's not wrong to say Klopp already has an ideal midfield three in Georginio Wijnaldum, Fabinho and Jordan Henderson. James Milner can serve as like-for-like for captain Henderson. The combination rarely disappoints. The trio not only provides solid defensive cover, they're all tactically astute. Yet, supporters have complained about a lack of creativity. It's a legitimate complaint. Klopp relies on his front three and fullbacks to make things happen in the final third.
The German manager perfected this method. Choosing control over dynamism in the midfield offers stability and makes Liverpool less vulnerable without the ball.
On the other hand, they can be frustrated when trying to break down defences with the midfield. If it weren't for Andy Robertson and Trent Alexander-Arnold's ability to feed Mo Salah, Sadio Mane and Roberto Firmino, matters could be much worse.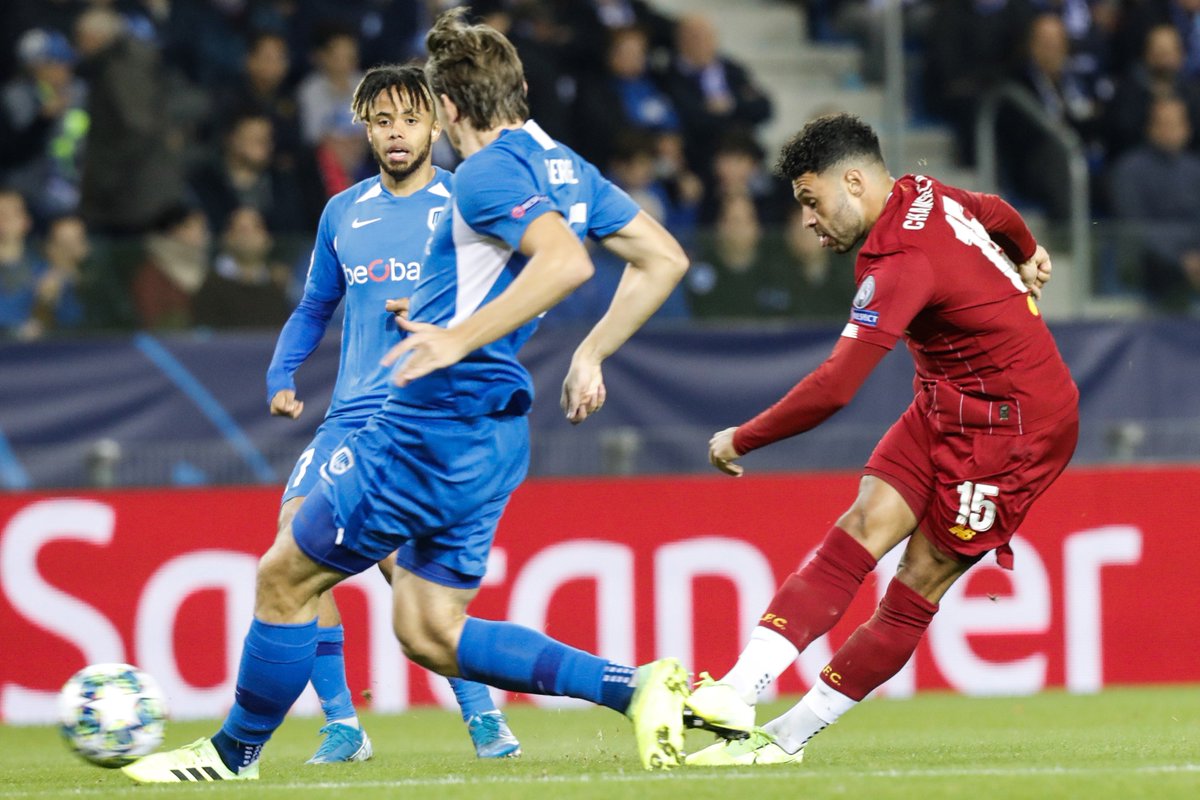 2 - Alex Oxlade-Chamberlain is the first player to score two goals from outside the box in a Champions League game since Lionel Messi in April 2019 against Man Utd. Range.
https://t.co/eQQKkBCFiY
With Oxlade-Chamberlain in the fold, Klopp possesses the luxury to alter his midfield three. You can see the outcome when he does. When he and Adam Lallana joined the party at Old Trafford, Manchester United suddenly found themselves defending desperately, clearing the ball anywhere to relieve the pressure.
Klopp started Naby Keita and Oxlade Chamberlain alongside Fabinho in their Champions League clash with Genk. The entirely new midfield combo satisfied an attack-hungry fanbase.
Liverpool suddenly had more direct, forward-thinking players in the middle. Chamberlain's quick feet and ability to hit the target from distance stood him out. Playing him eases pressure on the front three. His brace on Wednesday night reminded everyone of his quality.
On the other hand, no matter how threatening they looked, playing two midfielders in advanced positions left them exposed at the back. There was too much space for the d-mid to cover. Genk exposed those vulnerabilities but weren't good enough to punish them. A side with slightly better quality would certainly do that.
Ox's play screams out, 'Look, boss, I deserve a place in this team'. And midfield is the one area where positions might be available.
That said, Klopp isn't the kind of manager to be carried away by one player's hunger. He sees the larger picture.
There isn't an obvious answer as to whether the German should opt for control or dynamism. It depends on the opponent. A side like Genk allows the Reds to focus on killing off the match. A Manchester City or Tottenham forces them to watch your back. Going forward, the challenge for Klopp is to strike the right balance between the two.