Can Harvey Elliott survive the hype?
Harvey Elliott looks extremely promising for a 16-year-old - but must be careful not to be caught up in the hype...
Liverpool Football Club is the talk of the town right now, as the Merseysiders require 35 points more to win the Premier League for the first time in their rich history. Jurgen Klopp has created a monster in the North-West, with the Anfield outfit still unbeaten after 21 games played.
The club has always been a hot-bed for talented up-and-comers with Trent Alexander-Arnold being the most recent example. Budding stars like Neco Williams, Curtis Jones, Harvey Elliott are the ones to watch in Liverpool's class of 2020. The latter, however, stirs the tabloids the most. Is Elliott really worth the hype?
Originally a Fulham academy product, Elliott joined Liverpool this summer despite interest from clubs like Barcelona and Manchester City. Back in May, the winger became the youngest-ever Premier League debutant - coming on as an 88th-minute substitute for the Cottagers against Wolves.
Elliott is a creative genius. In the UEFA Youth League group stages, the tricky attacker picked up four assists while being astutely managed by Neil Critchley. With Elliott, no pass is wasted and he always plays with purpose. The 16-year-old always tries to exploit the space in-behind opposing defenders, while also possessing the ability to play penetrative long-balls to switch the play if required.
Although Elliott is often deployed as a right-winger, the young Englishman has the ability to drift and switch flanks if needed. He can also play through the middle, as was on display during his time with Fulham's youth setup.
For a player to become a starter under Jurgen Klopp, you must know how to press. Elliott fits the criteria perfectly. While the Liverpool academy is still taking baby steps in gegenpressing, Elliott has taken to it like a duck to water. Efficiency is key and no energy will be wasted unless the young man sees a real opportunity to wrestle back possession. For one so young, his footballing brain is unbelievable.
Against Everton, Elliott was up against Lucas Digne; one of the best left-backs in the Premier League. The Englishman certainly gave his Spanish counterpart a tough afternoon on both sides of the ball and his overall influence in the game simply cannot be understated. However, you still feel there's more to come.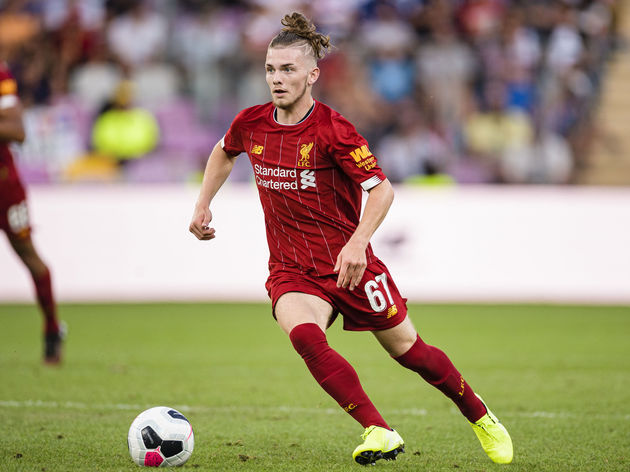 Harvey Elliott vs. Everton
65% Pass accuracy
2/8 Accurate crosses
3 Chances created
1/2 Dribbles completed
4/8 Ground duels won
1/3 Tackles won
The biggest night of the 16 year old's short career, I'm sure. He didn't disappoint. Composure far above his years. A bright future.
https://t.co/6ZhUlytddx
Elliott isn't a speedster like Daniel James nor does he possess the strength like an Erling Haaland, though his technical wizardry with the ball at his feet certainly compensates. He may still look a little lightweight but we have to remember he's still sixteen with plenty of growing to do. Criticism about his stature is pretty unfair with that in mind.
If there's one area where improvement can be made, it's his movement in the final third. Elliott has a tendency to hug the touchline and try to whip in the cross after creating a yard or two of space. Sometimes he can become isolated despite being amongst the best dribblers of the football in his age group. The teenager needs to develop a directness, though Mohamed Salah is the ideal player for Elliott to learn from.
Klopp is an admirer of Elliott, but he shouldn't stay at Liverpool. Takumi Minamino and Xherdan Shaqiri are well ahead of him in the pecking order. The Englishman shouldn't repeat the mistakes of both Tahith Chong and Angel Gomes at Manchester United - talented, but sitting on the fringes. Perhaps a loan move could be the way forward.
The best option for him would be Scottish club, Rangers. Other than being the ideal tactical fit, Liverpool legend Steven Gerrard will ensure that minutes are a guarantee for the youngster whose stock continues to grow.
Right now, Elliott doesn't hold the stamina to feature regularly for a Premier League club. If he starts at Rangers, he could climb up the footballing ladder with a year-long pitstop at a Championship club. In this day and age, it's all about playing competitive games on a regular basis.
One thing is clear: the hype about Harvey Elliott is real and before long, we'll surely see a partnership with fellow countryman Alexander-Arnold starting to develop down Liverpool's right-hand side...